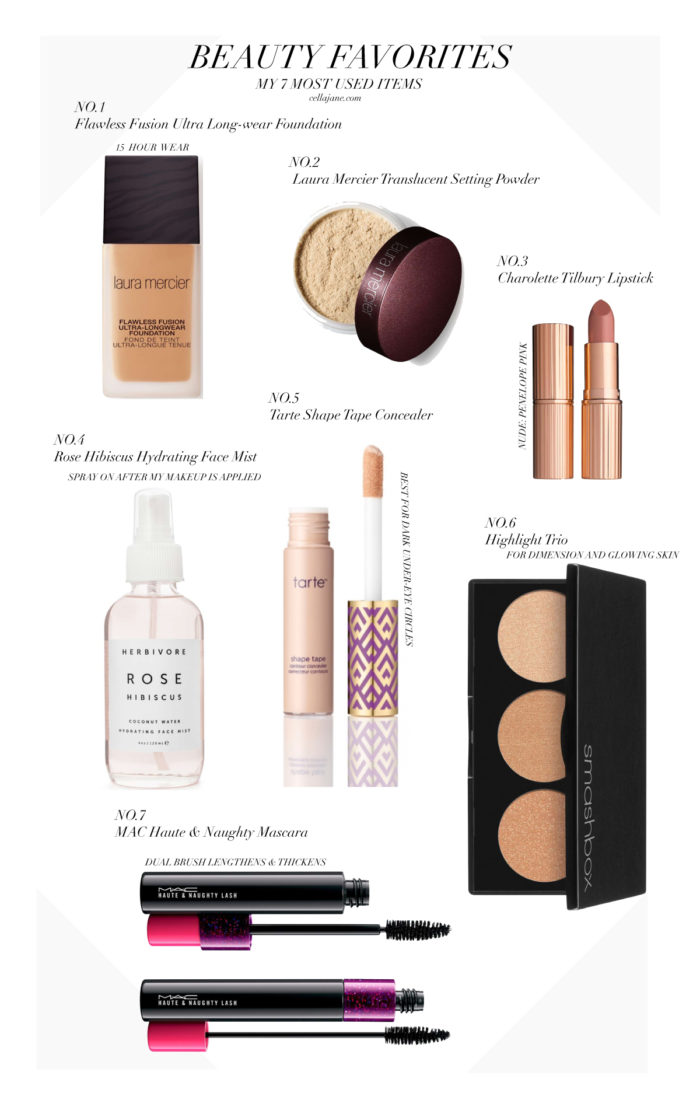 Hi guys! As requested, y'all wanted to see more beauty in 2018, so here it is! I am sharing my top 7 most used and favorite beauty items.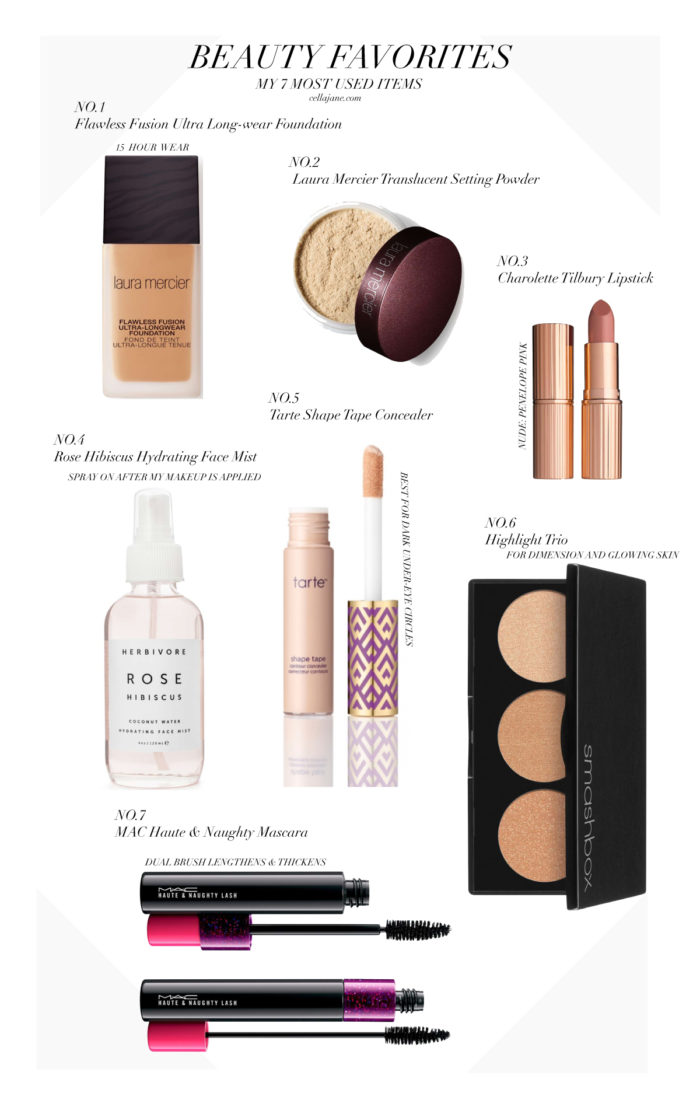 01 // Laura Mercier Flawless Fusion Ulta-Longwear Foundation // I always hated wearing foundation until I tired Laura Mercier Flawless Foundation.I love this foundation because it gives great coverage but feels very light. It's great for normal/oily skin, not dry skin. It's long wearing, good coverage, and not cakey
02 // Laura Mercier Translucent Setting Powder  This setting powder is great! Blends in perfectly with my skin tone and decreases shine without totally zapping moisture from my face. Great for a whole face of makeup or a quick dusting for a nice finish
03 // Laura Mercier Translucent Setting Powder  I love this creamy nude lipstick so much. It's the perfect shade nude with a hint of pink.  I wear it every single day!
04 // Rose Hibiscus Hydrating Face Mist  My last step after I apply all my makeup is to spray this Rose Mist all over my face. It sets my makeup and gives me a hydrated look. If you have yet to try a hyrdating spray post makeup application, its life-changing. I also love this spray for when I travel and my skin gets so dry. I spray it before flight and after.
05 // Tarte Shape Tape Concealer – I have really bad dark circles under my eyes. This is the ONE concealer that corrects and covers them and I have tried so many!
06 // Smashbox Highlight Trio //The highlighters stay put all day and give such a nice glow. It is a more subtle highlight and I mix some of the colors to get a more intense highlight.
07 // MAC Haute & Naughty Mascara  //One of my favorites for mascara because the dual brushes allow you to build your lashes by layering product and lengthen and thicken.
Favorite Contour:
Lorac PRO Contour and Brush //  Great product for beginners at contouring. Includes guides on how to contour by face shape so you get the most flattering results!
Favorite Lip Gloss:
Charlotte Tilbury Lip Gloss in shade Portobello Girl
Favorite Dry Shampoo:
PRODUCT DETAILS
Tarte Shape Tape Concealer // Laura Mercier Translucent Setting Powder  // Laura Mercier Flawless Fusion Ulta-Longwear Foundation // Rose Hibiscus Hydrating Face Mist //Laura Mercier Translucent Setting Powder  // Smashbox Highlight Trio //  MAC Haute & Naughty Mascara