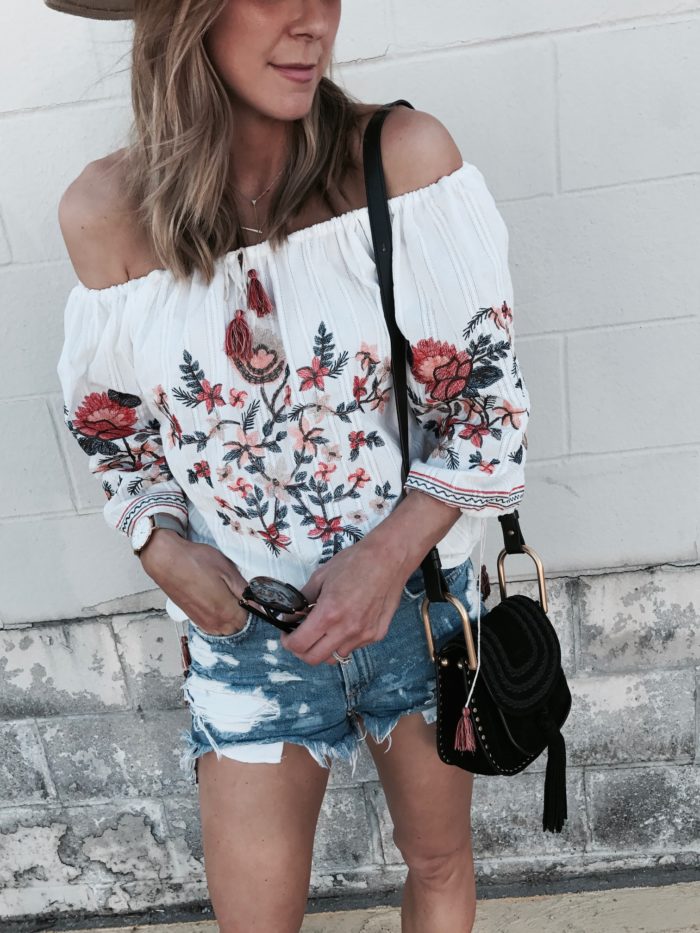 Happy Friday, babes! Sharing details on this embroidered top, plus answering a few questions you gals sent me this past week!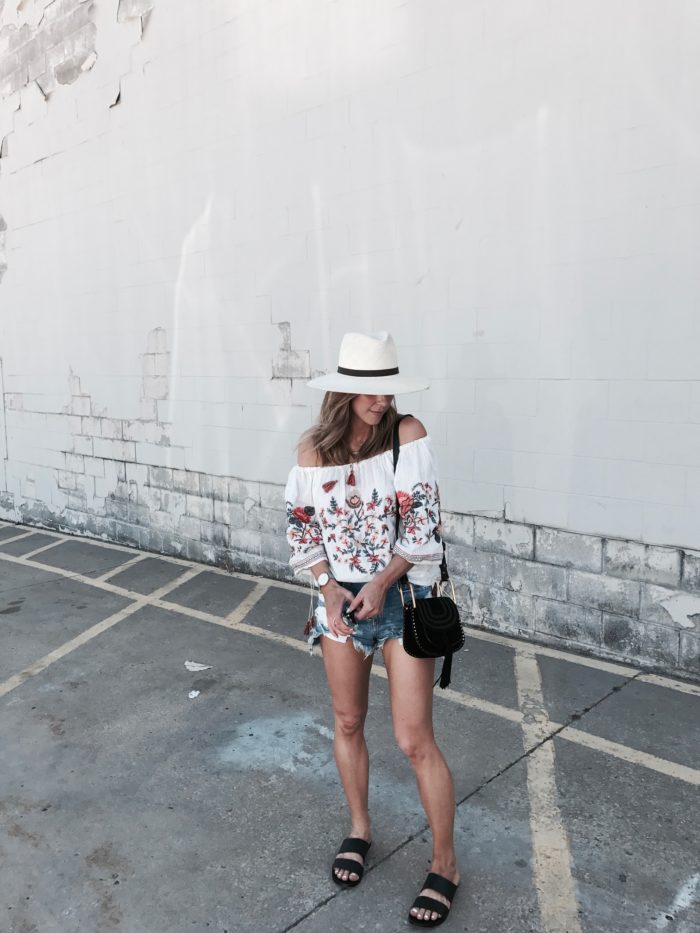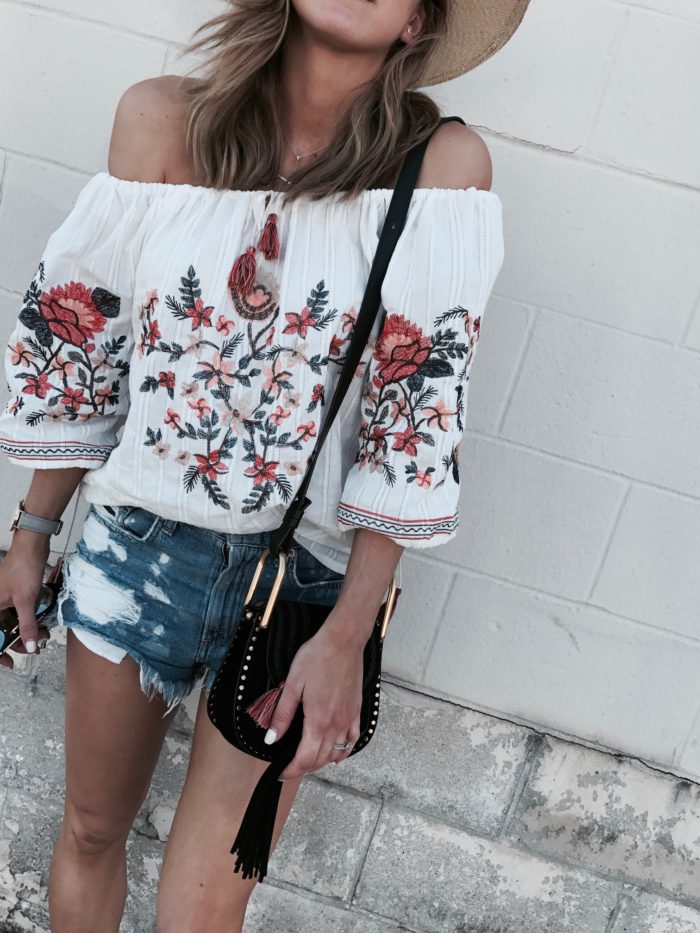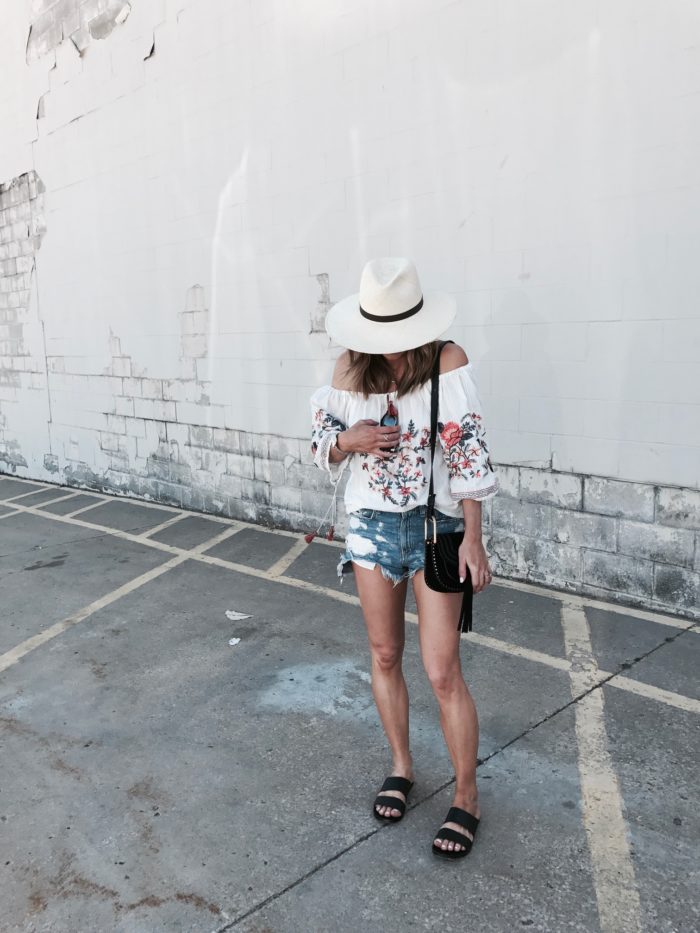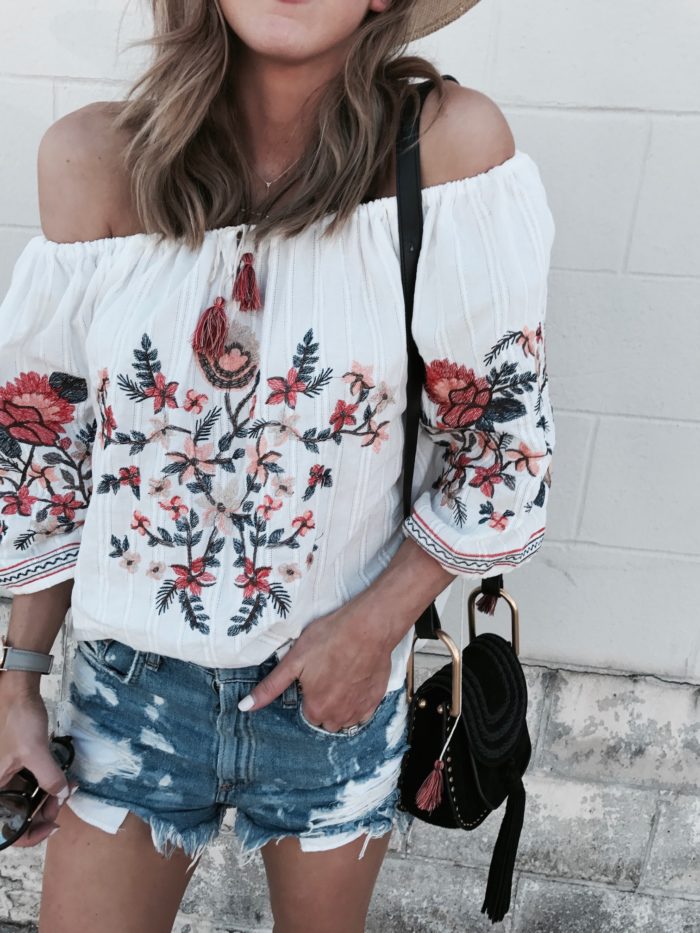 Embroidered Top (wearing size S/M)  // Rag & Bone Jeans TTS // Chloe Bag // Matt Bernson Sandals
Loving this embroidered top. I love the tassel detail on the sleeves and neck and it can be worn either off the shoulder or over the shoulders.
A few questions from y'all this past week….
1. You are always mentioning different skin care products that you use, but can you make a actual list of what you are using every day morning and night, especially for firming?
I change my routine often and with breastfeeding I am limited to certain products, so here is my current routine.
AM routine.
Step 1 & 2-Obagi Wash and Tone
Step 3- Skin CF Ceuticals Ferulic
Step 4- Skin Medica H5 or Peter Thomas Roth Water Drench
Step 5 –Neocutis Eye Cream
Step 6 –Revision Itellishade Moisturizer.
PM routine
Step 1 & 2-Obagi Wash and Tone
Step 3- Elemis Face Oil
Step 4- Skin Medica HA5 or Peter Thomas Roth Water Drench
Step 5 –Neocutis Eye Cream
Step 6 –Elemis Pro Collagen Oxygenating Night Cream
2. What are the mirrored round sunglasses you wear often on insta stories and snapchat?
A favorite of mine! You can find them here.
3. What dress did you wear on insta stories yesterday? I am looking for a dress for my rehearsal dinner and bridal shower and that one looked perfect!
Yes! That was actually a two-piece top and skirt set and it is absolutely stunning and under $100! The skirt fit a bit snug around my bum so I suggest sizing up. Comes in a beige color too. Shop it here.
4. What sunblock do you use? I know you use Revision daily moisturized that has SPF, but do you apply more throughout the day? Yes, I love Revision Original Intellishade moisturized and that gives great SPF protection, but if I know I will be in the sun more, like at the pool that day I use Colorscience. My mom got me hooked years ago. Its a mineral sunscreen and it's uh-Mazing!
5. What are your favorite places to shop for home furniture? Your house is beautiful!
Thank you! I shop at so many different places, from Home Goods, Target, Crate and & Barrel, Restoration Hardware and Z Gallerie to name a few. I have been sharing tours of my home, room by room and try to list as many of the sources that are available. See my Living & Dining room tour here, my kitchen tour here, and Greyson's nursery here.
6. You seem to really manage it all so well, meaning you always look so cute and put together, your house, your dinners, etc.  Can you do more posts on how to manage it all?? Like what a day in your life entails, and how do you have time for everything.
It may look like I am put together, but most times I am a hot mess! ha! It I didn't blog, I am sure I would be in sweats 100% of the time! A day in my life entails, wake up early for gym class, like 530 AM early, then come home, get Sutton ready for school/daycare, wake Greyson around 745ish for his first feeding. Then either Michael, or myself will take Sutton to school. I stay home and work, and also have an assistant/nanny that helps with Grey and blog items, so I can get most of my work done during the days! And I feel ya, there is NEVER enough time in the day  for everything! Some days, I feel like I am barely staying afloat. That's why I always try to remind myself, that there will always be a to-do and that I need to try to be present as much as I can and live in the moment while not being consumed with everything else!
Hope you all have a nice weekend, and as always thanks for reading!
Leave your questions in my comments and I will answer next week!
xx
S H O P  M Y  L O O K