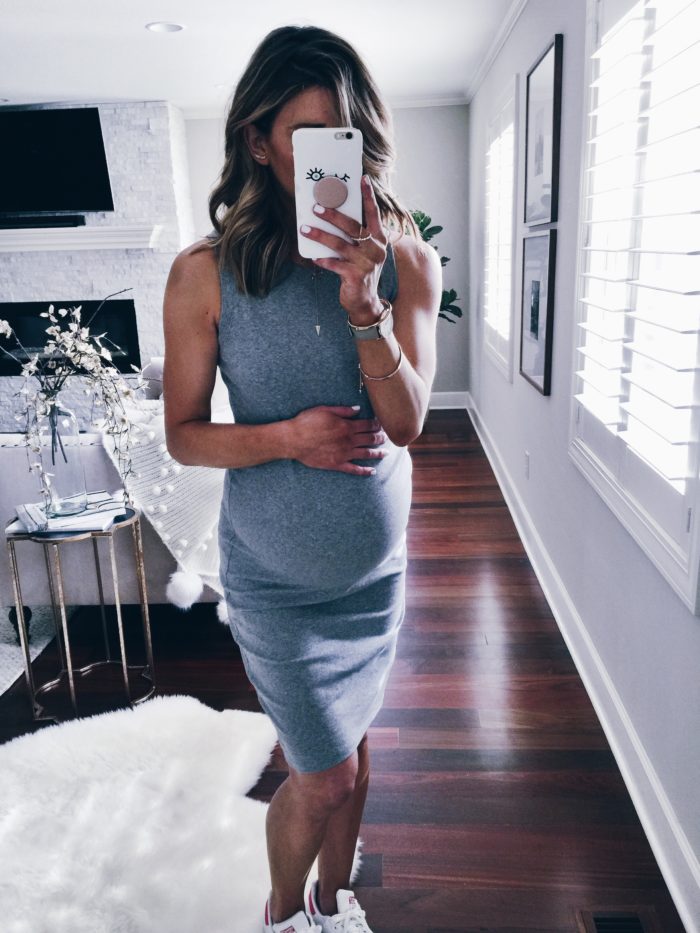 Dress by BAE the Label & non-maternity option here.
This week, we are officially FULL TERM! I couldn't be more excited and grateful for this stage of pregnancy. I keep saying how I feel like this pregnancy has flown by, and as much as I am ready not to be pregnant, I am not sure how ready I am for baby boy just yet! The nursery is still coming together, I am still getting all the baby necessities and I trying to sleep as much as possible before I embark on a very long span of sleepless nights. Eek! We are trying to do as much as we can before he arrives and that includes time with just Sutton and just Michael. This past weekend, Michael and I did a cycle class together and then got brunch, it was nice to do something different for our date time. I don't think we will have much one on one time once baby boy is here.

Due Date: March 4th
How far along: 37 weeks…. grateful to have made it full term!
Size of baby: 19.1 inches and 6.1lb., current status is the size of a romaine heart
How many days to go: 19
Total weight gain: 25 pounds
Maternity clothes: BAE the Label has some adorable and great fitting maternity clothes, also Maive & Bo  and ASOS. Shared some favorites below.
Stretch marks: None. Citrine Beauty Bar gifted me with the Tata Harper Redefining Body Balm and it is amazing!
Sleep: Not the best. Wake up easily and can't get comfortable.
Best moment of this week: When putting on an outfit while Sutton was in my room with me and once I was dressed, so goes "aw mom, you look so cute" I about died.
Miss anything: Wine, happy hour.
Movement:  He is constantly moving around.
Food cravings: Cheddar caramel popcorn every night, pasta, carbs.
Anything making you queasy or sick: Not really
Have you started to show yet: The bump is in full force
Gender: BOY!!!
Labor signs: None
Belly button in or out: Out!
Wedding rings on or off: Off
Happy or moody most of the time: Both! Mix of emotions, happy and sad. It's really hitting me that my one on one time with Sutton is drastically going to change.
Looking forward to: Scheduling a massage this week.
xx
ps-The Winner of the Gucci Bag giveaway is @MRSAMIEBARTLEY -please email me!
M A T E R N I T Y   W E A R

B A B Y  E S S E N T I A L S