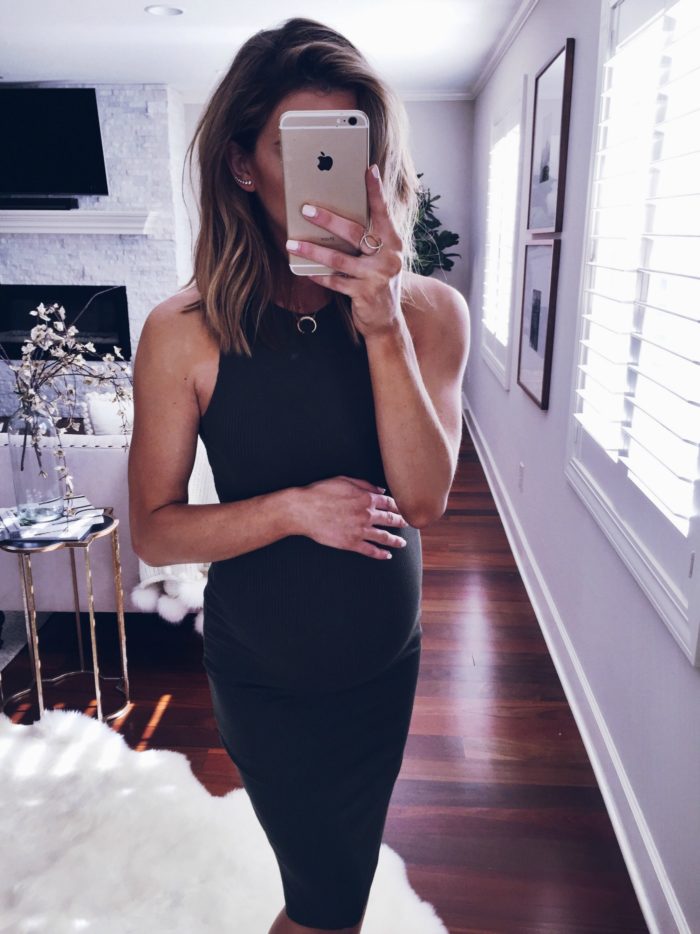 This week, we are 36 weeks pregnant! I am really hoping he comes right on the due date, Michael has a long work trip coming up and going into labor without him here would not be good! This week I finally decided on a crib, dresser, wall paper and a few other things. Yes, I am so late on preparing nursery, but I have a bassinet, and the necessities. The weekly appointments are going well. Overall, I am still feeling great. No swelling, no pains, nada! Just feeling bigger by the day.

Due Date: March 4th
How far along: 36 weeks 3 days…. THIRD TRIMESTER!!!!
Size of baby: 18.0 inches and 5.5lb., current status is the size of a honeydew melon
How many days to go: 25 days!
Total weight gain: 21 pounds last week, doctors apt tomorrow to update
Maternity clothes: Basically circulating a bunch of comfortable joggers, cardigans, thermal tees. All my favorites to shop below.
Stretch marks: None. I have been using lotion all over, everyday!
Sleep: Sleeping OK but constantly flipping and turning to get comfortable.
Best moment of this week: Deciding on nursery items finally!
Miss anything: Just miss the feeling of being back to my normal self, physically and emotionally
Movement: The last two weeks, baby boy has been rocking and rolling! Sometimes, he kicks or moves so abruptly it startles me.
Food cravings: Pasta, bread, sandwiches. The struggle is real. I haven't been the best about eating healthy this trimester.
Anything making you queasy or sick: Not really. After I eat sometimes baby boy gets the hiccups and it kind of makes me feel sick.
Have you started to show yet: umm yes
Gender: BOY!!!
Labor signs: None
Belly button in or out: Out and shows through everything.
Wedding rings on or off: On when I remember.
Happy or moody most of the time:  A mix!
Looking forward to: All the items coming for the nursery!
xx
N U R S E R Y  F A V O R I T E S

M A T E R N I T Y  F A V O R I T E S