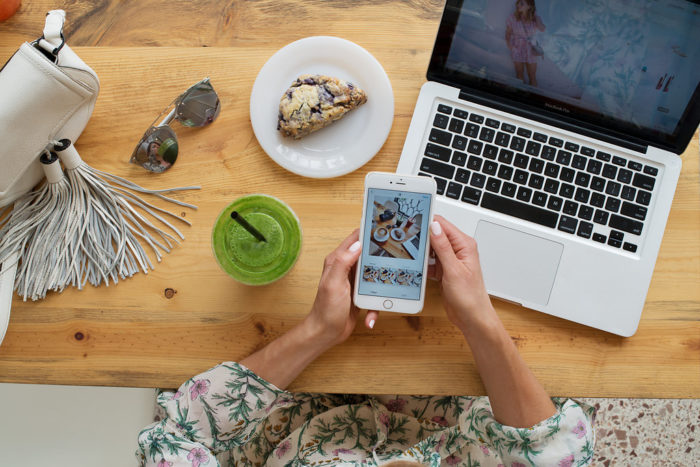 As promised, since I get asked so many questions about my Instagram and blog pics, from the filters, editing and style of my overall feed, so I decide to make this into a 3 part series, answering all the questions you guys sent me. First up, how I edit my pictures for instagram and create a cohesive feed.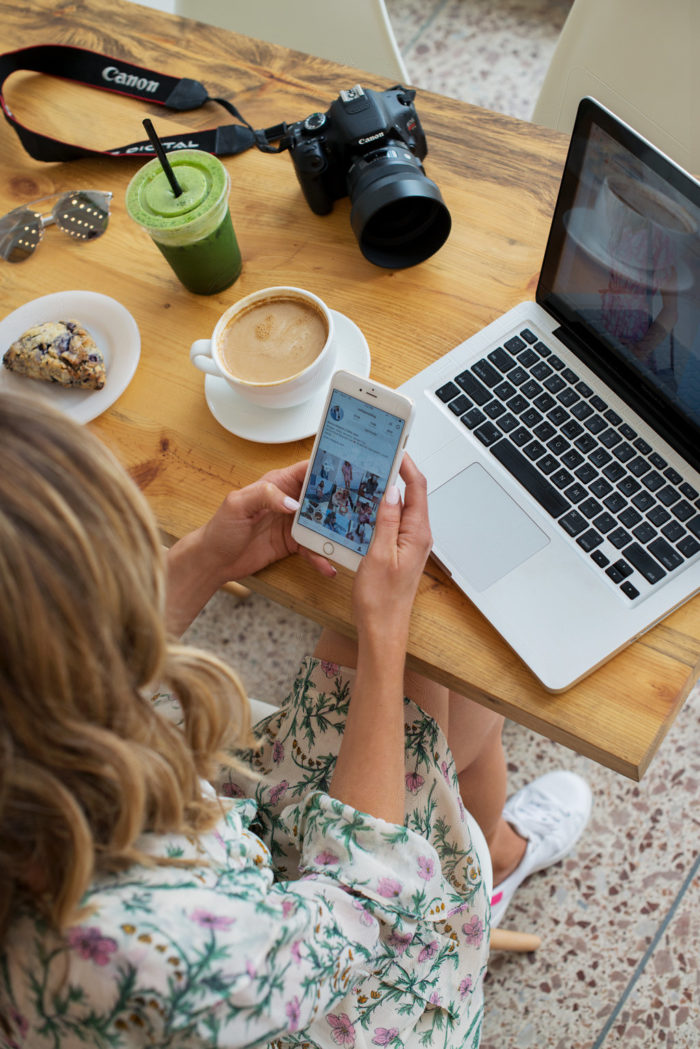 Q: How do you create a cohesive feed on instagram?
A: When you are starting to create cohesive content on instagram it is so important to choose a few colors to constantly incorporate in your photos. While mine can fluctuate, I tend to gravitate toward neutrals, sticking to blacks/blues, white, gray, tan and pinks. It seems to flow so well and keeps my feed looking clean and bright, plus I love these colors not only for my style but also my home decor so it works well for me. I also like to create diversity with different camera angels so it's not the straight up and down every time. It's something unexpected and works!
While fashion and style is my main focus, I love to incorporate many other verticals into my feed including home, family, motherhood, and fitness. Fitness is a big part of my routine, so when choosing to feature looks I keep my color palette similar (neutral) and shoot in street settings  or white backdrops which showcase items well. Incorporating family, especially my daughter, Sutton, is so important to me. Coordinating looks is always fun, Sutton loves the camera and it makes the feed more light-hearted and allows readers to connect more on that mom/family level.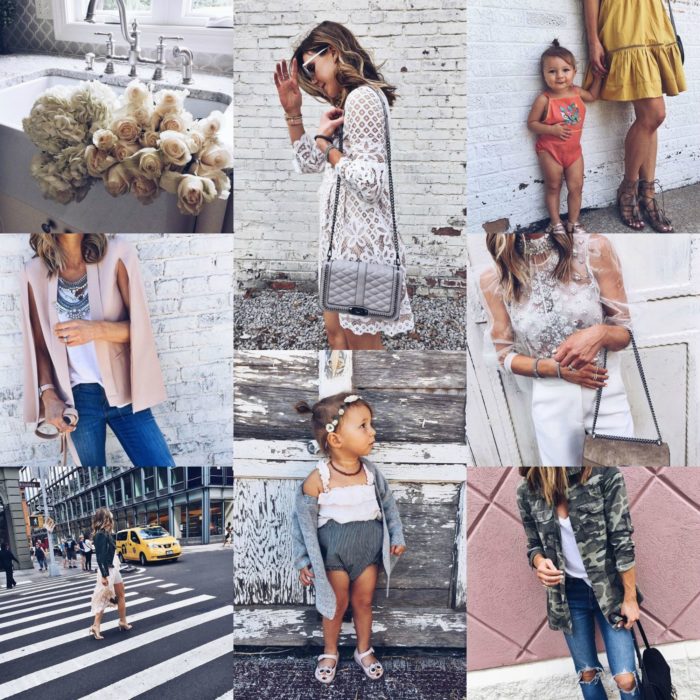 A cohesive feed is important because it's what you see when you first click on an instagram profile and if it is so if this is visually appealing, more likely to follow that account.  I think as a blogger and digital influencer, this is really important to show who you are as a brand  so when someone is looking to collaborate with you, they know exactly what they are going to get.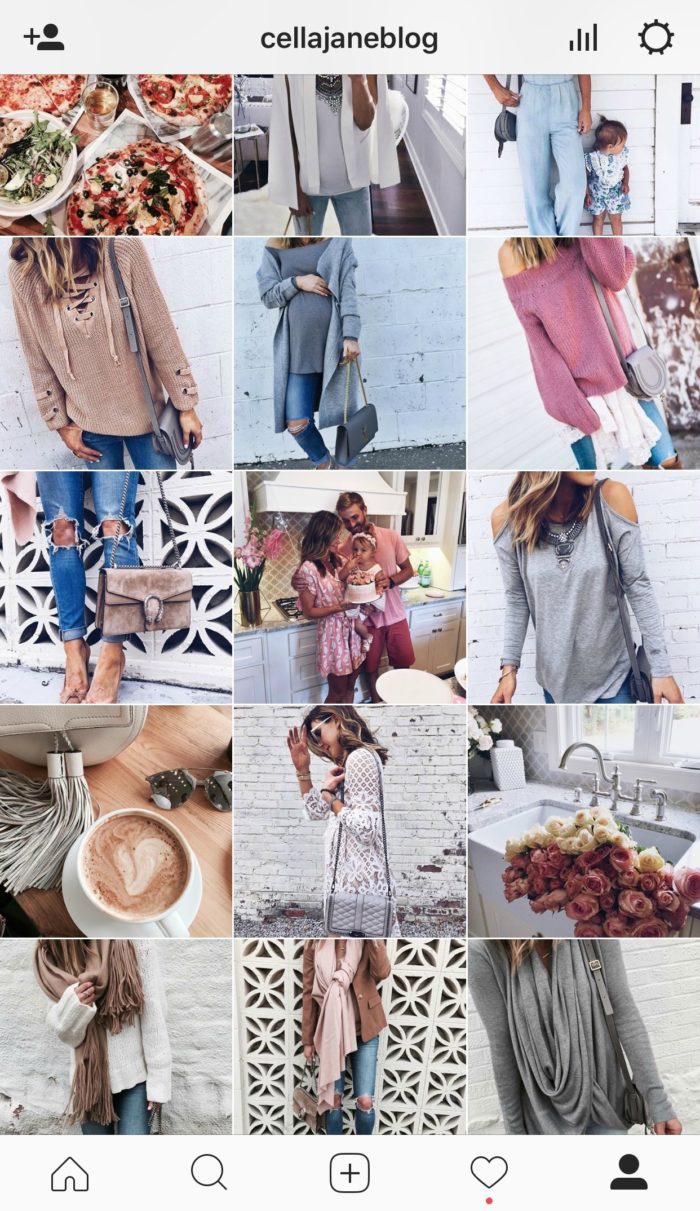 I also use an app to lay out my feed before I actually publish a photo to see if it fits well with my layout. My favorites are
Planoly
and Snug.
Planoly
charges a fee each month and it shows you detailed stats and has a scheduler, where you can schedule times when to post photos. Snug you pay for once and it's pretty straight forward, it's allows you to add photos and show you how your feed will look, prior to posting. Another one free one is UNUM.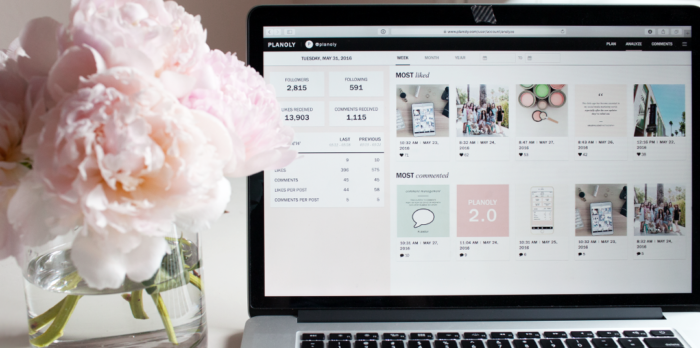 Planoly Stats
Snug App below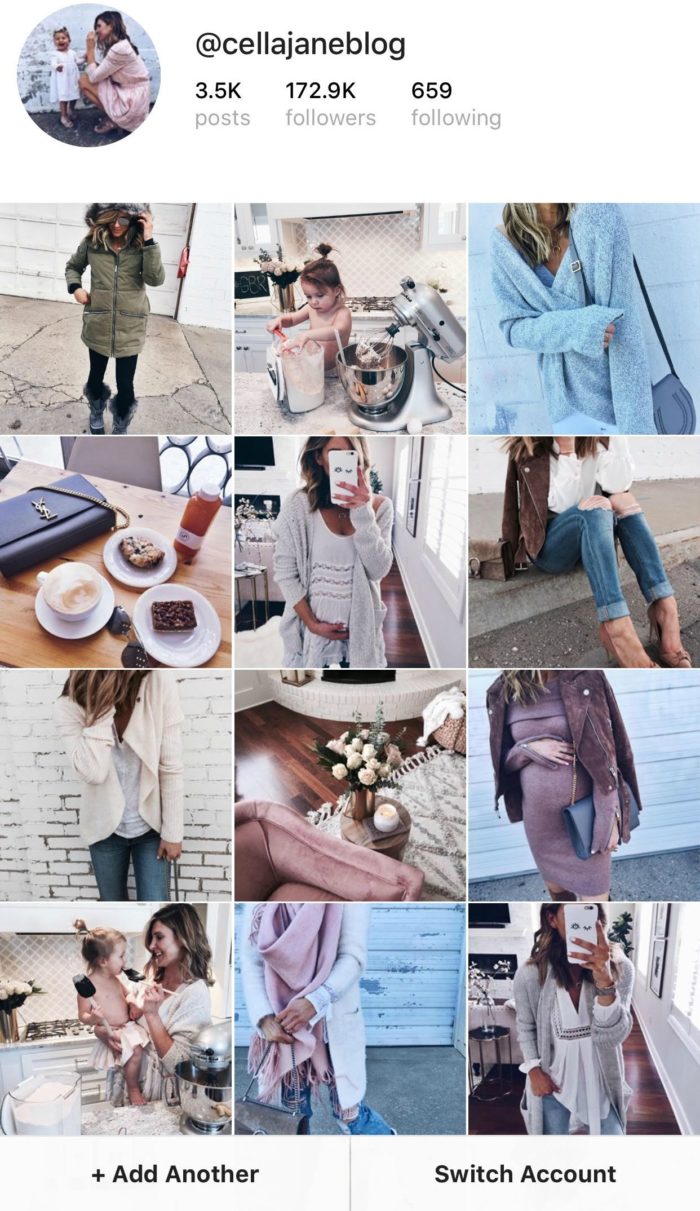 What apps do you use to edit your pictures and what filters are your favorite?
Afterlight, VSCO, Snapseed, Fuzel for collages,
Afterlight -I use to brighten my photos, sharpen my photos, clarify, and take out yellow or tungsten tones (indoor lighting) with shadow adjustments.
*Always save your images full size so they quality isn't compromised.
Filters
There are so many filters and apps out there, its best to just play around until you find some that you like. VSCO is my favorite filter app and there are so many to purchase.
I use only VSCO filters. I purchased all the filters and played around to get some favorites ( I suggest doing this since everyone has their own style) my favorite filters are A6, A7, A8, A9, J1, Hfamily.
* I would select two or three filters you love and stick to using them, so your photos have the same look and style.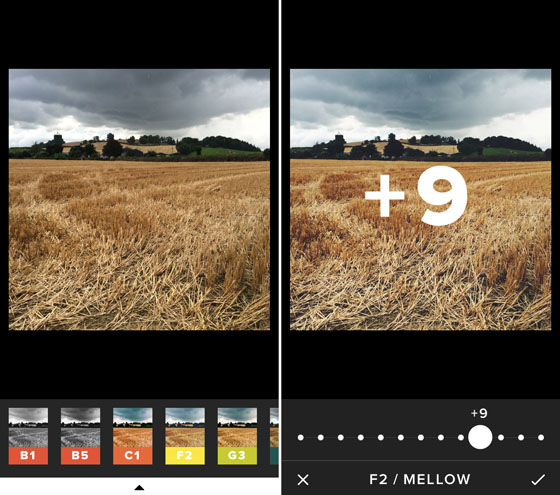 Snapseed- another app to use to sharpen, brighten, edit contrast, saturation, ambiance, highlights.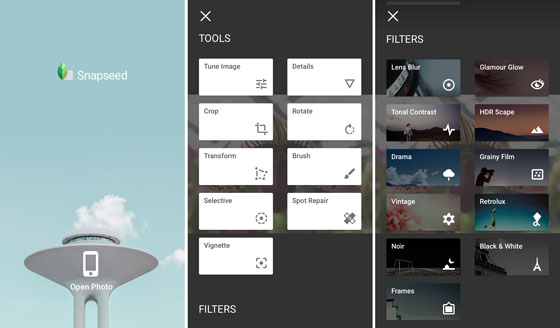 Other things to keep in mind….
Remember Be Picky
Don't just post any image. If it has bad lighting, blurry or grainy then don't post. This will help your feed look quality and clean.
Find Inspiration.
Everyone's style and feed is different. Find out what you like to post and what you are good at. I find inspiration from Pinterest and tumblr.
Taking The Photos
One piece of advice I always give, is shoot in well lit situations. I normally only shoot pictures outside, or a really well lit room with NATURAL light.  It is so important to stick to a basic background with not much going on. I always love a good grey, white, cream brick walls for my Instagram feed. This will compliment your outfit and create that cohesive look we are trying to accomplish!
Theme
When we go on vacation or travel my theme may change. For example-over Christmas I had more photos geared toward holiday feels–snow, trees, and different colors. See example below.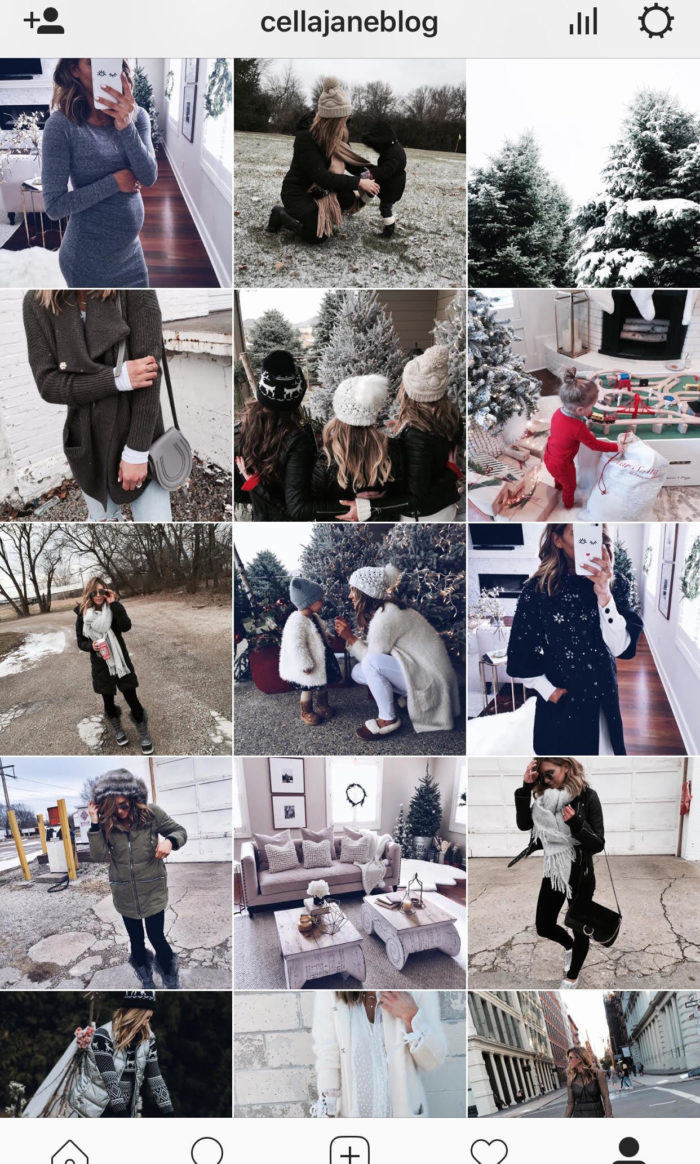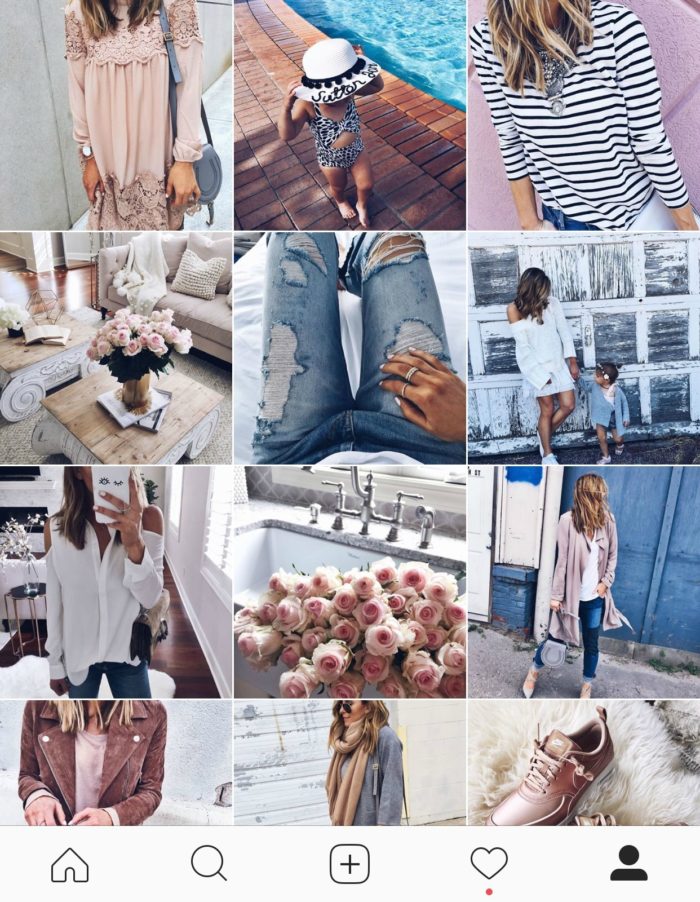 I hope this helps with planning a cohesive instagram theme and you find my tips useful! Remeber quality over quantity, find a filter you love and start to plan your feed and you will start to see your brand grow.
Don't hesitate with any questions below!
xx
Pin to save and read for later!