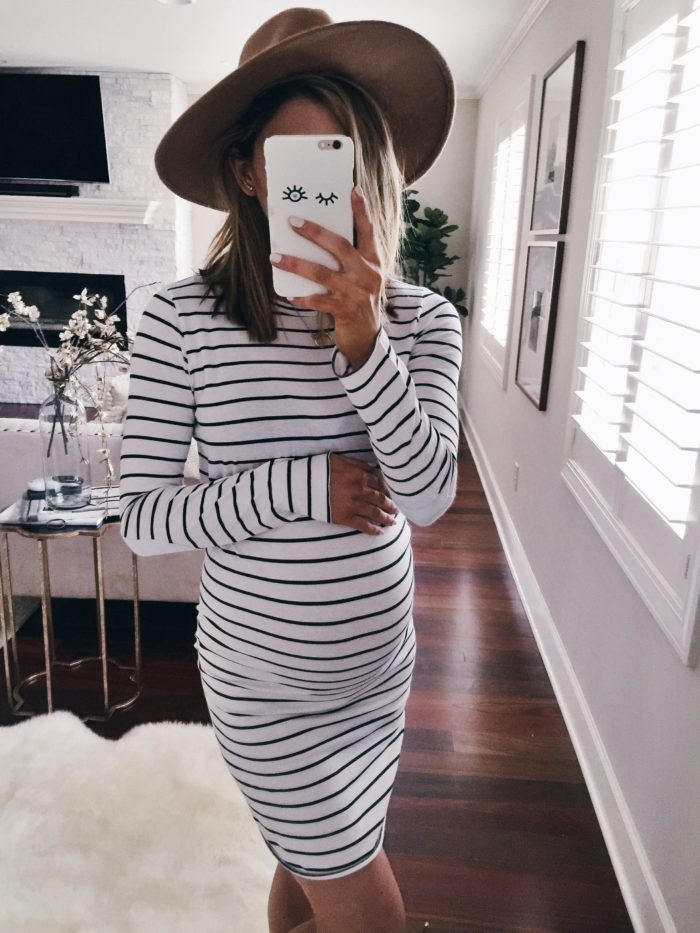 Dress by Legoe // iPhone Case //
33 weeks today and sharing another weekly update.
Gender: Boy
Baby size: 4 lbs size of a pineapple
Days to go: 45 Days to go!
Sleep: 8 hours and lots of crazy dreams!
Nursery Progress: Still working on design and more updates to come. I have a Pinterst board full of my favorite inspiration here. It most likely won't be all ready when baby boy arrives and I am fine with that.
Stretch marks? None. Love and been using this cream.
Symptoms: Tons and tons of movements. He loves to make himself known for sure.
Belly button in or out? Out!
Wedding rings on or off: On
Doctor: At my 32 week appointment it went good aside from measuring small again, so I am getting another sonogram next week. I didn't carry small with Sutton, however both my mom and sister carried small and had healthy babies, so not worrying too much. Next appointment is next week.
Workouts: Still going strong! 5 days a week with 30-40 minutes of in-class cardio and 15 minutes of toning. More to come on my workouts. I will been sharing a baby bump workout video in the next couple weeks, I am really excited about! It will show you what I all do for my workouts, with modification. Perfect to do right from home while pregnant and after baby. 
Food Cravings: Pizza and sweets. Try to stay pretty healthy during the week, and weekends I get to indulge! Pregnancy diet blog post to come soon with details food log.
Miss anything: Being able to wear regular clothes, like I said mentioned last update.
Looking forward to: A busy week ahead. Still working on creating lots of new content for the blog. My little sister is coming this weekend to go wedding dress shopping, so I am super excited for that!
I still can't get over how quickly the weeks are flying by. I'm really focusing on enjoying this time and also any quiet time we might have (but trying to "enjoy" it and not PANIC that it will be gone 🙂
xx
M A T E R N I T Y  F A V O R I T E E S

B A B Y  L I S T