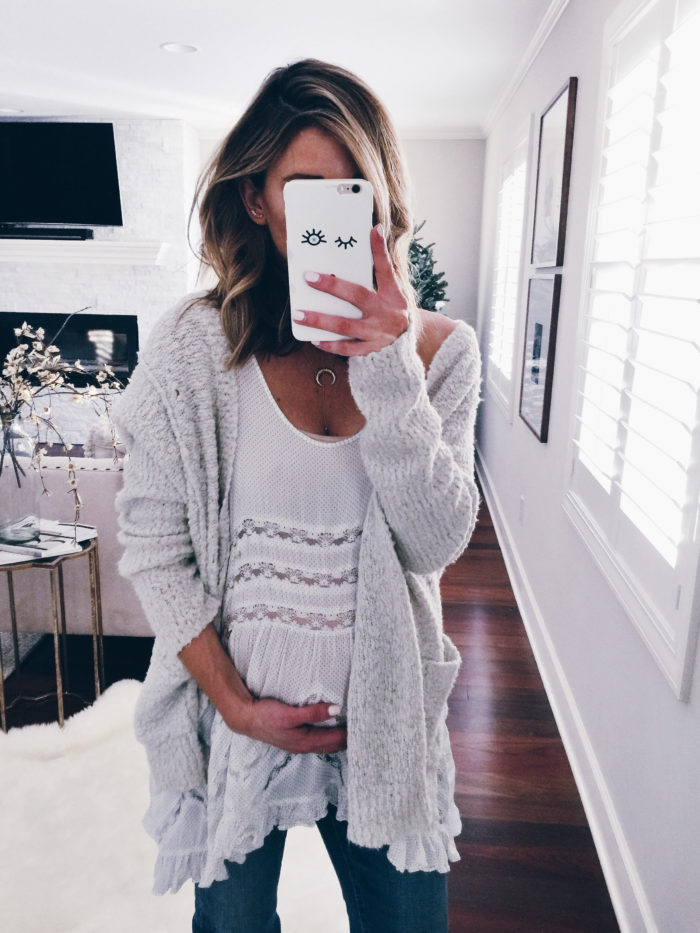 I feel pregnant now! The bump is getting to the size of it truly being in the way. Before it was there but didn't interfere too much with everyday activities. However, in the last week, I feel like it has got to a size that I am having trouble maneuvering around. Like putting on my jeans, shoes, getting out of bed and working out.  I have been working on the nursery and buying more baby stuff, which I shared a preview of below.

Pregnancy Highlights:
How Far Along: 32 weeks
Size of baby: Baby is the size of a head of lettuce (19 inches, 3.8 lbs)
Maternity Clothes: Yep, maternity jeans from
A Pea in the Pod
and other favorites below. Still wearing lots of my normal clothes that work over the bump as well. Otherwise
yoga pants
and oversized t
hermal tees
.
 Gender: Baby BOY!
Movement: Yes so much! Feels like baby boy is doing somersaults. He has has hiccups the past two mornings at 730am on the dot.
Sleep: 8 hours with about 4 bathroom breaks.
What I miss: Feeling normal. I think I say that every week. I'm just ready to have my body back to myself.
Cravings: Dairy. Pizza and pasta!
Eating:
Morning, I am still on my oatmeal and protein drink routine. Some days I crave eggs and avo toast. Crunchy red delicious apples have been a bit of a craving of mine lately too. Sweet tooth, I like raspberries with greek yogurt and granola. Love this pasta dish and I have been making a bunch of recipes from
here
. Also, lots of takeout lately.
Feeling:
Feeling good for the most part. I have had some Braxton Hicks, which aren't fun. I am definitely more tired and my body wants to nap right around 2pm everyday. As much as I want to, I have too much to do!
Doing:
Still working out 5 x times a week. I modify certain moves and ab workouts. Cleaning like crazy and throwing a ton of stuff out in preparation for baby. Lots of nursery and baby lists that I will be sharing on here soon! Until then, there are some favorites below.
Appointments:
I have one later today!
Things to Do:
Buy baby stuff-since we have all pink stuff from Sutton, I need to get new everything.
Pack hospital bag and babies bag-detailed post to come on this.
Paint nursery-mother-in-law is helping!
Plan and decorate nursery.
Get out all of Sutton's baby gear and see what else I need.
Any baby stuff suggestions, please share!
xx
B A B Y   S T U F F  T O  G E T


M A T E R N I T Y  F A V O R I T E S