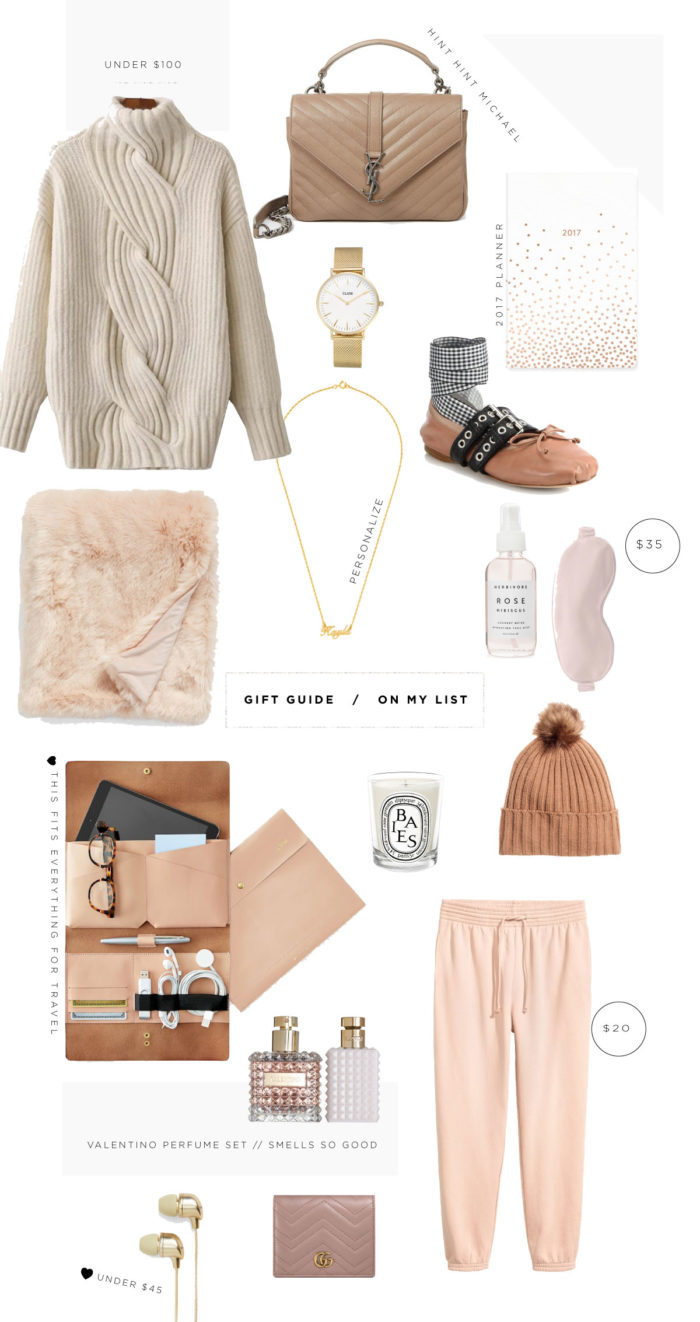 Continuing my annual gift guide series and sharing my personal holiday wish list today! So while I'm not technically giving this list to anyone (unless you reading Michael), it's always kind of fun to create a wish list for the season! Here's what I've got my eye on…

I love this chunky knit cashmere sweater and it's currently on sale for under $100!
I really want this Saint Laurent quilted blush bag. Hint hint Michael!
I currently use a couple different planners. I love them so much and I read great things about this one!
This Cluse gold watch would go with so much of my gold jewelry. Love the band!
This Miu Miu flats have been on my wish list for awhile now. I wear flats more often than heels so these are a fun option.
I broke my Sutton necklace and need a new one. I want this one in rose gold.
I have the matching pillows to this throw and it is sooooo soft. I want the throw for my bedroom!
Rose mist and silk eye mask – for some reason these items make going to bed so luxurious and spa like.
I have been wanting this travel tech envelope for awhile now. I love that it fits all my necessities for travel all in one place instead of having to dig in my carry on for all the items.
Love these candles for my bedroom. I call them my 2 for 1 candle. They work as decor too!
A pom beanie because I can never have too many -especially for the days I don't do anything with my hair, which is more often than none.
Valentino perfume set. I got a sample of this in my latest Nordstrom beauty order and love the smell!
These pink joggers (under $20) need I say more???
Gold ear buds, because Sutton lost my last pair and I love the gold!
Gucci wallet to transport to and from all my purses and gym bag, etc.
xx