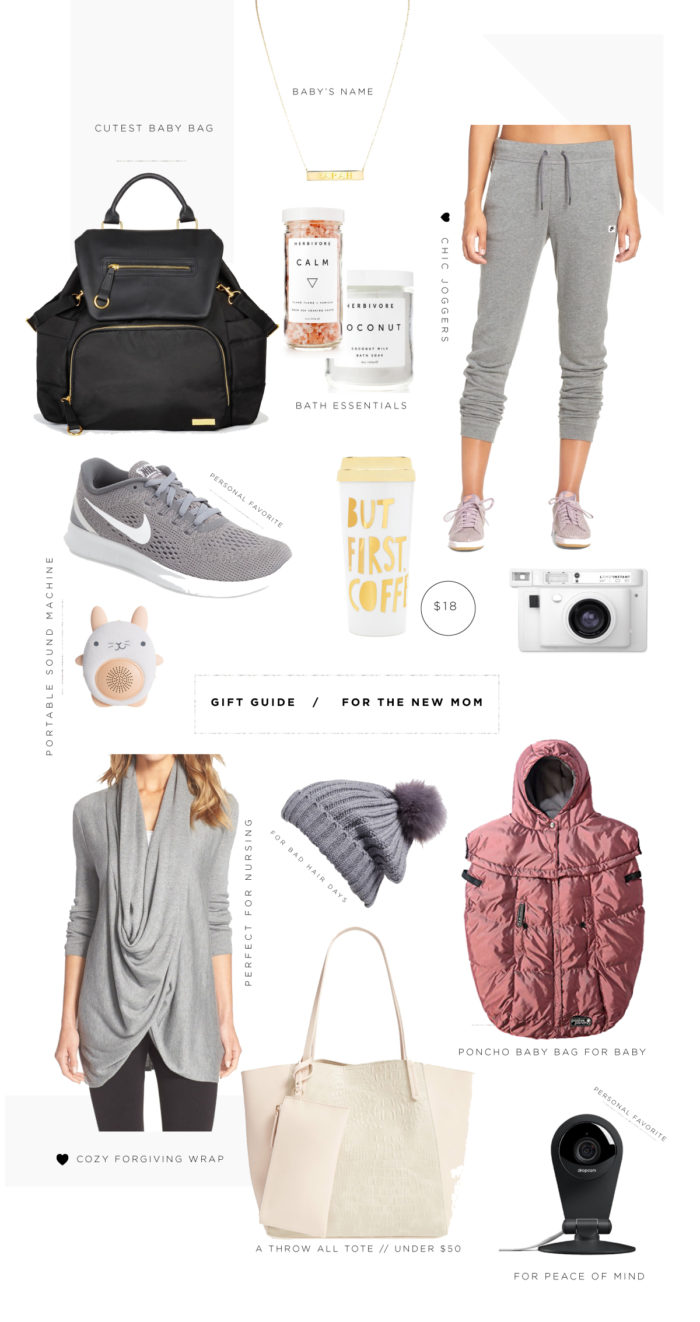 If you have an expectant mom or a new mom (or even yourself) on your holiday shopping list, we think it's nice to give a nod to this special time in her life. People may be buying lots for the new baby, but you can make mom feel pampered by giving her something she can really use in this new stage of her life. These are the items that I hand picked and love myself as a new mom.

A CUTE diaper bag. How chic and cute is this diaper bag? It doesn't even look like one. A must-have and it's on my list!
I have featured this necklace on my other gift guides because I love it so much. Personalized with Sutton's and I wear it everyday.
You guys know how obsessed I am with joggers. Every mom needs a chic pair of joggers that look cute for errands and to wear around the house and not look or feel frumpy.
A cute pair of sneakers. Another mom essential for errands, gym, you name it, new mom's will love these!
A cute new coffee mug to keep any tired mamma going.
A polaroid to capture all the cute memories. I used  mine to get a weekly pic for the first year of her life. I love looking back at them.
A portable sound machine which is great for mom's on-the-go. Take in the car, stroller, on walks, to soothe your baby to sleep on the go.
I am OBSESSED with this long wrap cardigan. It's perfect for right after baby, for nursing and such a flattering style. It comes in black and is sooooo soft!
A daring pom beanie for moms to throw on for days when she has no time to do her hair.
A poncho baby bag for the colder months. Works for strollers and keeping baby warm.
A throw all tote (under $50). I used a big tote to throw all my new mom necessities and it's a must!
I can't say enough about how much we love our Dropcam by Nest. The monitor allows us to see Sutton on an app from wherever we are (be it away from home, on vacation while grandma is watching, to making sure she is in bed on time). We can also speak to her via the dropcam and even soothe her without having to go into her room. We just got our second for baby #2 come March! One item a new mom cannot live without!
I would LOVE to hear what all you new moms love out there as well! Baby #2 will be here soon!
xx