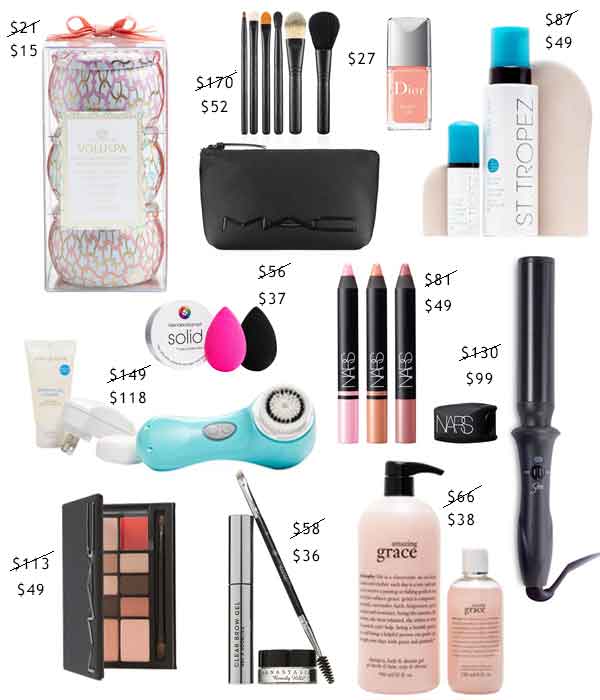 1. Voluspa Candle Set-my favorite scented candles and these never go on sale! Three candles for $15 is a steal and I stocked up!
2. MAC Brush Set-guys this is an amazing deal! I bought similar MAC brushes all at full price and this set over 70% off! I use the white larger brush to blend in concealer. The larger black brush to blend powder foundation or bronzer. The smaller orange one to apply my concealer under my eyes and the other two smaller ones to apply and blend eyeshadow. They also have another set of brushes on special. Depending what you need them for.
3. Dior Nail Polish-Have you tried this Dior gel nail polish? I love the fact it applies and acts like a gel but removes like a polish. So longer wear! It comes in a bunch of different colors!
St. Tropez Self Tanning Mousse-I love this stuff. It is self tanning mousse that gives you an instant glow and gradually builds your tan. It has a mit to apply so your hands don't get super dark. It also comes with a travel one, which is perfect! I cannot tell you how many times I had wished that I packed my self tanner on vacation.
Makeup Beauty Blender – I use these to blend on concealer. If you haven't yet tried these, they are awesome! Another thing I use every time I apply makeup.
Clarisonic– I have been using my Clarisonic Mia for over 5 years now. I am addicted and cannot wash my face without it. It cleans your face 7x better than a washcloth and allows your skin to absorb product better. My mom, who owns a med spa and a skin care specialist, swears by the Clarisonic.
NARS Lip Crayons– I just tried this on at Nordstrom during the sale and was sold. I love all these colors, and the pinks and nudes are perfect for fall!
Curling Wand-This is life changing. I LOVE LOVE my curling wand and this is what I use to get my tousled waves. This wand comes in two different sizes, the 1 inch and the 1.5 inch. Depending if you want your curls bigger or smaller, also if you have shorter hair I would go with the 1 inch.
MAC Look in a Box Face Kit-this is exactly what is says it is…face in a box. Makeup for your entire face and a chart on different looks and how to apply. This is such a great value and comes in a couple different color options depending on your preference.
Anastasia Brow Studio Set-This is what I use to fill in my brows. With this set you get the brush, the waterproof brow color and the eyebrow gel. This is such a good deal, I normally have to pay $36 for just the pencil.
Philosophy Sets — I got hooked on philosophy shower gel and body lotion a couple years ago and it's all I use. I love almost every scent of theirs and I always stock up when it goes on sale.

JavaScript is currently disabled in this browser. Reactivate it to view this content.