Thanks to Jergens® for sponsoring this post. All opinions and thoughts are my own.
Are you getting the itch to get out of the house and do something fun? I feel like these winter months have really dragged on. We finally just started having nicer weather and both my husband and I are ready to get out and do something. Having a 7 month old at home makes it difficult to travel somewhere far, so we were thinking of a fun 'staycation' instead of full-blown vacation this spring. So I came up with a list of things we can do as a family or with friends that will keep everyone happy.
1. Hike a trail
2. Visit a local bakery
3. Have a movie marathon.
4. Stay up and star gaze.
5. Try a new cocktail recipe.
6. Try a new recipe to pair with your new cocktail recipe;)
7. Visit a museum.
8. Play mini-golf.
9. Picnic in your backyard or at a park.
10. See an outdoor movie.
11. Do a mommy and me pedicure.
12. Visit a farmers market (our favorite).
13. Cook dinner over a bonfire.
14. Pack a picnic with wine and go to an outdoor park.
15. Visit a nearby city.
16. Invite friends over for cocktail tasting, trying new drink recipes.
17. Have a Mexican themed dinner party-recipe and drink ideas here.
18. Have a Pinterest party with girlfriends attempting new crafts and cocktails.
19. Host a mini spa party at your local med spa (most of the time it's a complimentary service and they provide the wine & apps and you learn about new beauty treatments. My favorite spa 'Ave Med Spa offers this!)
20. Get a hammock and hang in your backyard.
21. Visit friends and family who live in a nearby city.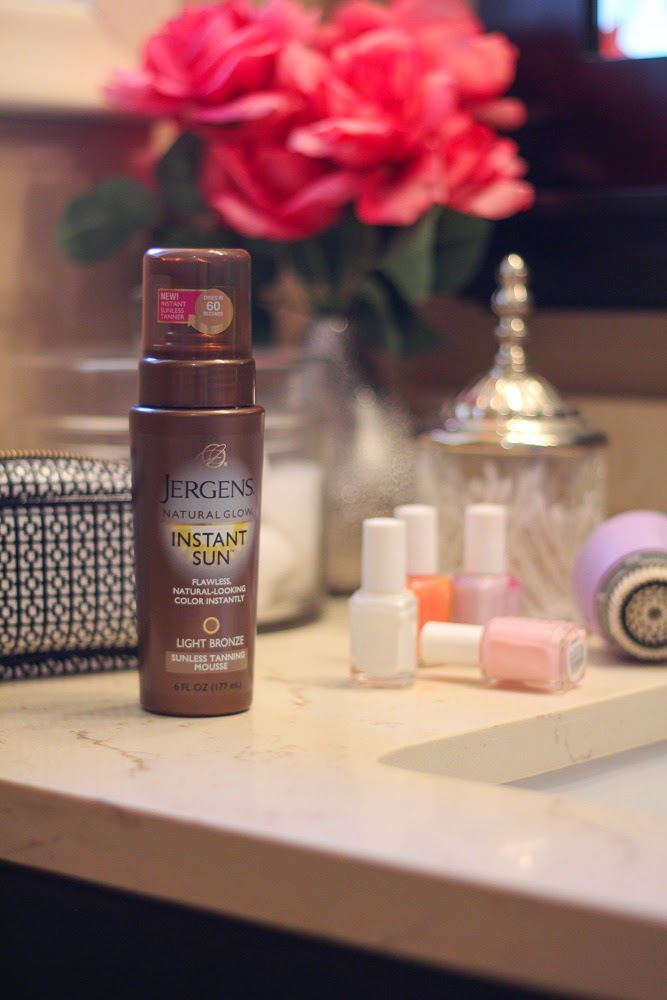 Like I said our weather has been unexpectedly warm, so we have been venturing out and doing a lot of fun staycations that entail me wearing cut-offs and sun dresses. My husband always jokingly gives me a hard time about my legs, since they haven't seen the sun in ages, but since I started using Jergens® Natural Glow® Instant Sun Sunless Tanning Mousse, my legs are tan in an instant. He actually asked me if he could use some of it! As a mom with little time to even get ready each day, I love something like Jergens® Natural Glow® Sunless Tanning collection that is easy to use, has quick results, no mess and most importantly no damaging sun rays!
What are some staycations you do?
Life's too short to spend hours in the sun. Tan in an Instant with the Jergens® Instant Sun ™ collection. Use the glow advisor and get a coupon for $1 off Jergens® Natural Glow® Mousse at
http://www.jergens.com/special-offers/default.aspx