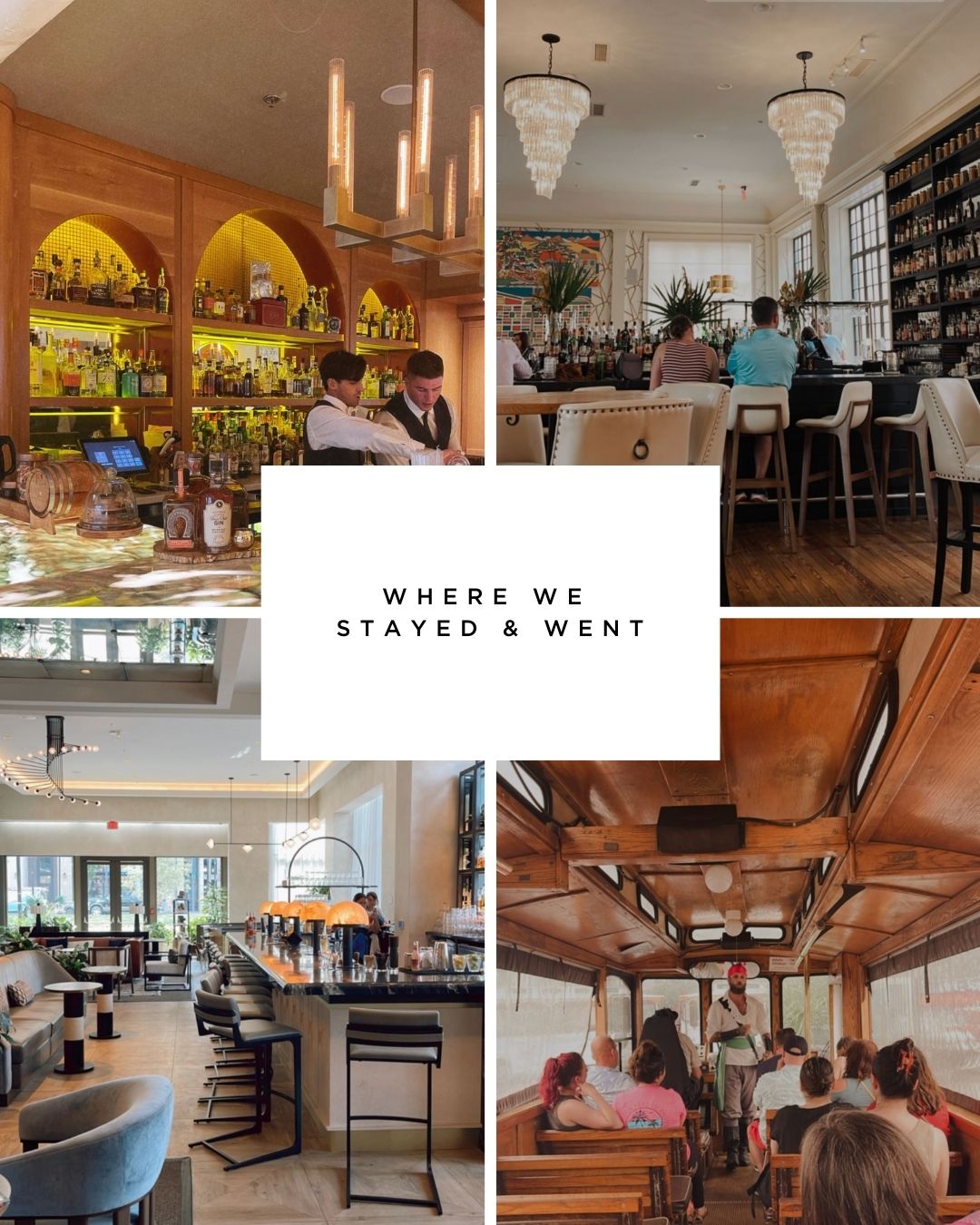 THINGS TO DO
Day trip to Tybee island + seafood stop
Ghost Tours – nighttime bar crawl "Savannah is so beautiful that the dead never truly depart."
Shopping – on Bull Street, Plant District, River Walk
Biking the Historic District
Trolly Tour
Explore City Market Area – lots to see
Mural Photo Ops
Forsyth Park sightseeing – Visit the cypress trees: Most of Forest Gump was filmed here like the bench and tons of those cypress trees that are hanging low like in the movie.
Group activities – like cooking classes, Salacia Salts Create Your Own Body Scrub, etc
Spa day or pool day
WHERE TO EAT
Brunch
Collins Quarter
The Olde Pink House – a must
Good Times Jazz Bar & Restaurant – Sunday Gospel Brunch
Coffee Shaps everywhere.
Lunch
The Vault
Savannah Tequila Company
Sorry Charlie's – Seafood
Dinners
Public Kitchen
Savannah Seafood shack
Husk
Cotton and Rye
Common Thread
The Grey (even if just for cocktails)
St. Neo's Brasserie
Rooftop Bars
Peregrin Hotel Bar – this is a MUST at the Perry Hotel
Treylor Park
TheOrdinary Park
The Grove
Myrtle & Rose Rooftop Garden at the JW Marriott. Its gorgeous.
Music + Nightlife
Savannah Smiles Dueling Pianos
All the live bars
FAVORITE PLACES WE WENT
Savannah Smiles Dueling Pianos
All the live bars
DRINKS
Cocktails: Artillery — beautiful bar and amazing specialty cocktails
Late night drinks: Savoy Society… the vibe here is SO fun! It's kind of a local spot so you can hopefully avoid all the bachelorette parties 😅 It's a popular spot for SCAD students so the average age is pretty young but not in an off-putting way! It's a blast and has great music.
EATS
Dinner (specifically Oysters!): Husk — it's a super cool, old house that was renovated into a restaurant. We really liked the ambiance & decor of the upstairs bar. It's beautiful!
Brunch: It's super touristy but Collins Quarter in Forsyth Park really does live up to the hype. The food and Bloody Mary's are delish. Husk also has a really good brunch!
TOURS
Savannah BikeIt's: Not sure if you'll have time/interest for a guided tour (if you do, I totally recommend it because it's definitely the best way to learn about the city and the history and see the entire Historic District in one swoop) but we really liked Savannah BikeIt's a chill and easy ride on a beach cruiser and our tour guide was great! https://www.savannahbiketours.com/