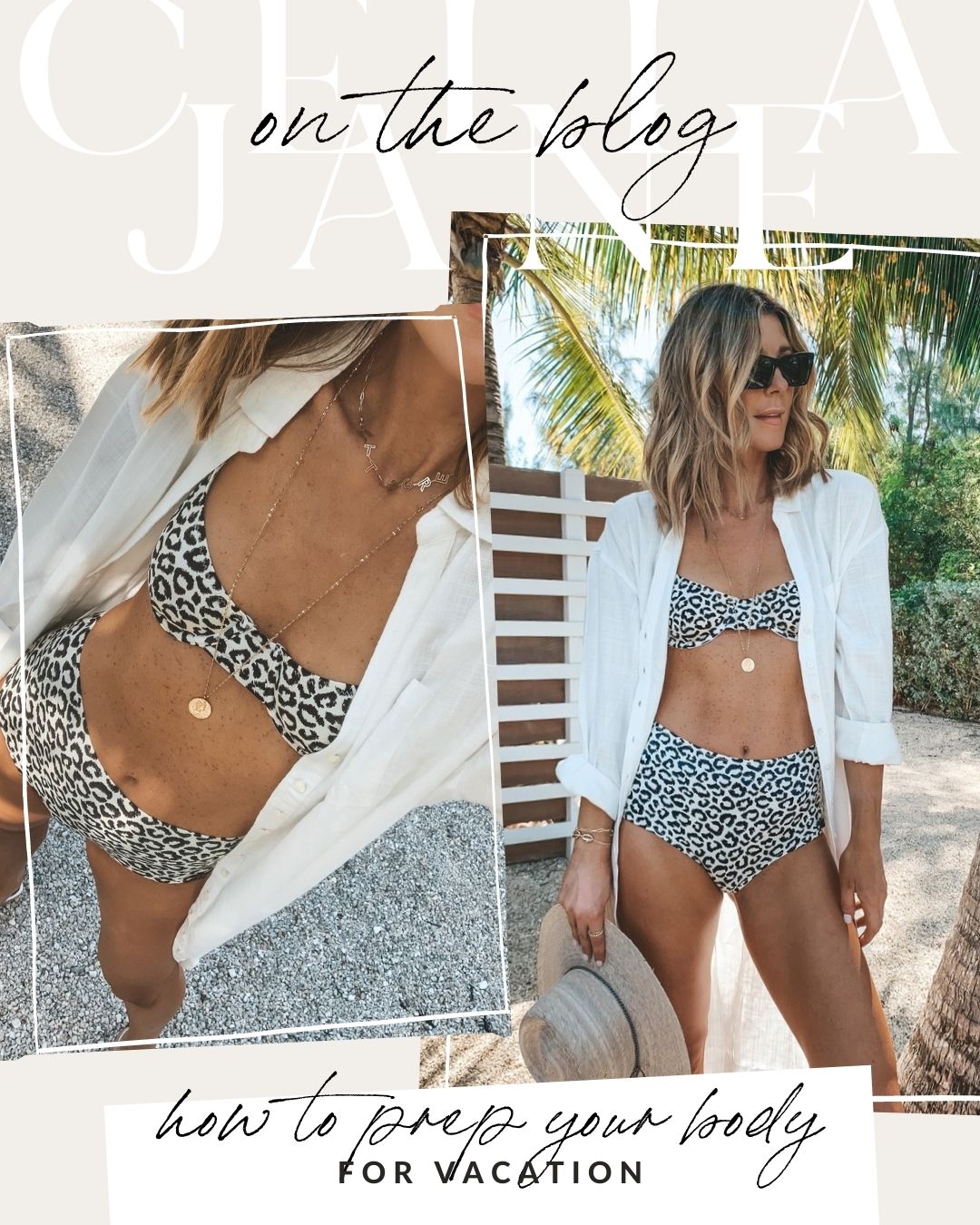 We leave for Cabo next week on our family vacation and I am so excited! I have been trying to eat really clean and not drink before vacay. I started thinking about how I was going to share what I do to prep my body and realized I've never shared these tips before! So here's exactly what I do prior to vacation so I'm feeling my best and ready to have some fun.
Eat Protein At Every Meal
It is no secret that eating enough protein is important for increasing muscle mass, but protein also plays a role in fat loss too!
Drink A LOT Of Water
I up my intake to about a liter a day a couple of weeks ahead of time. It helps detox, keep you fuller longer and does so many good things for you skin. Add lemon and cucumber for some flavor or try water drops – love those!

Add In More Weights And Cardio
My workout routine remains pretty consistent regardless if I have a trip or not. However, I will add in some extra cardio or heavy weights to try and burn as much fat as possible. I do a TON of squats, love rowing for cardio and will sometimes do a local cardio class. Then when its vacay time I take a week off, which is always amazing!

Stop Snacking
Snacking, even healthy snacking, can stall weight loss and prevent you from losing those last few pounds. A few extra calories here and there add up quickly and can cause you to overeat unintentionally. Instead of snacking, sit down to a balanced meal three or four times a day. It is much easier to keep track of your consumption if you have distinct meal times.
Cut Out Cocktails, Wine And Beer One Week Prior
Extra empty calories right here. Save them for the spicy margs on the beach!
Cut Down On UNHEALTHY Carbs
Changing your diet is the best way you can see your body change. I try to cut out any empty carbs like white bread, flour tortillas, white rice and replace with complex carbs, veggies and healthy fats like nuts, avocados, and nut butter. Then when I am on the trip I indulge!
Prep
The week of the trip, I schedule out time for mani/pedi and make sure to get my skin/tan ready. I exfoliate a ton so my skin is smooth and prepped for a long faux tan. I will do a face mask and hair mask. I pack body oil for the trip to extend my spray tan and also pack my tanning drops to extend my tan on the trip!