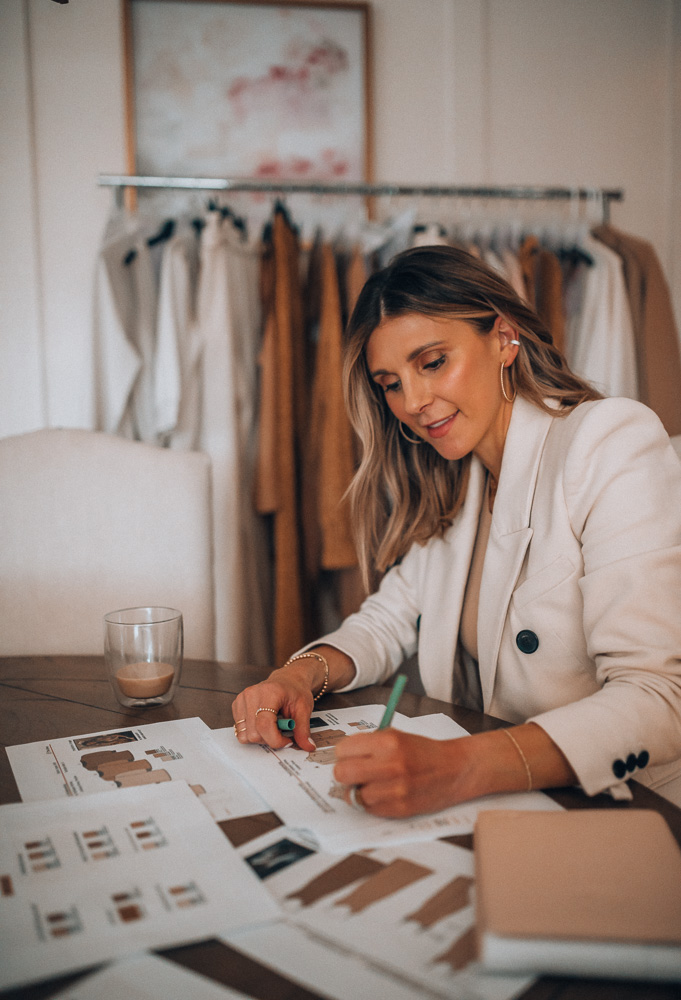 I recently shared that I will be designing my own collection with Amazon The Drop that comes out later next month. I know there was a bunch of questions about how the Drop Collection works, so I wanted to answer some of the most common questions to hopefully make more sense!
WHY 30 HOURS ONLY?
Each piece is made-on-demand, just for you. Amazon only makes each piece only when you order it. Amazon has taken this approach to reduce waste. In order to be able to ship your orders to you in just 2-3 weeks, Amazon limits sales to the 30-hour period.
HOW DO I SHOP?
Once the collection is live, you'll get a text message if you sign up for notifications here. That is the quickest and easiest way to be sent directly to my collection. (since Amazon sells such a broad range of things, this will be quicker than searching on the Amazon site). If you have the Amazon app downloaded, my links will send you directly to my collection in the app.
DID YOU ACTUALLY DESIGN THE COLLECTION?
Absolutely! I was a part of every stage of the design. From what pieces I wanted to include to the functionality of the pieces, creating a moodboard, then reviewing and editing all sketches, trying on every sample, then editing those down to my collection of perfect pieces. Through the process, Amazon's technical designers did the technical sketching of each style, and producing the garments. I put much thought long into each of these pieces, making sure they work on a variety of body types and ages.
HOW MANY PIECES ARE IN THE COLLECTION?
10 total! 2 dresses, 3 tops, 2 jumpsuits, 2 cardigans and a pair of pants! I'll be sure to show you how to style the pieces different ways in the weeks leading up to it.
WHAT IS THE PRICE RANGE OF THE COLLECTION?
Everything is under $100 / 100 GBP / 100 Euros. I'll be able to share exact pricing as we get closer!
WHERE IS THE DROP AVAILABLE?
The Drop is available to customers around the world! You can easily shop The Drop on your phone from any of the following Amazon websites or apps: Australia, Canada, Germany, France, Italy, Japan, Mexico, Spain, United Kingdom, and the United States. Global customers can choose international shipping at checkout.
CAN ITEMS SELL OUT WITHIN THE 30 HOURS? WHY?
My collection captures the latest trends, featuring some pretty amazing fabrics, colors, and prints. These special fabrics come in limited quantities and can be produced in limited capacities during the 2-3 weeks that Amazon commits to have all orders shipped out, which means styles can "sell out". But if things sell out super fast, I hope to be able to design future collections for you.
WHAT IS THE SIZING RANGE?
My collection (and all collections after mine) will be offered in XXS – 3X.
Many of their Staples collection basics will be extended up to 3X as well.
WHEN WILL MY ORDER SHIP?
When you order from made-on-demand collection, Amazon makes it just for you. You'll see an estimated delivery date on the order summary, just before you place your order. Garments go into production as soon as the collection ends. Once your order is out the door, Amazon will send you an email letting you know exactly when it will arrive. You can track the status of your order in Your Orders.
DO PRIME MEMBERS RECEIVE FREE SHIPPING?
Yes! Prime members receive free shipping on all orders (subject to Prime shipping eligibility policies). Non-Prime members qualify for free shipping on all eligible orders.
CAN I RETURN AN ITEM I PURCHASED THROUGH THE DROP?
Yes, if you are not satisfied with your order you are able to return any time within 30 days of delivery. The item must be in new and unworn condition, in the original packaging with tags attached to receive a full refund. To make a return, locate the order in Your Orders, click the "Return Item" button, and follow the on-screen instructions. Please note that because items from the limited-edition collections are made just for you, return shipping fees apply.
WHAT ARE THE FABRICS USED IN THE PIECES?
Many of my items are made of a Viscose fabric. All fabrics will be listed on the item detail pages once it drops. We carefully selected each fabric to be suitable for the style and fit intent of the garment.
ANYTHING ELSE I NEED TO KNOW?
I'll be sharing more as we get even closer but in the meantime, be sure to sign up for SMS notifications here so you don't miss once it "drops!" and be sure to follow along on my 'The Drop' IG stories highlight. Feel free to leave any other questions below! So excited to share this with you.
SHOP THE DROP STAPLE ITEMS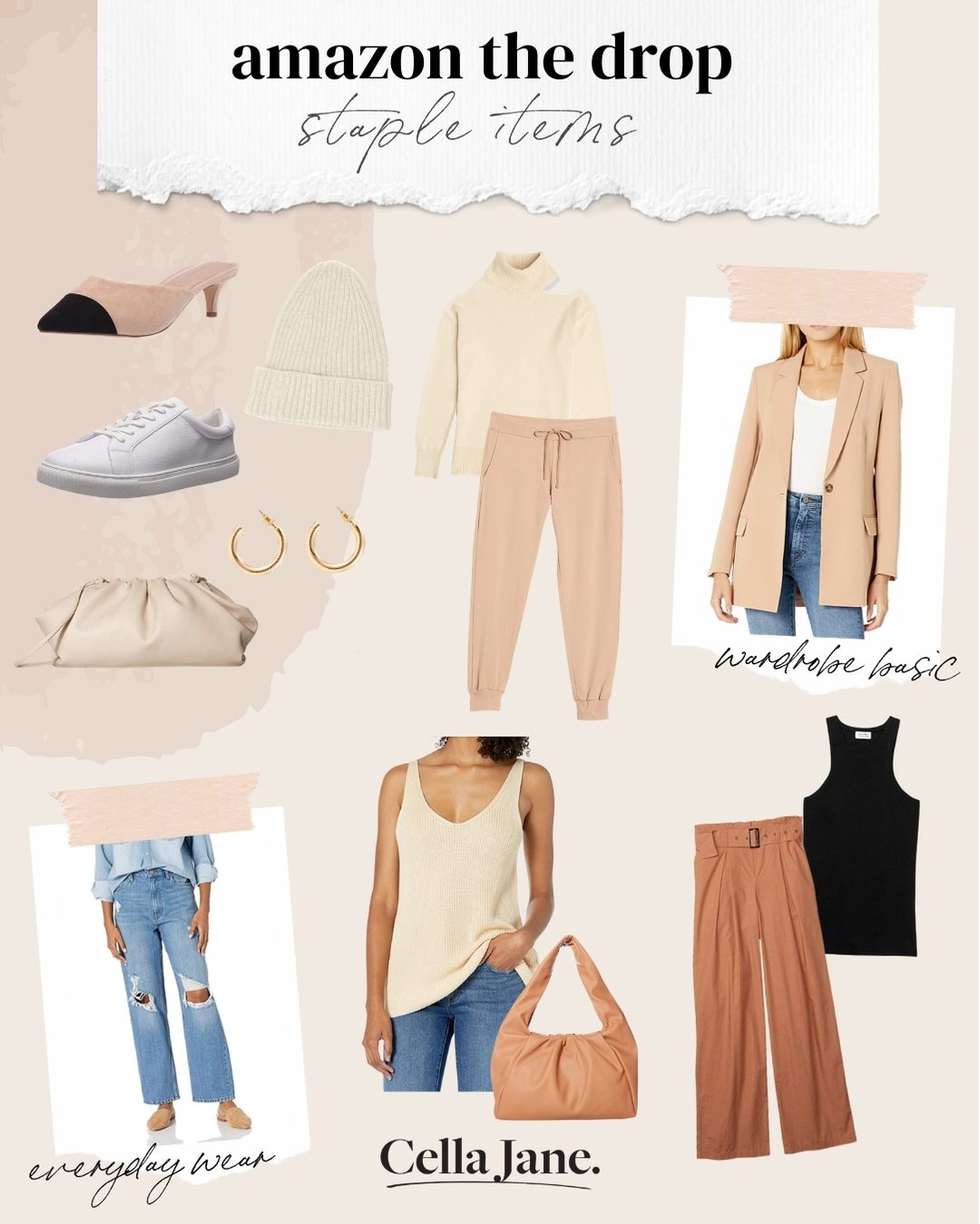 Blazer // White sneakers // Clutch // Sweater Tank // Wide Leg Pants// Fitted Turtleneck Sweater // Sneakers // Jogger Pant // Sweater Tank // Cutaway Sweater Tank // Wide Leg Pants // Jeans