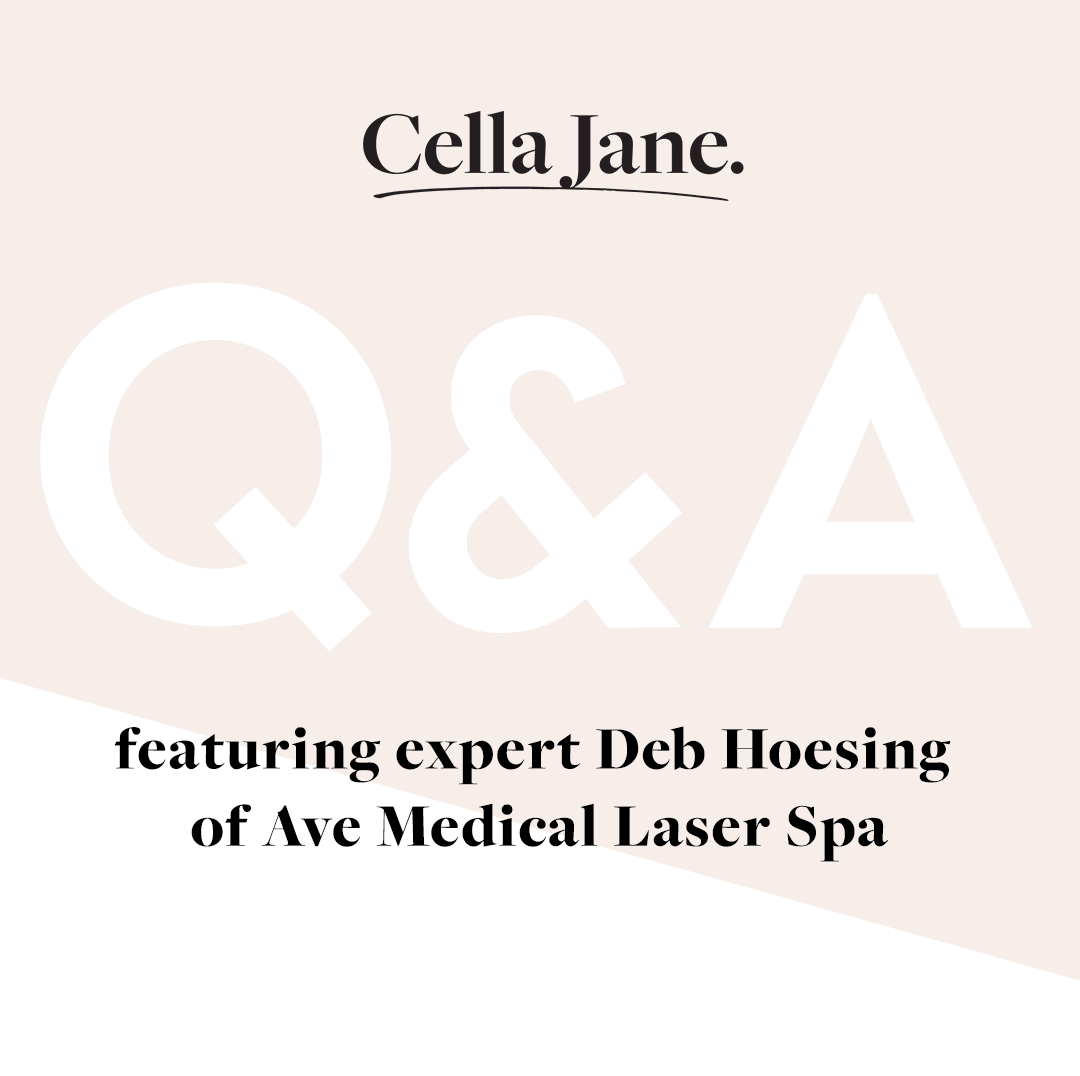 I am finally sharing my Halo laser before & after pics and answering a bunch of the questions you guys sent in regarding the halo laser, skincare, my mom's spa and questions for her.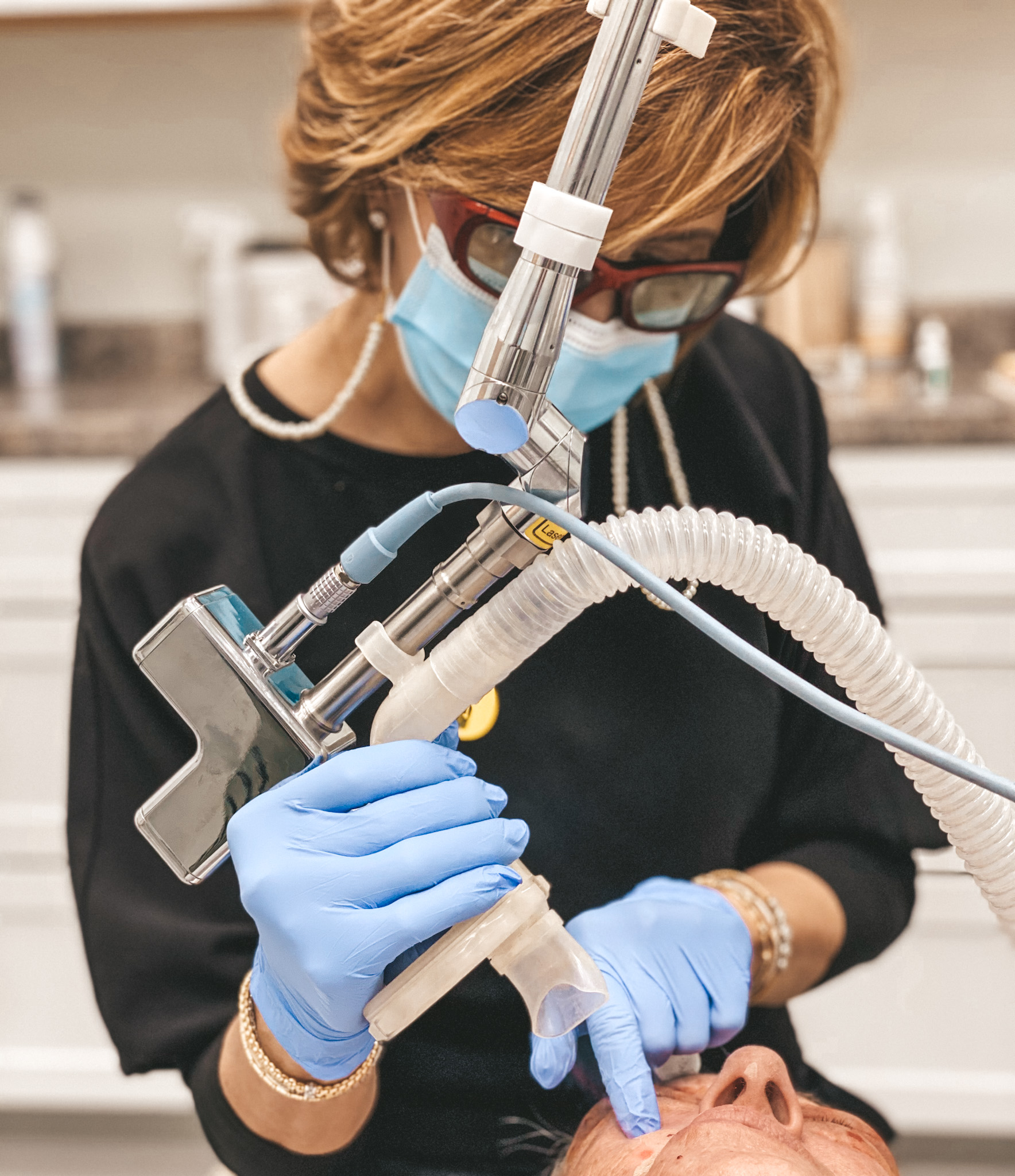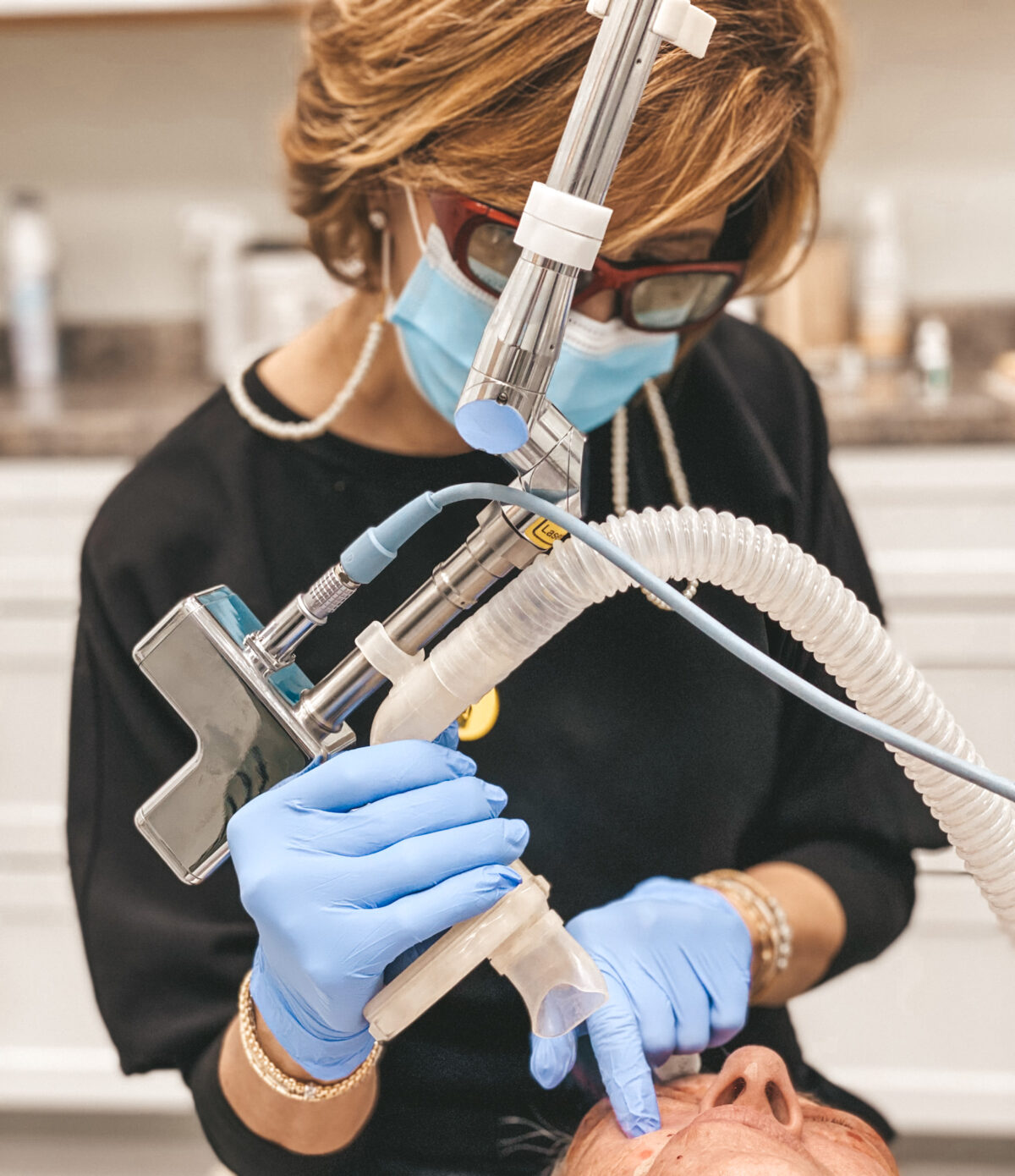 A quick background on my mom for those of you who do not know…
My mom was an OBGYN nurse for 30 years and has always had a love for skin care. When her and my dad moved from Yankton to Dakota Dunes in SD, she wanted to pursue her passion and work in skincare. That's when her dream of opening Ave Med Spa came to life. She started doing her research and knew it was very important to partner with a certified doctor. She found Dr. Hicks and together they created Avé Med Spa 12 years ago! As a RN she performs laser treatments, injections, skin consults, and assists in cosmetic surgeries.
Q: WHAT IS A HALO LASER?
Halo Laser Treatment uses hybrid technology of a non-ablative laser, combined with an ablative laser to create controlled zones of coagulation to chosen depths into the dermis that stimulate new collagen, and fractionally vaporize (ablate) micro laser channels into the epidermis; addressing tone and texture of the skin. This type of laser treatment offers less downtime than others. However, Halo's technology is currently one-of-a-kind.
A FEW FACTS ON THE HALO
Halo offers a total rejuvination of the skin. Improving skin texture, minimizing pore size and fine lines, evening out skin tone, sun damage, visible signs of aging, discoloration and gives the skin an over all glow.
Halo has no age restriction and works for all skin types.
For optimal results it is recommended to have 1 – 3 Halo treatments.
It is important to have limited sun exposure 2 weeks prior and at least 2 weeks post Halo treatment.
Itching, swelling, redness, peppering (MENDS) and bronzing or darkening of the skin are all normal side effects during the healing time post Halo.
Drinking lots of water and keeping the skin well hydrated are pertinent during recovery.
You can expect 4 – 7 days of downtime.
HALO REQUIRES FEWER TREATMENTS FOR BETTER RESULTS.
Halo is more expensive than a chemical peel or traditional fractional laser. On average, Halo costs about $1,500. Other peels and lasers are typically in the $100-$500 range per treatment.
That said, it can take a chemical peel or fractional laser 3-4 treatments to achieve the results of a single Halo procedure. Halo treatments are also known to provide better, lasting results in the long run. Because of this, for many patients, Halo is actually the more affordable option.
WHAT TO EXPECT
My mom applied a numbing cream to my face (this takes about 40 minutes to fully kick in). DO NOT skip on this step, the numbing cream makes the experience much more tolerable, especially for people with rosacea, because our skin is more sensitive to heat.
Once my face was numb, the actual treatment began. The treatment wasn't necessarily painful but the discomfort does escalate throughout the procedure – the heat builds. The entire face took about 20 minutes.
Immediately after the Halo Laser my face was extremely hot. Lot of ices packs!. For the next hour and a half my face was hot and uncomfortable but was not as painful as other treatments I have had.
On day two, my skin no longer felt hot, but it felt like aligator skin, thick and dry. My skin continued to feel this way through day five. Then the MENDS slowly started to come off, revealing baby soft and clear skin. By day 9 my skin was completely healed and had the Halo glow!
BEFORE/AFTER PHOTOS…
These first ones are obviously not my results, but when researching this laser treatment, I found these photos to speak volumes about what this type of laser treatment can do for your skin…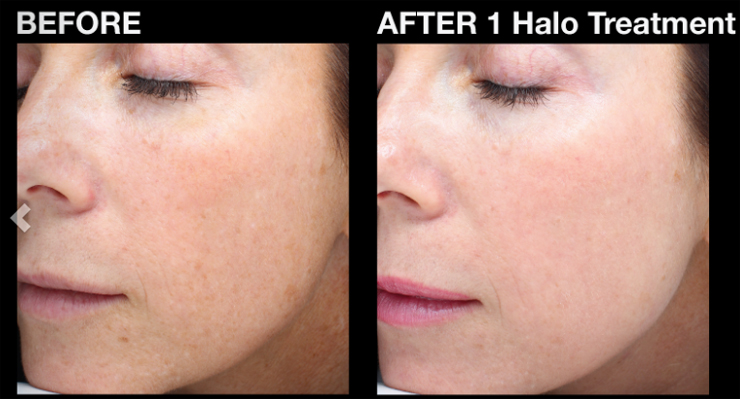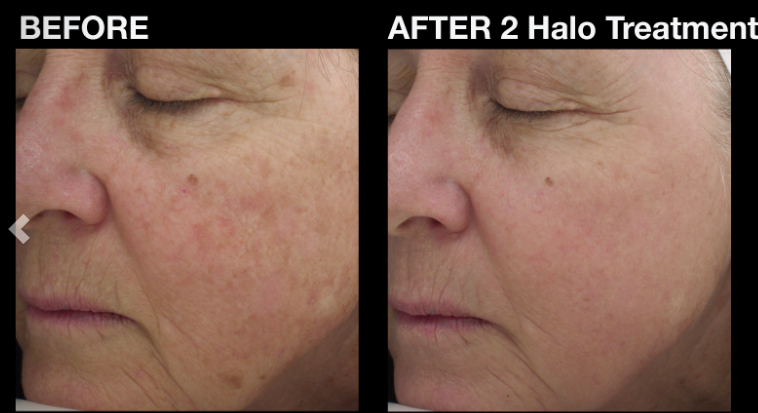 MY PHOTOS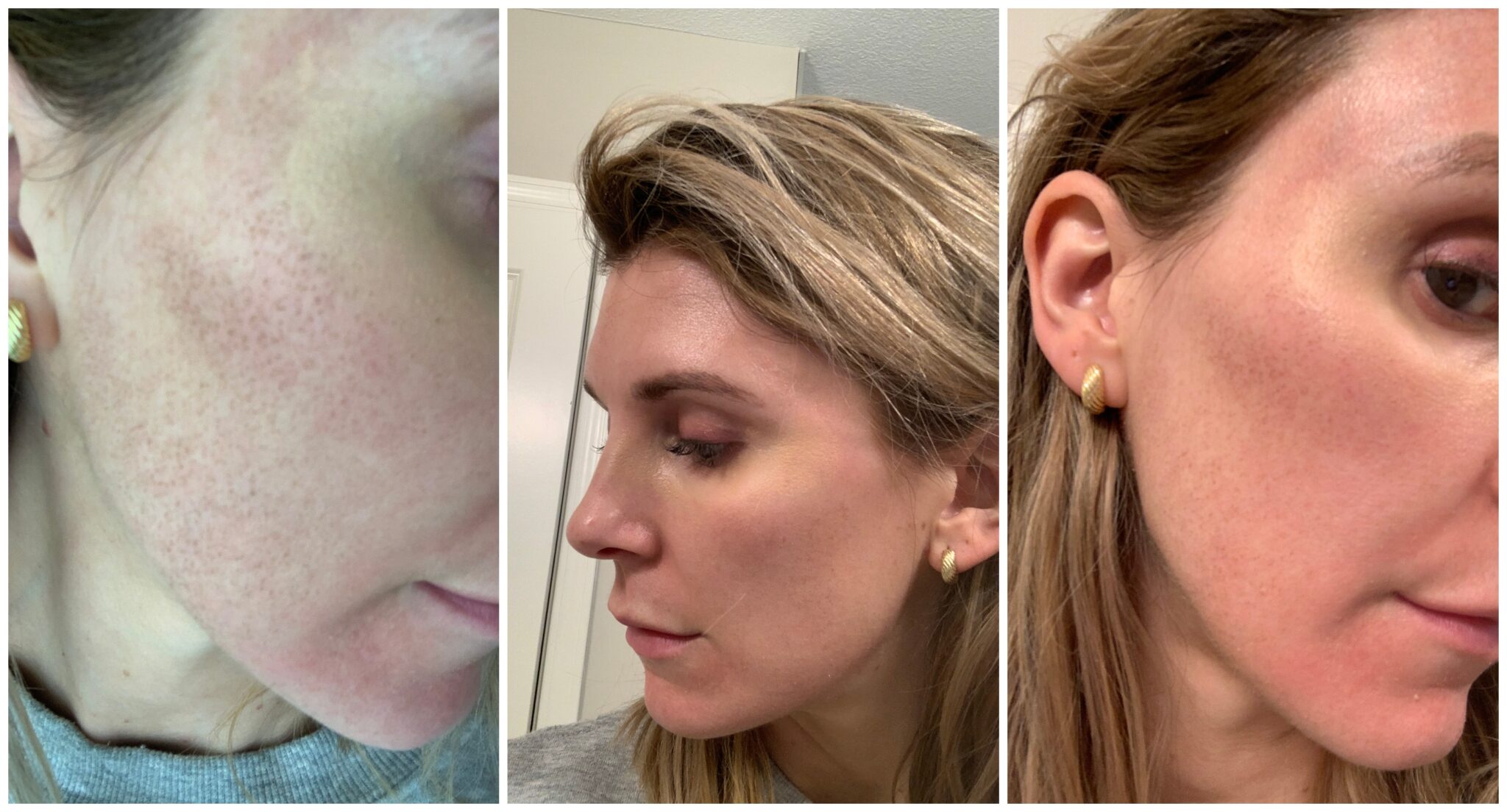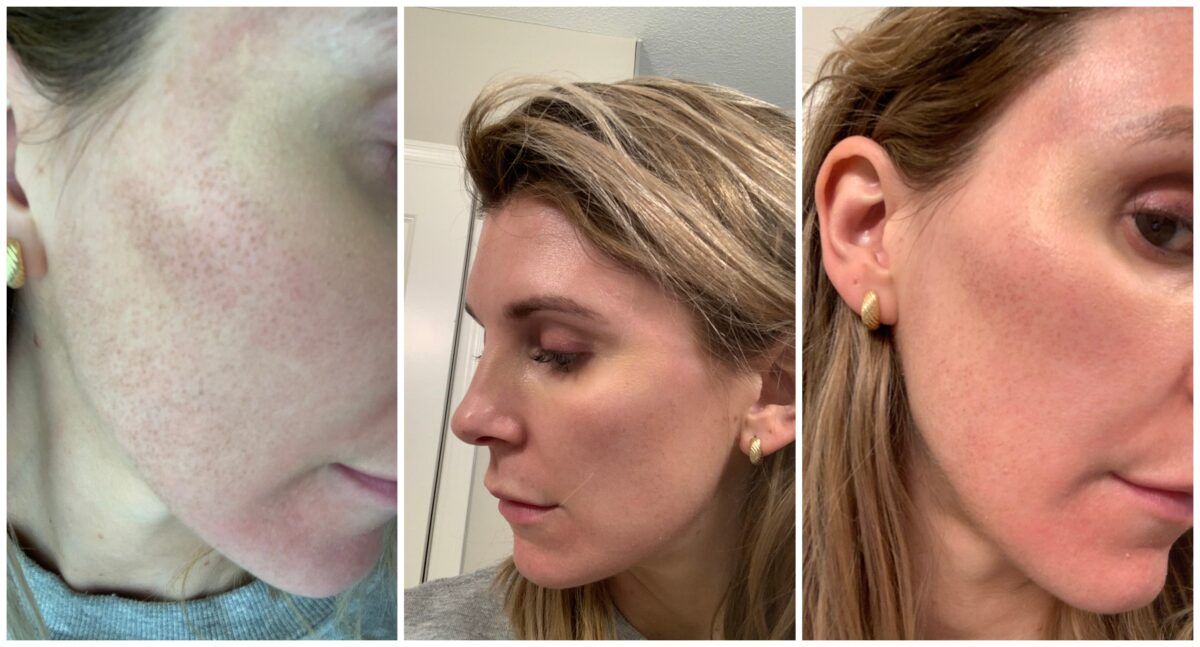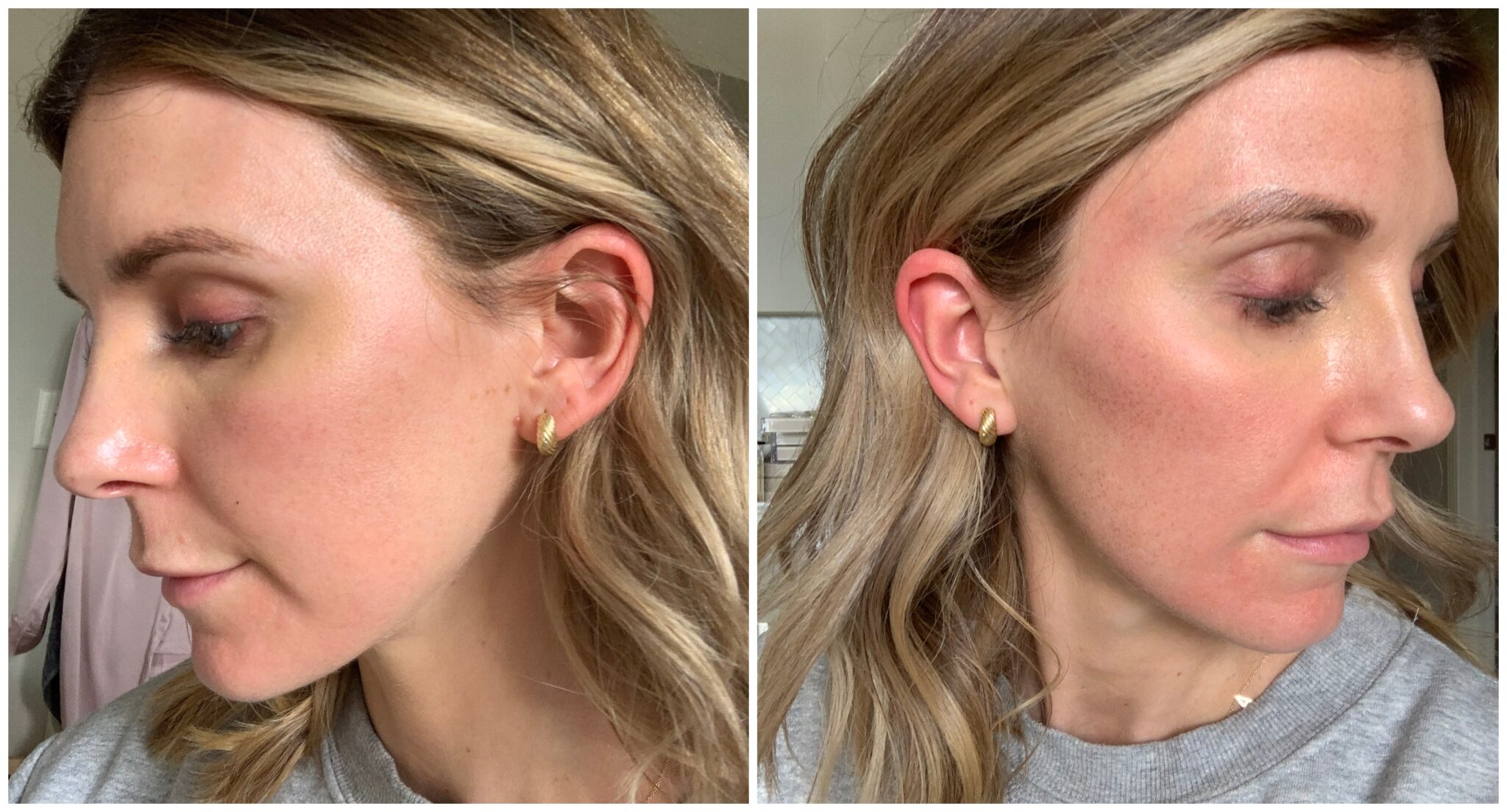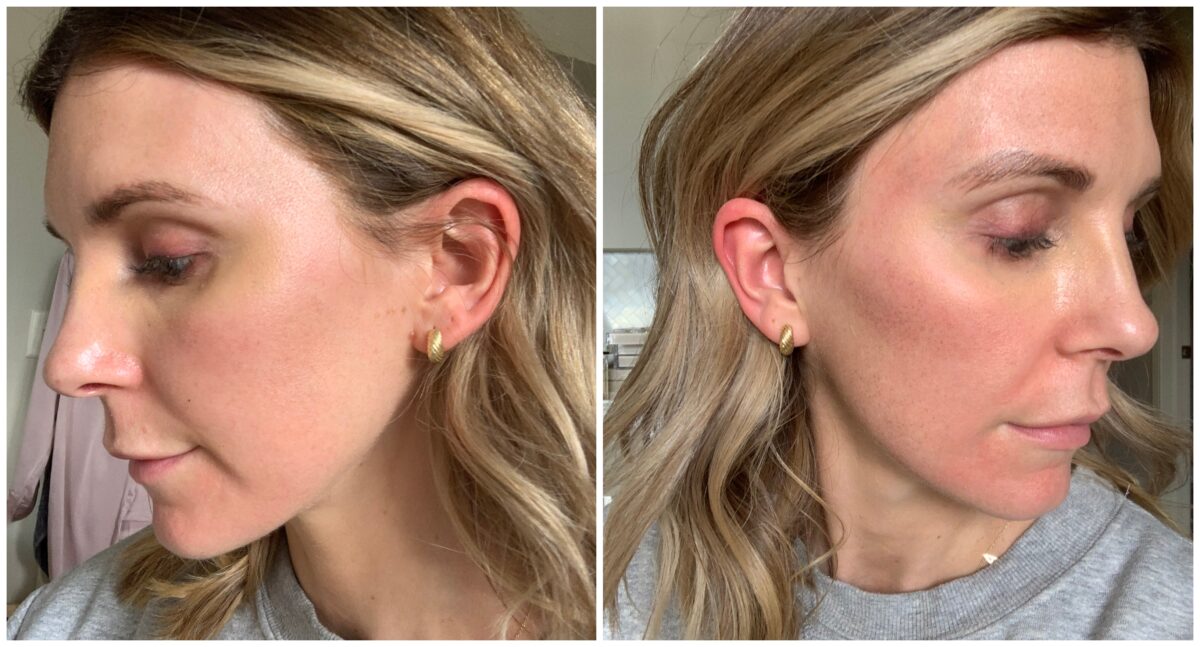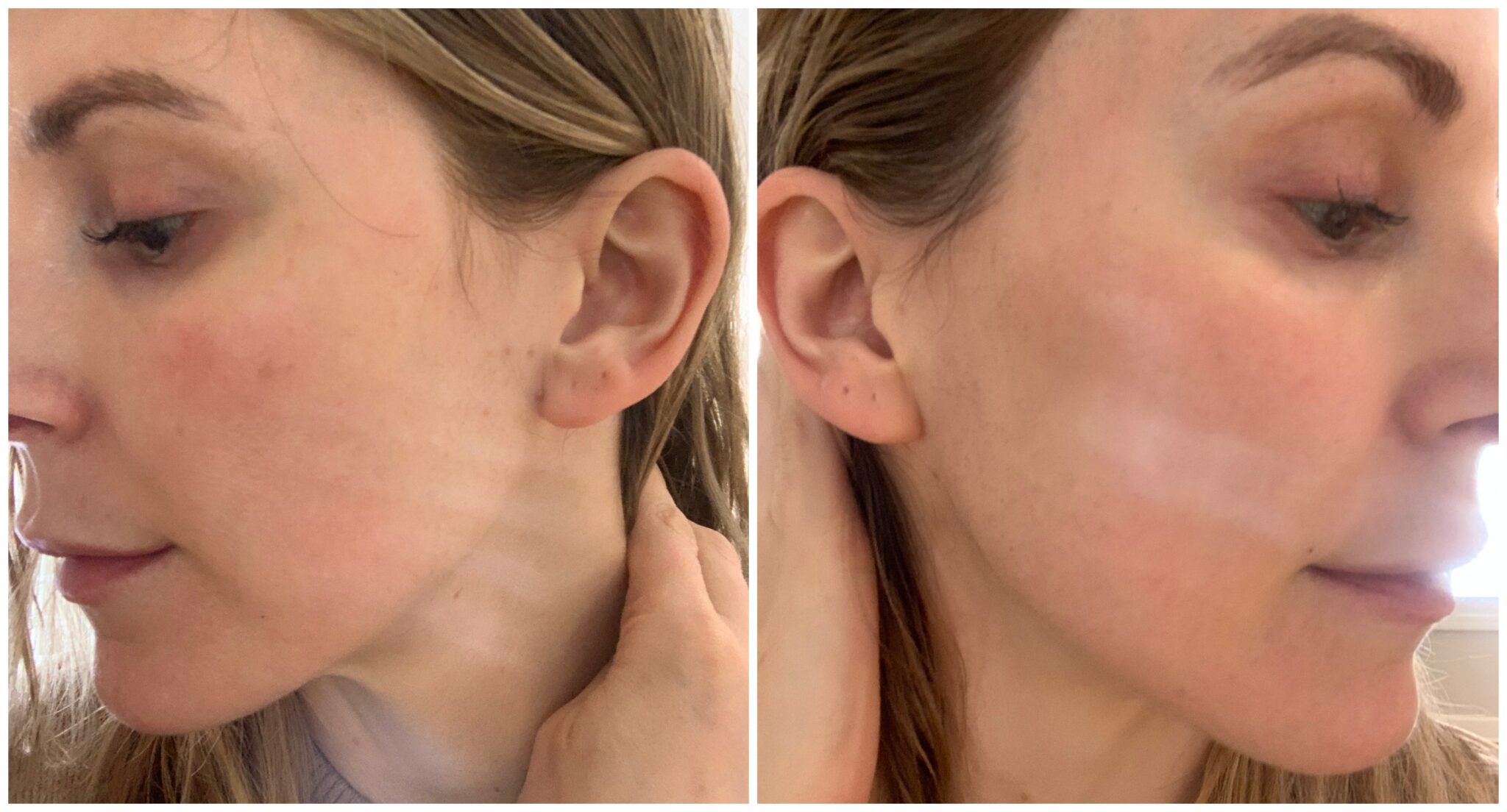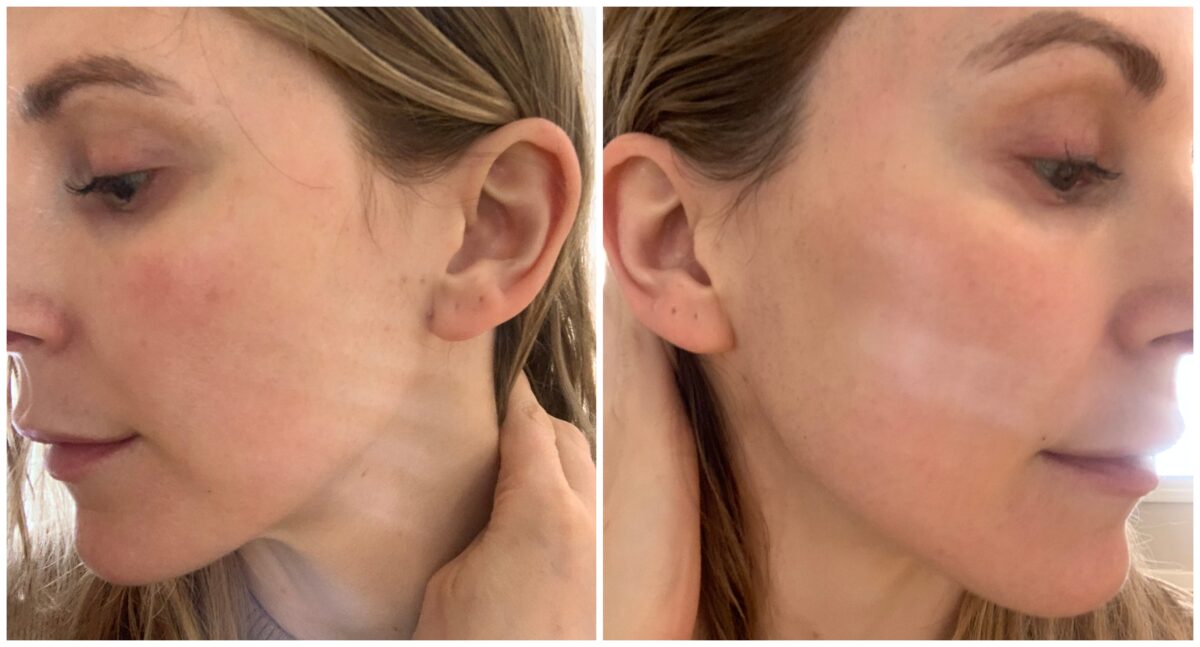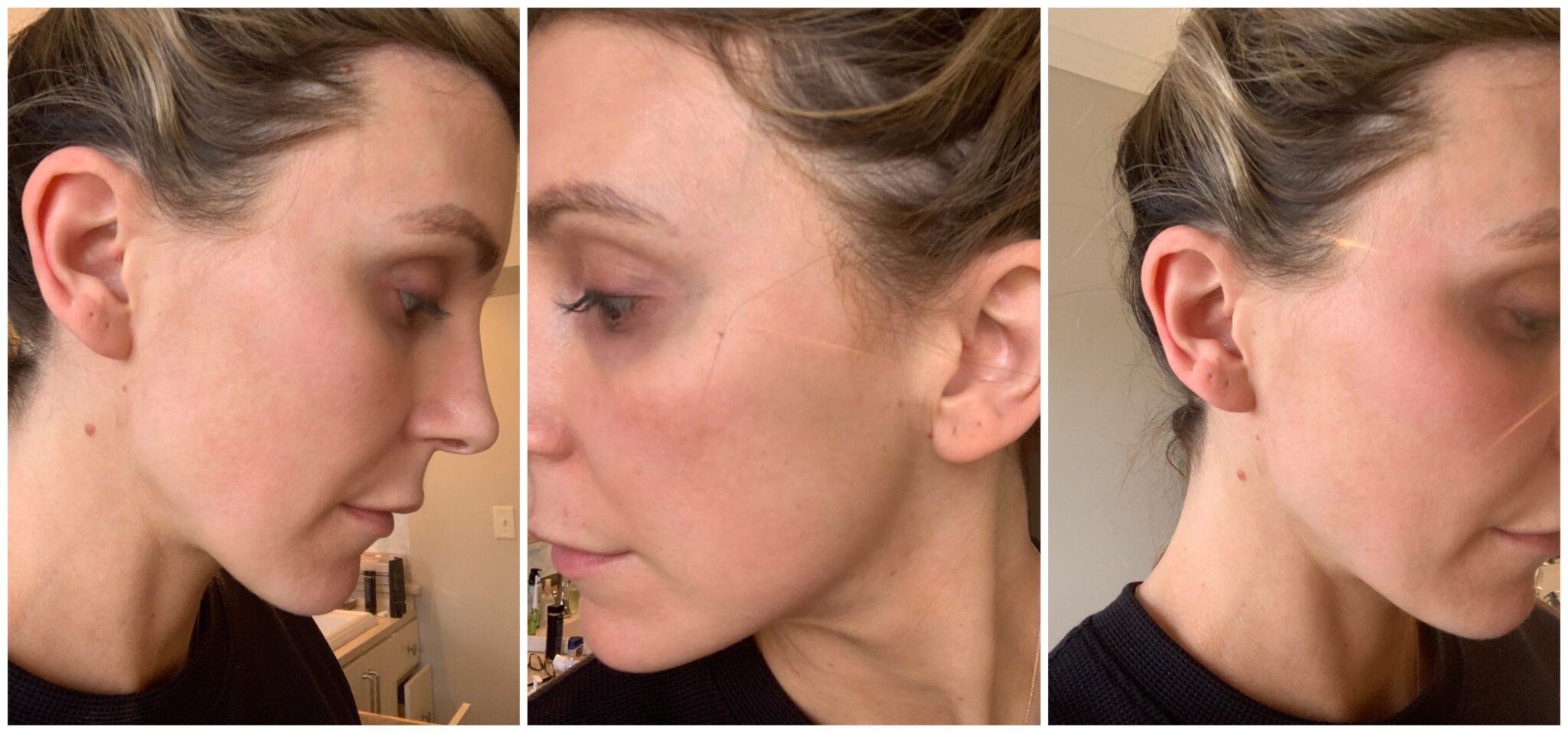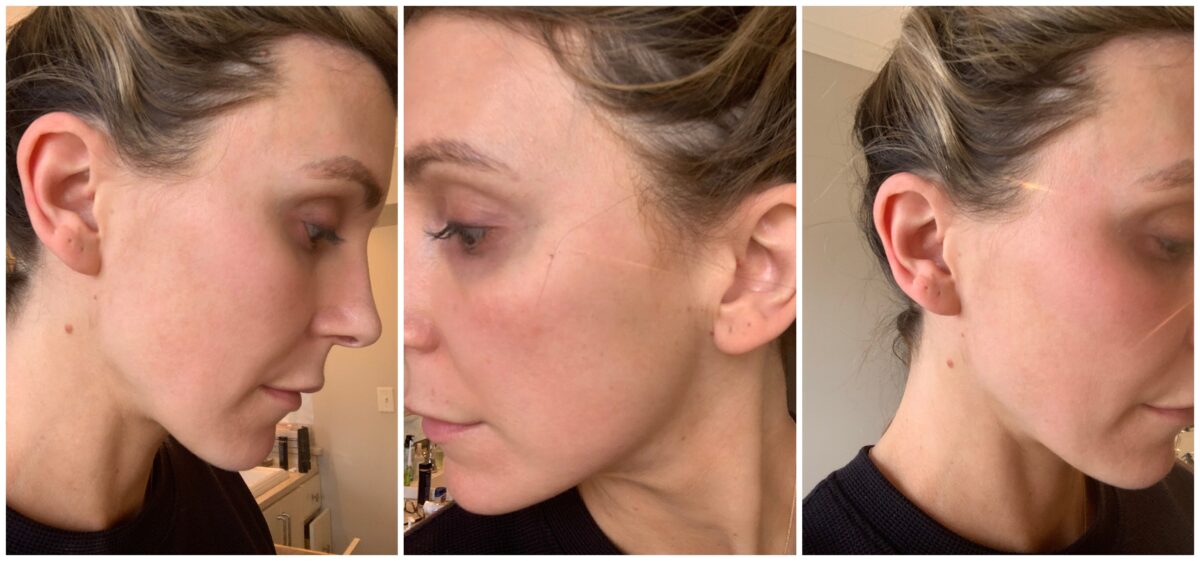 RECOVERY TIME
Everyone will respond differently to this laser treatment because it's geared specifically for each individual's skin needs. Here is a run down of my recovery time and healing process post Halo treatment.
Day of Treatment – My skin was swollen, red and hot.
Day One – The morning after Halo, my skin was slightly uncomfortable and still red but was no longer hot. It felt like alligator skin- thick and rough. You can not use makeup unitl after 24 hours post Halo.
Day Two and Three – Redness was gone and more swelling. My skin had a ton of (MENDS) all over it. My face feels tight and a bit itchy.
Day Four, Five, Six – Starting on day four I applied a tinted moisturizer and the rest of my makeup regimen. The swelling was gone and the MENDS slowly come off more and more each day. Unless you were within inches of my face you couldn't tell I was still healing from the Halo Laser.
Day Seven and Eight – More and more MENDS are coming off. I applied normal foundation and started to see the Halo Glow!
Day Nine – My skin is completely healed and has the beautiful Halo Glow!
SKINCARE QUESTIONS FOR MY MOM
Q: What other SkinCeuticals products are your mom's must haves?

A: Vitamin C provides advanced environmental protection against free radicals that damage and age the skin. Vitamin C should be applied after your toner. C E Ferulic is best for normal to dry skin, C F Ferulic is best for oily and Acne prone skin. Another SkinCeuticals product I like is A.G.E Interrupter, this anti-wrinkle cream helps to reduce the appearance of crepins and thinning skin.

Q: What is your Mom's favorite retinol?

A: Retinol depends upon your skin type. For those with more oily skin I recommend Obagi Tretinoin. For those that cannot tolerate due to dryness I like Suzan Obagi Retivance.

Q: What does your mom recommend for acne scarring?

A: For acne scarring I have seen amazing results with Sciton Profractional laser, Dermapen, or Lutronic Genius.

Q: What are the benefits of doing halo & BBL together and or separately?

A: If you have never done any laser and you have a lot of sun damage, the combination of Halo + BBL clears your face nicely.
Halo laser helps with hyperpigmentation, fine lines, wrinkles, collagen stimulation, best for those that can't have a lot of down time. You may need more than one treatment depending upon the results you want.
For maintenance, I recommend BBL laser treatments twice per year and Halo treatments 1-2 times per year depending upon the status of your skin. 
If you have taken good care of your skin, I prefer to do a Halo treatment first followed by BBL treatment.

Q: What is your moms skincare routine? (morning + night)

A: My skin care routine is great for me, but does not mean it is right for everyone.
AM: Revision Gentle cleanser, Revision toner, Vitamin CE Ferulic or Revision Vitamin C, Obagi step 3, Defenage step 2, Defenage step 3, Revision Teamine eye complex, & Revision Nectifirm.
PM: Revision Gentle cleanser, Revision toner, Obagi Hydro Drops, Alastin Restorative Skin Complex, Obagi step 3, Alastin skin moisturizer, Defenage step 3, Revision Teamine eye complex, & Revision Nectifirm
All products are 20% with code: cellajane

Q: SkinCeuticals C E Ferulic serum vs. Obagi Vitamin c, which do you like better? What is the difference?

A: I like them both equally, I don't find much difference between them.


Q: Are there any treatments such as botox and facial peels that you shouldn't do while breastfeeding?

A: No botox, fillers or lasers during pregnancy. Laser while breastfeeding is ok. I would recommend checking all your products with your OBGYN/ Doctor.
Q: What lasers do your mom recommend?
A: I recommend doing BBL laser every 6 months, including your neck to prevent aging and to clean up brown spots & vascular areas. I recommend doing Halo treatments yearly to combat fine lines, pores and stimulate collagen. Always get a consultation before hand to ensure what laser treatment is right for your skin type.
If you have any questions about any products, or treatments, feel free to call Avé at 712-224-3500