There's something special about looking back on family portraits over the years past. Family photos are a moment saved in time that are cherished forever. So when it comes to what to wear for family picture day I suggest planning ahead. Whether you are taking family photos for your annual photo Christmas card or looking to get an updated shot to hang above the mantle, you'll want you and your family to look your best doing so.
Try these tips when picking something for yourself:
Pick an outfit that's figure flattering. I recommend any look that has a fitted waist. Skip the shift dresses and swing dresses because one gust of wind and you suddenly look twice as wide as you actually are.
If you're not a big fan of dresses, choose a skirt and top combination. But again, choose one that's an A-Line style (fitted in the waist and flows out over your hips). I promise it'll be 1000x more flattering than anything else you could pick.
Wearing something more dressy than your everyday. T-shirt material doesn't hang as well as chiffon, rayon, linen, double knit, or silk, and could look cheap and unflattering from some angles.
Choose the color you want to wear and build from there. We all know it's hardest to get us dressed, so start with yourself instead of fitting yourself in at the end.
Wrap Satin Dress and similar here, here and here

Wrap Dress (fits: TTS, wearing size small) similar here & here // Blush Velvet Heels (similar) // Gucci Bag
Sequin Pants // Satin Blouse // Heels
My look: Pleated maxi skirt and similar here// Satin button-up Shirt  // Pearl Earrings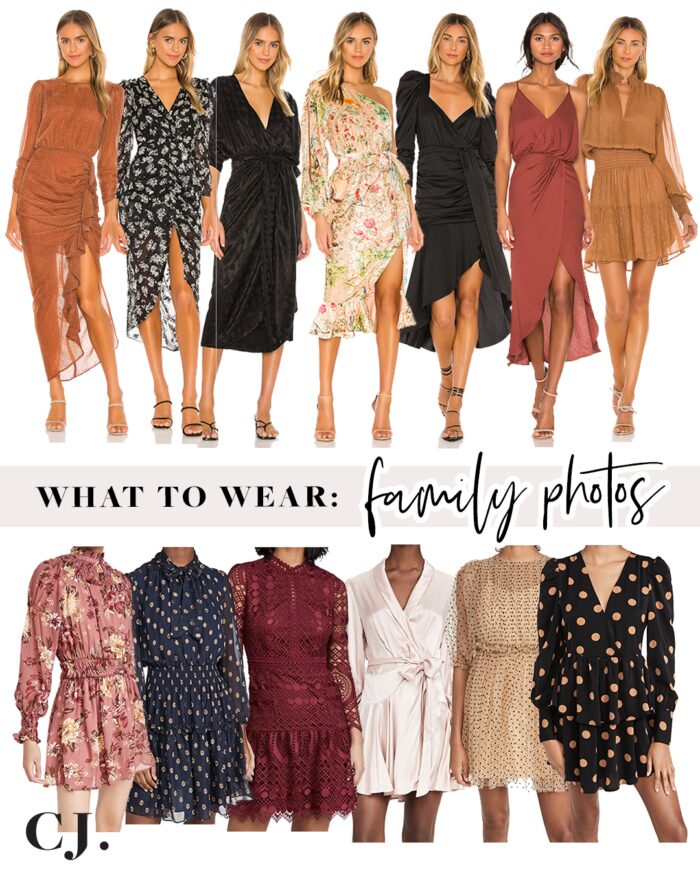 TOP ROW: ONE | TWO | THREE | FOUR | FIVE | SIX | SEVEN
BOTTOM ROW: ONE | TWO | THREE | FOUR | FIVE | SIX
SHOP THE POST