Today I'm sharing my favorite buys from Amazon last month. A few things are helping us get ready for the new school year, my new favorite jewelry box, and some of my most worn outfits this summer.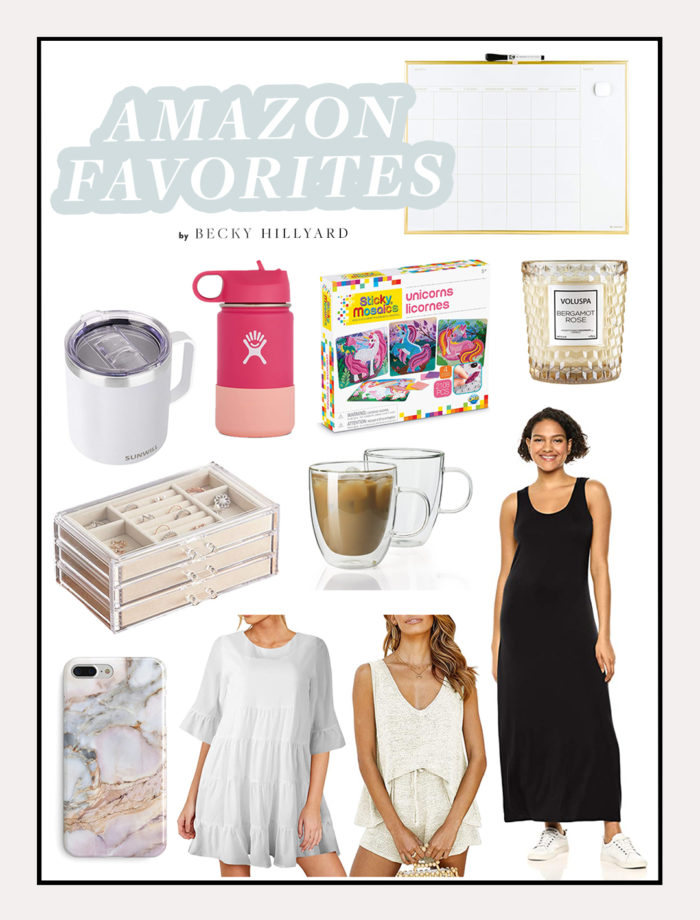 Monthly Dry Erase Board | Getting organized for Back to School & Fall activities. Using this by our back door.
Coffee Mug | A great 14oz mug for under $15!
Kids Hydro Flask | In the summer we're always grabbing water bottles to go to & from kids activities and when we're playing outside or going for a bike ride. Will be great for back to school!
Sticky Mosaic Kids Activity | Sutton loves these! She concentrates so hard on them and they're a great quiet activity for her.
Voluspa Candle | I love being able to order one of my favorite candles on Amazon Prime for under $30.
Jewelry Box | Love this velvet lined acrylic jewelry box. It's under $30 and holds so much. Leave this on your dress, vanity or bathroom counter and keep your jewelry clean & organized.
Glass Coffee Mugs | My new favorite mugs! Love the look & love drinking out of glass when I'm drinking coffee at home.
Marble Phone Case | One of my favorite phone cases!
Short Sleeved Mini Dress | So easy to wear in the summer, and works with my bump!
Knit Set | Loving this $30 knit set. Light weight & breathable for summer time!
Tank Maxi Dress | Another easy summer wear that works as maternity for under $30.
SHOP THE POST