1. Invest in A Bike Trailer

Biking is such a fun family activity no matter how old your kids are. Investing in a bike trailer was one of the best things we did so we could all get outside and spend some time together. Your little ones will think of it as a fun adventure, trust me! We have this brand and it's worked great for us over the years.

2. Walk Wherever you can
Walking is definitely one the most underrated healthy things you can not only do for yourself but for your kids too! Family walks are a big thing in our house. We walk to check on the new house, to go fishing, to and from school when it is in season – pretty much if something is within walking distance, that's how we're getting there!
3. Spend Time Jumping on the Trampoline
Our trampoline is the best purchase we have made this year. If you have ever been on one, you know what a workout it is! The kids love it and it really wears them out! Plus who doesn't love a little bit of exercise disguised as family fun?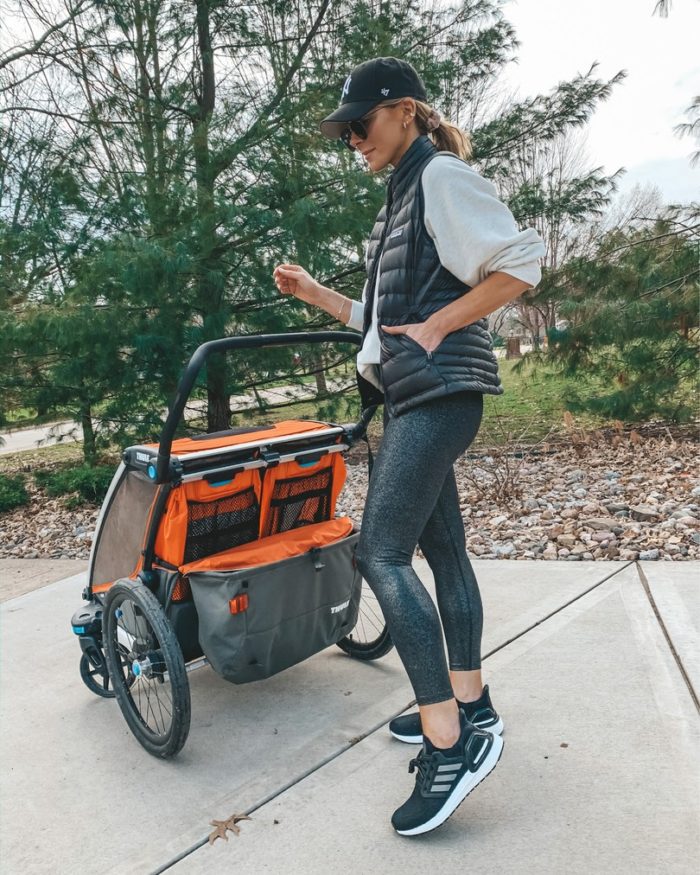 4. Go on a hike or nature walk
This is something I wish we did more of because no matter where you live there's always a trail to hike or lake to walk around. Maybe next summer after baby number three arrives we'll make seeking these things out a bigger priority. But especially if you live somewhere near the mountains or a state park, make time for hikes and nature walks – they're good for everyone's mood I think.
5. Look to Youtube for workouts for Kids
Even before quarantine, our whole family has always been big at-home workout people. Sutton is absolutely hooked on a kids yoga series called Cosmic Kid. YouTube is an amazing resource for this stuff – all you have to do is type in what kind of workout you want to do a thousand options will appear.
6. Go Swimming
I'm not 100% sure on the status of community pools, so be sure to check into what the rules are in your area, but if you have one that's open or your own pool in the backyard, definitely take advantage! Swimming is like a trampoline in that you're having so much fun you don't even realize how much exercise you're getting.