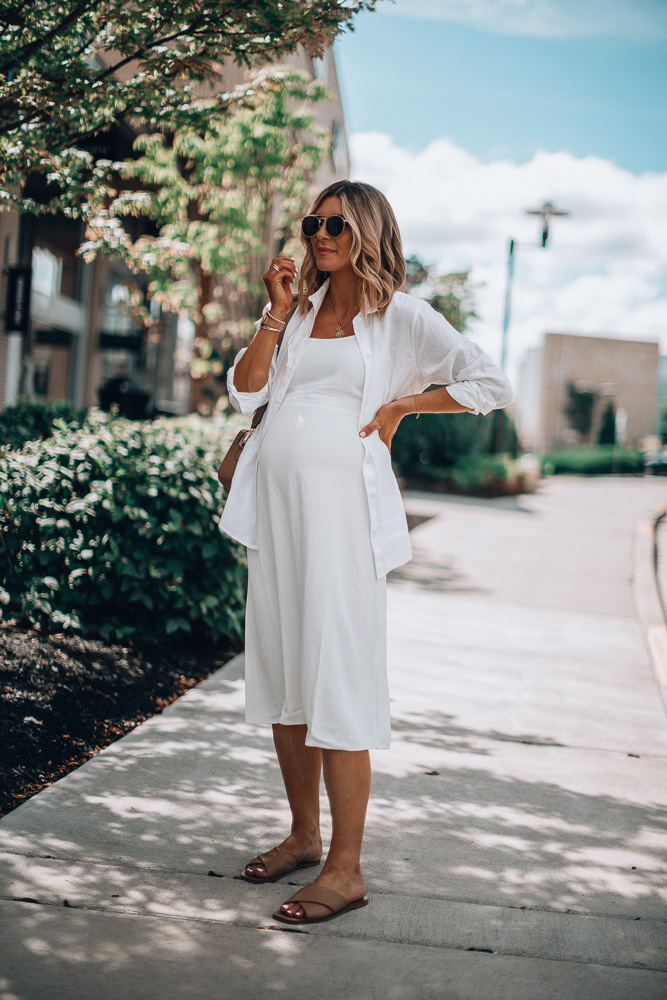 As the summer gets hotter and hotter, this mama's bump continues to grow, which means I need all the comfortable clothes I can get. If you follow along on Instagram, you know that if I'm not in activewear, I'm probably in some kind of comfortable dress. Enter: Everlane!
Everlane is a brand I truly love for their ethics and high-quality clothing and accessories. You literally can't go wrong with anything on their website and the price point is amazing. I've been raiding their dress section recently and found some really great options whether you're expecting or just love a good, flowy dress. What I love most, though, is that all three looks I'm sharing today will also work great post-bump, which is something I keep in mind when shopping right now.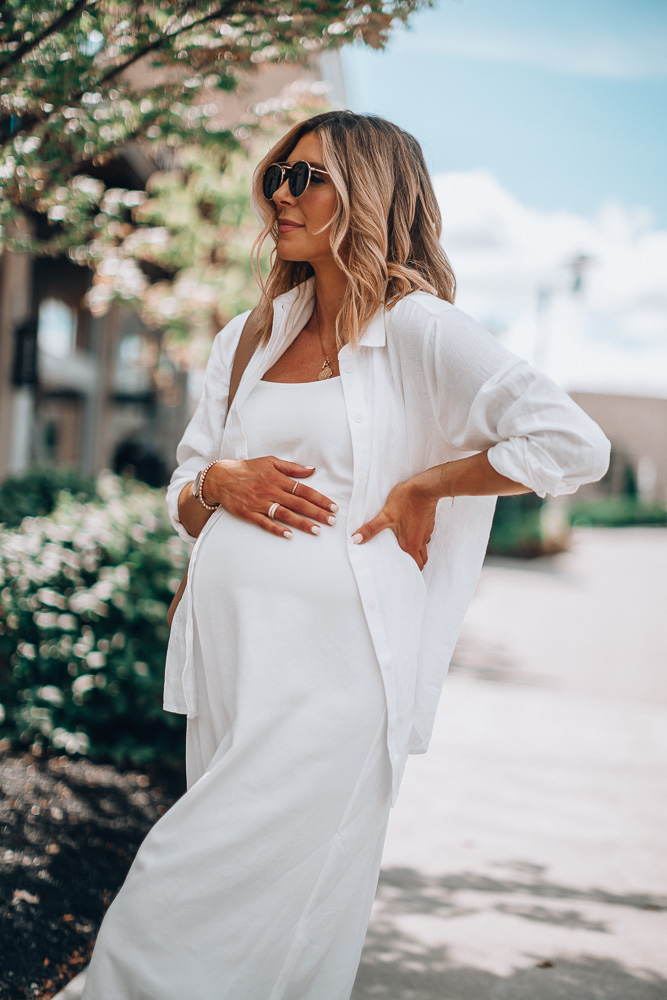 The first look has summer written all over it with this white slip dress. I'm completely obsessed with this dress! I love the open criss-cross back, but it also layers perfectly with a relaxed linen shirt if you want an all-white look or even a jean jacket. Everlane's Crossover sandal is the perfect finishing touch! It comes in white if you want to stick to that color palette, but I got the light taupe color because you know I'm all about having as many shades of tan in my wardrobe as possible, ha!
Speaking of shades of tan, this dress fits right in with my usual color palette! It's a midi tank dress, which means it's basically a tank top that goes down to just below your knee. It's honestly been a Godsend these last few weeks because the heat here in Kansas City is not fooling around. I paired it with a pair of Everlane's Court sneakers. These sneakers are full leather and under $100! That's crazy to think when you compare them to other leather sneakers. Definitely a smart purchase if you're in the market for sneakers.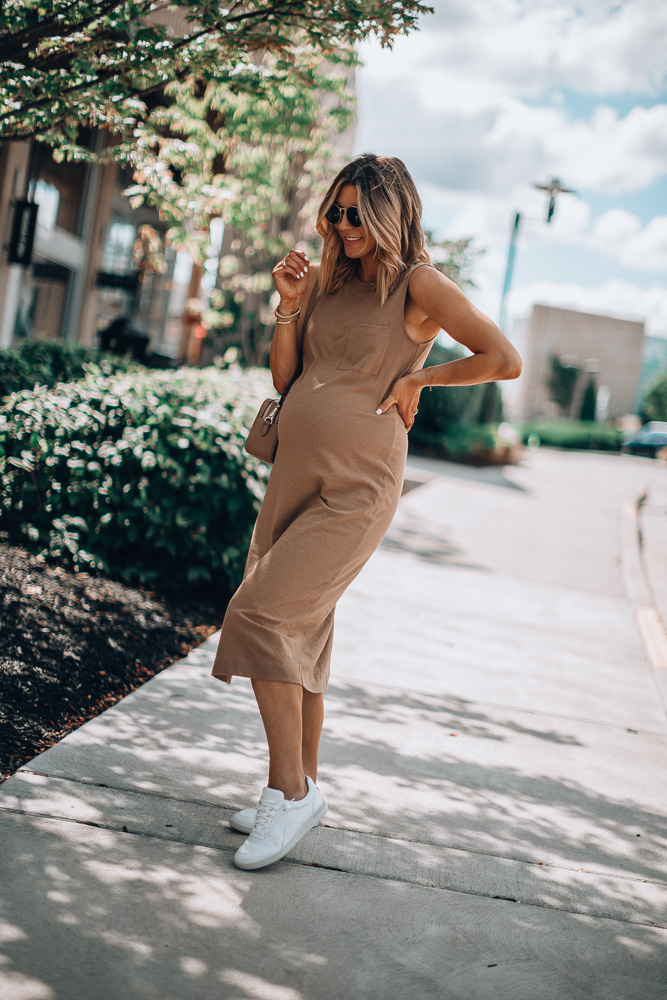 Last, I added a bit of color to my usually neutral wardrobe with this t-shirt dress. The color is called faded sage and it's so stunning in person! I can't say enough about the material either. It's made of 100% cotton so it's very soft and breathes really nicely. The slit doesn't hurt either in terms of keeping cool on a hot summer day. And don't forget to wear those Crossover sandals with all your shirt dresses – they're perfect for it!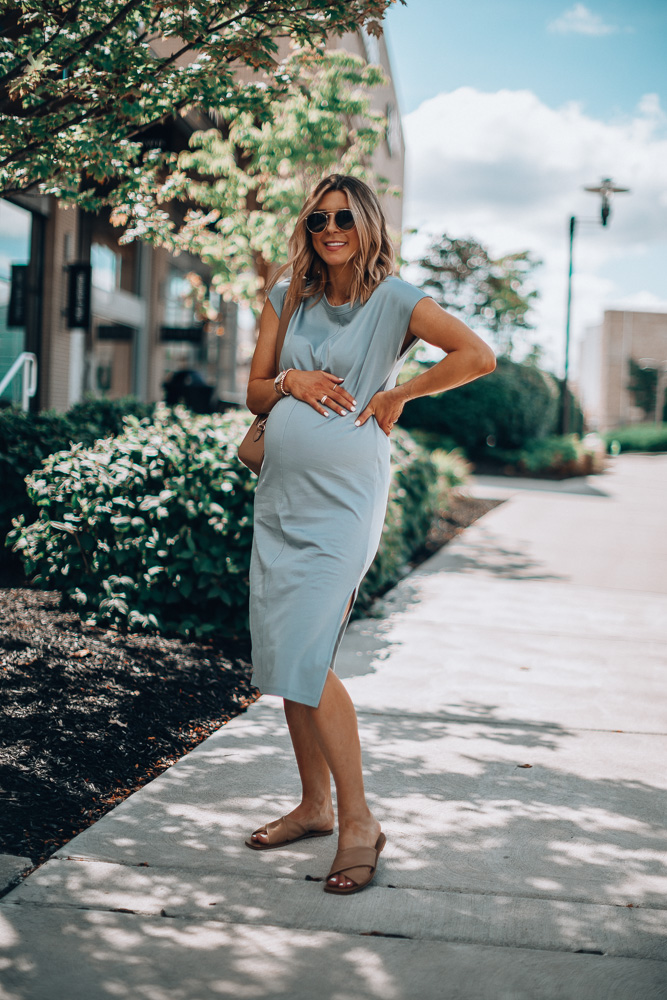 I've been shopping at Everlane for a while, and I've always been impressed with their selection but as they've grown their offerings have expanded so much! You could honestly build an entire wardrobe off of their amazing basics (like those Crossover sandals)!
SHOP THE LOOKS
Look 1: White Slip Dress (wearing size 4) // Linen Shirts (size 04) // Sandals (size up)
Look 2: Everlane Sneakers TTS // Tan Sleeveless Dress (small) 
Look 3: Everlane T-shirt dress (wearing size small) // Crossover sandals size up

A big thanks to Everlane for sponsoring this post!