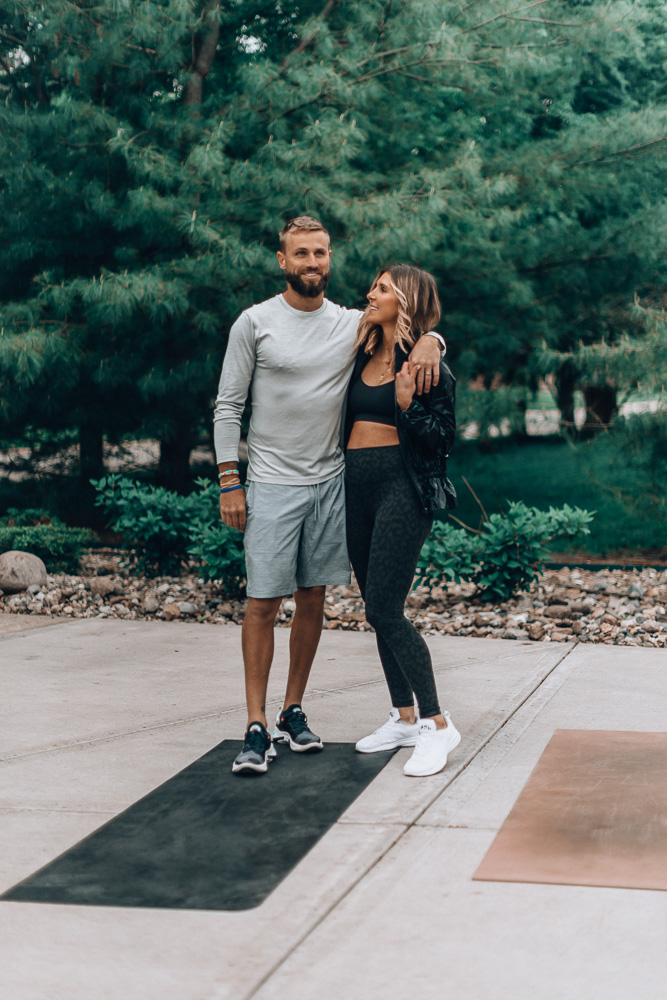 One positive thing that's come out of quarantine and this entire pandemic is the amount of time Michael and I have gotten to spend together. Of course, there hasn't been a ton of adult-only alone time, but there's no doubt we've seen more of each other in the past few months of quarantine than we would in our regular routine. And I have to say, as much I want everything to go back to normal, I have enjoyed our more flexible schedules and increased family time. I know this hasn't been everyone's situation, but if it has, will you miss that extra bit of time with your spouse or are you ready to send them packing, ha?
For us, it's helped us get into an at-home fitness routine. Fitness is a big common ground in our relationship so it's been really fun to sync up our routines in this way and break a sweat together. Plus, I have to admit, with nowhere to go or be, it's been a little more difficult for both of us to stay motivated to work out so knowing we have each other to hold ourselves accountable has been very nice. I thought a lot of you might be able to relate to this so Michael and I put our heads together to share what we've been doing to stay active during this time!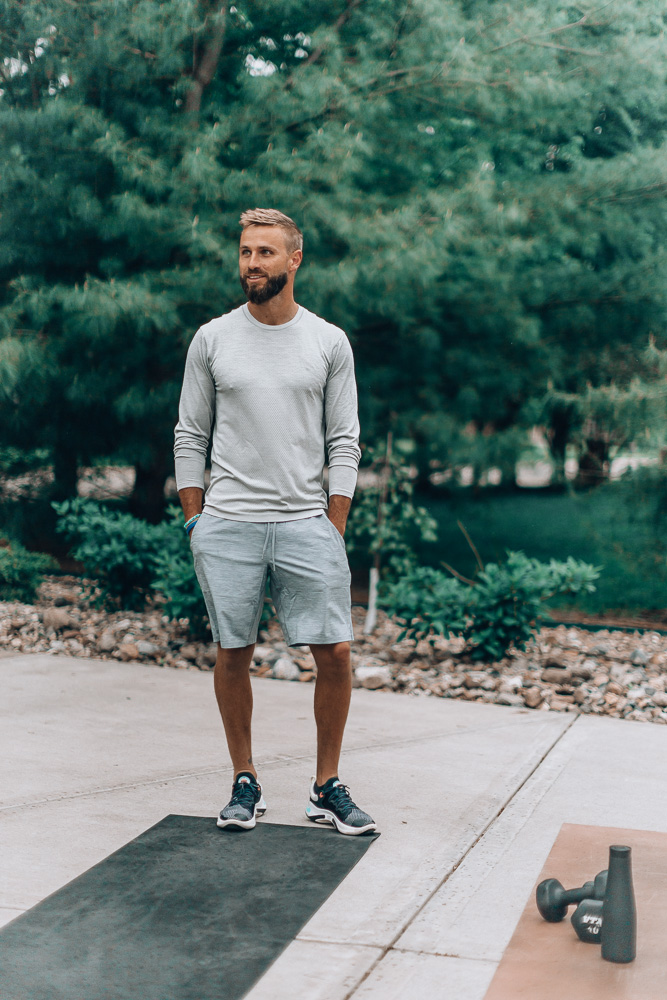 Family walks
One the easiest and simplest things you can do as a couple or as a family is get outside and go for walks (taking social distancing into account of course). These walks have been a saving grace for our family because it's one of the only times we get to leave the house. Your walks can be 10 minutes or an hour – the important thing is just getting in that simple movement throughout the day.
At-home interval training
This is something Michael and I have worked really hard to incorporate into our routine since we're people who normally go to the gym or take fitness classes several days a week. Keeping that small sense of normalcy has done a lot for our mental health throughout quarantine. And it gives us a chance to break out our favorite lululemon activewear, which we've been living in but it's nice to sweat in it too! These leggings have been a huge staple for me (working out or not) the last few months as well as this sports bra and jacket. Everything is easy to move in and so incredibly comfortable – even with my growing belly! Michael loves lululemon just as much as I do. He has these shorts in a couple colors as well as this long sleeve sweat-wicking shirt and loves wearing them for our at-home training sessions.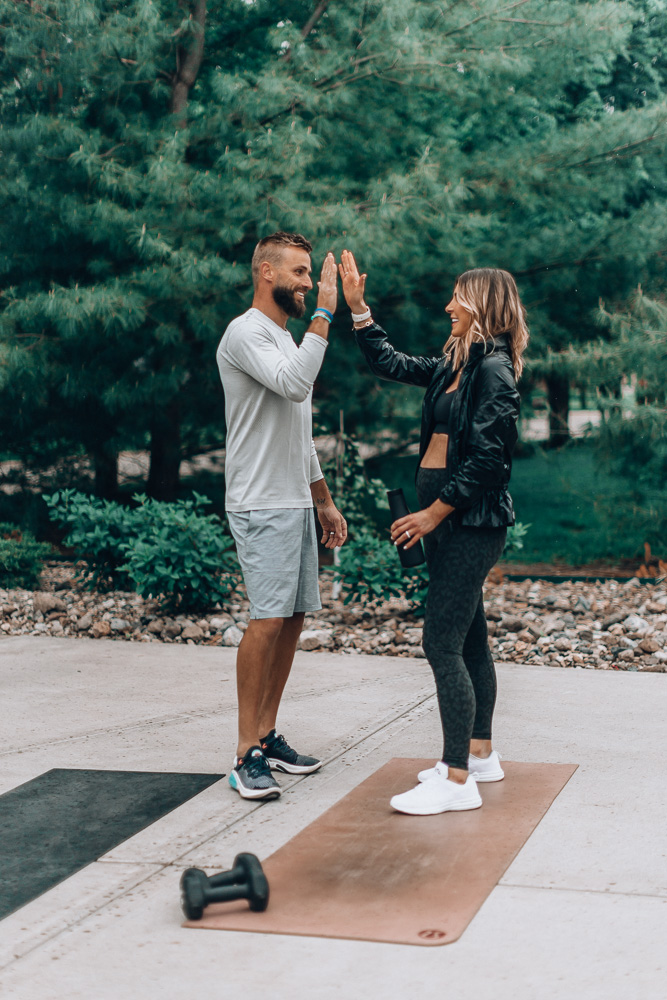 As for our actual workout, lululemon has been an amazing resource. They have shared several videos on their website led by fitness pros from restorative yoga to HIIT workouts. We usually try to focus on getting in just a bit of cardio and then a handful of strength-focused exercises. For example, this is what one of the workout plans might look like:
Squat to press 12 reps
Snatch To Lunge alternate sides 10 reps each side
Curtsy to bicep curl 12x 
Front lunge left each side 12x
Lunge to hop alternate legs 12x
Backward lunge alternate leg to squat 12x
Heel click jumps 12x 
Repeat circuit 3xs then stretch! 
(shared examples of these on my stories today!)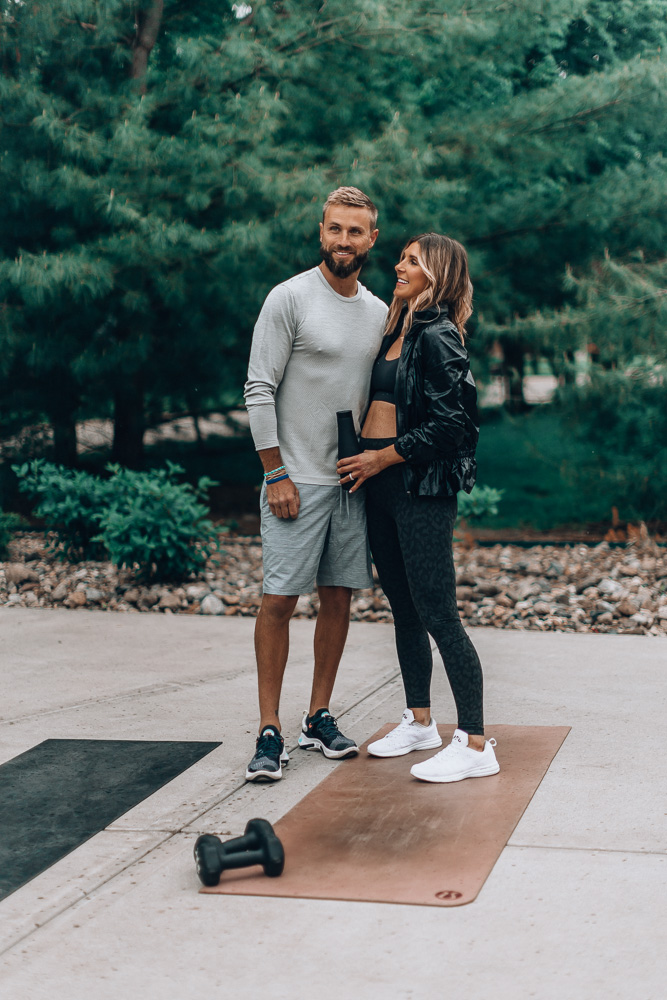 Stretching
Whether you stretch by yourself or with your spouse, I think it's one of the most underrated physical activities we can do to stay healthy. I always feel so much better after a good stretch session and having Michael there to help and vice versa has been amazing. I highly recommend making stretching part of your post-quarantine routine too! Once you start doing it, I think you'll understand why! It feels incredible!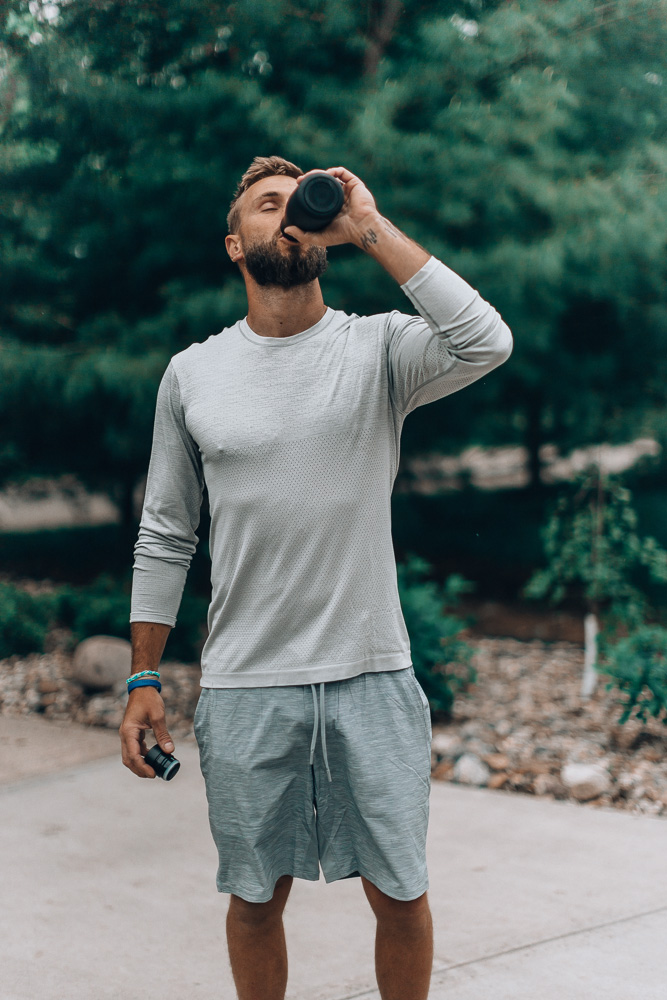 Get outside if you can
If there's one thing I'm extra thankful for right now, it's the fact that we have outdoor space at our home. Our backyard gives us a place to safely play games with the kids outside and get them moving, as well as a place to do our workouts now that the weather is warming up. If you don't have a backyard, I'd recommend heading out on solo runs or with your spouse. Being active outside is one of our family's favorite things to do!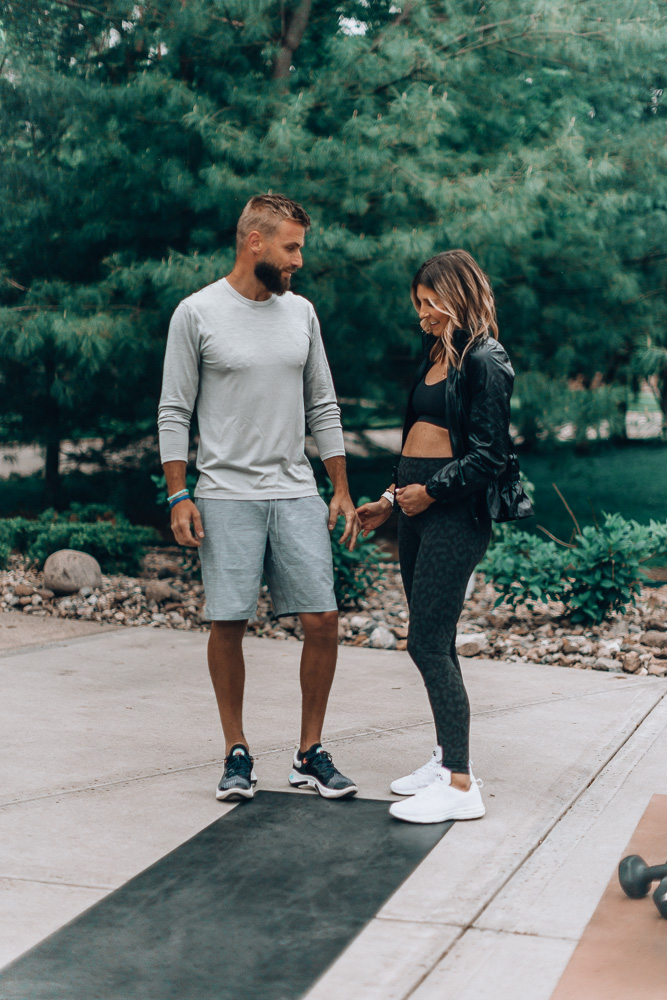 How are you and your significant other staying active right now? If you're looking for a good, free resource be sure to check out lululemon's website!
SHOP our looks lululemon favorites
my look: Align Leggings (bump friendly!) wearing size 4 // Sports Bra // Jacket similar here / mat
michael's look: shorts // long sleeve top / tank / mat /

SHOP lululemon favorites for him & her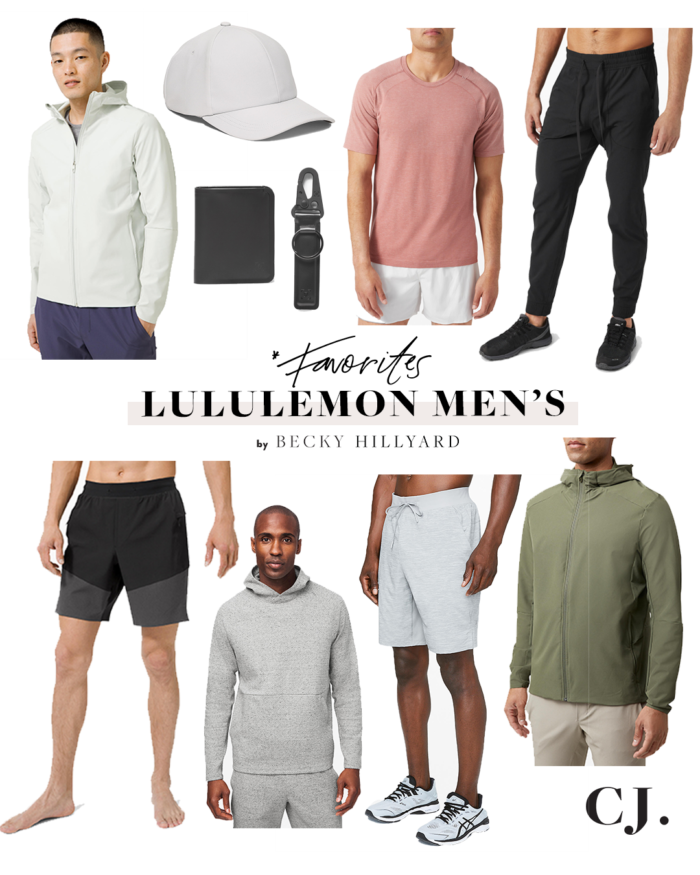 men's lululemon jacket // hat // wallet // keychain // tee //  lululemon men's jogger pants //
shorts // lululemon men's hoodie // shorts // lululemon men's jacket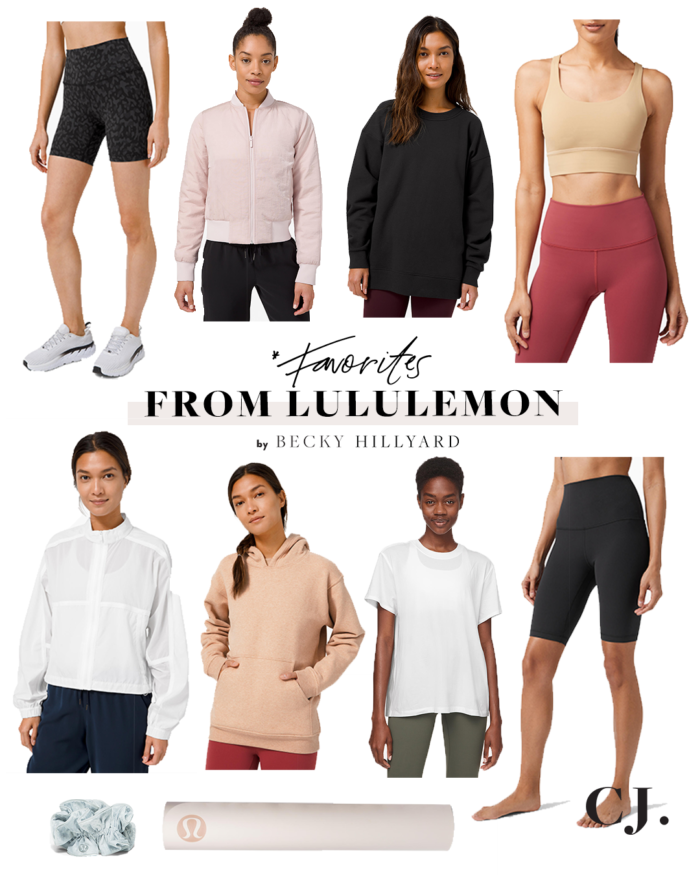 lululemon biker shorts // lululemon bomber jacket // crew sweatshirt // sports bra // scrunchie
lululemon women's jacket // lululemon women's hoodie // lululemon women's boyfriend tee // lululemon women's biker shorts long
A big thanks to lululemon for sponsoring this post!