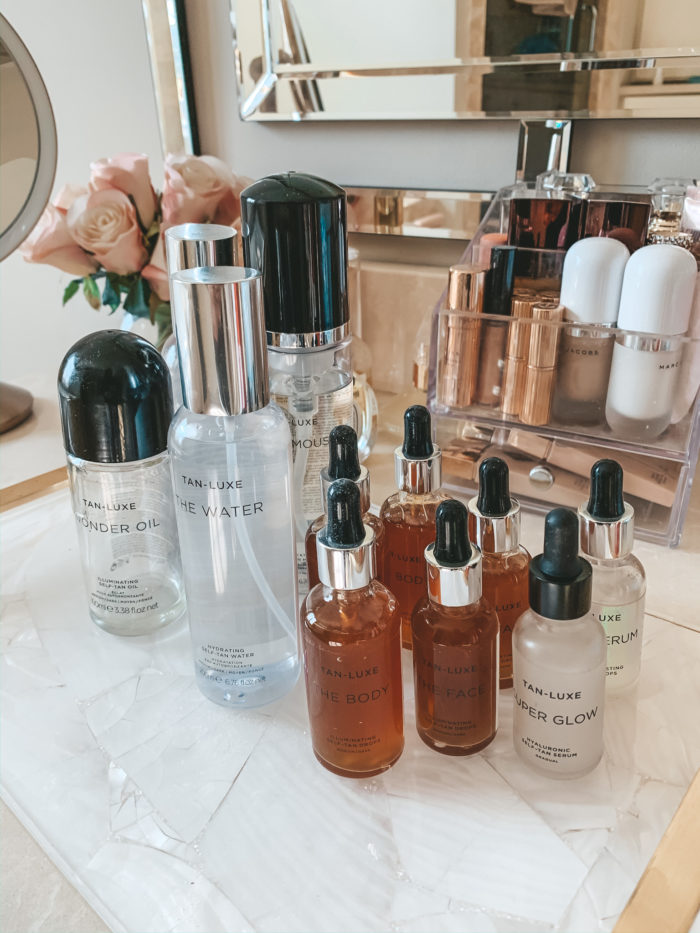 I've tried several brands over the years and the one I continue to buy is Tan-Luxe. This may not come as a surprise to you since I've talked about them on here and on my Instagram-Stories quite a bit. I love Tan-Luxe products because they have pretty much assembled a fool-proof product to ensure your faux glow always looks natural.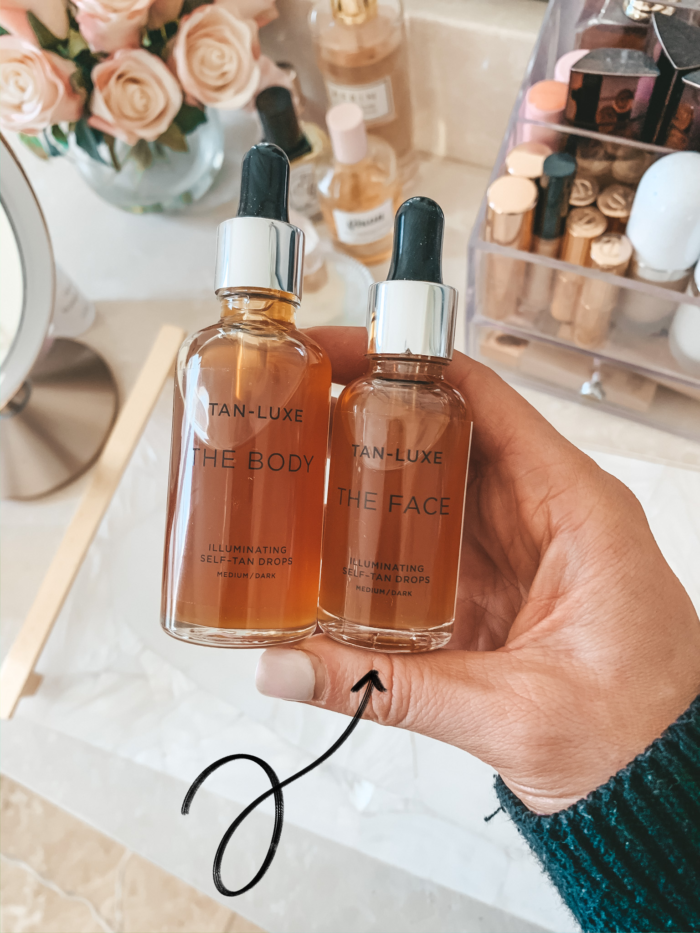 SHOP

All you do is pop a couple of drops of it into your moisturizer or serum in the morning.
How to Apply //
Most self-tanning products are creams or sprays that you apply straight to the skin. These, however, are different. Instead of applying straight to the skin, mix 1-4 drops of your preferred moisturiser, serum or oil to the back of your hand. Then apply evenly to your face and rub in. It applies so easily and smoothly and it dries quickly too. In a matter of hours your glow will start to develop!  No fuss, no mess! The tan drops are seriously the easiest way to bronze your face! I use the medium/dark shade.
I do this 2-3 times a week or until you achieve your desired tan- you can add more or less drops if you want a more of a glow.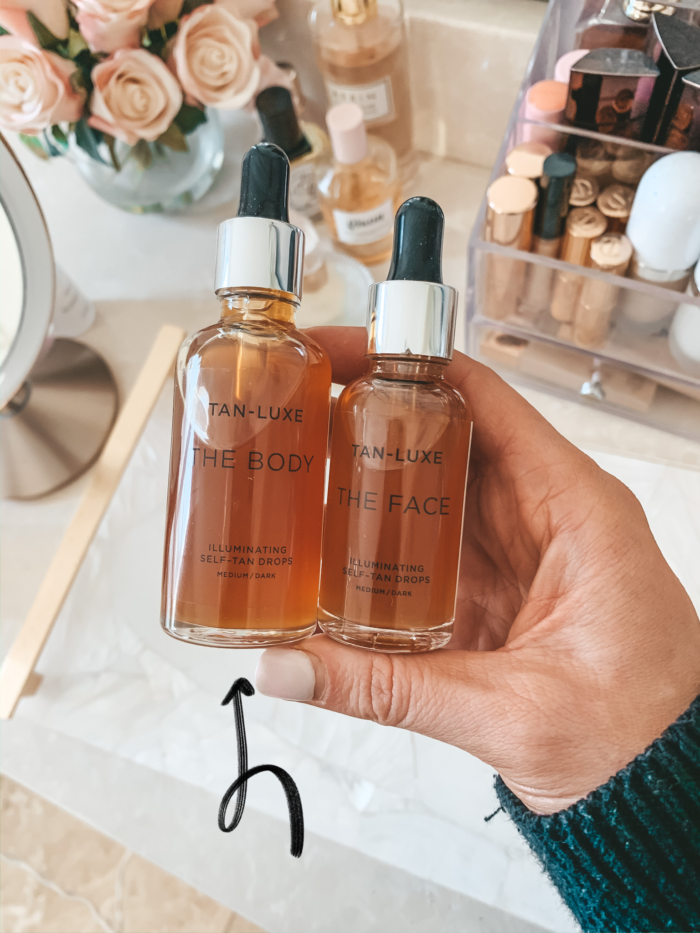 SHOP

How to Apply //
Mix about 4-6  drops of your preferred moisturiser, serum or oil to the back of your hand. Then apply evenly to your face and rub in. It applies so easily and smoothly and it dries quickly too.
If you want a darker, more tanned look, simply apply more drops. I love how effortless it is to apply this tan, all you have to do is follow your regular beauty regime with a few drops mixed in on the side! An advantage of this fake tan is that there are fewer steps in your beauty routine and also the tan gets applied more evenly. Don't shower for about 4 – 8 hours after applying to allow the tan to develop.
The Tan Luxe drops are cruelty-free serum! And they are is packed with skin-boosting, certified organic ingredients derived from Raspberry Seed Oil, Vitamin E, and Aloe Vera for hydrating benefits including Cellutone Complex to help firm the surface of the skin and reduce the appearance of cellulite.
TIPS //
Start with fewer drops and you can always adjust if you need to do more. I suggest starting with 2 drops for your face and 3-4 for body and then if you want a darker tan – add more drops next time.
Avoid your mustache area. I have woken up with a dark mustache so be careful not to apply heavily in that area.
Wash your hands after you apply.
There is a Tan Eraser Solution you can use to remove self -tanner if case you have a streak or leftover tan you want to remove.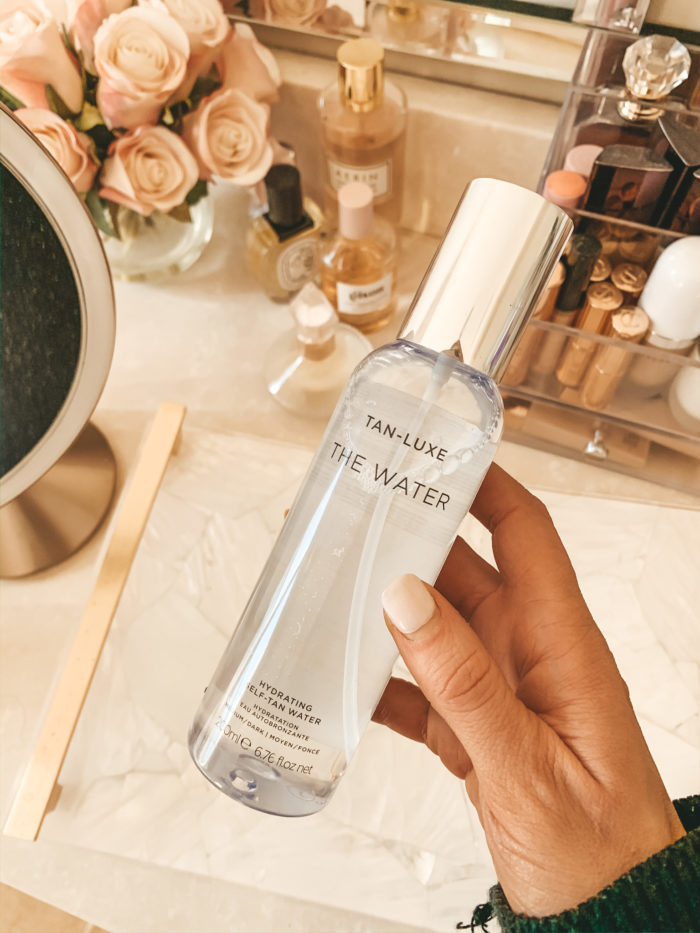 SHOP

It's one of my new tanning favorites, here's why…
Tan-Luxe The Water self-tanner is the most innovative tanning product I've come across so far.  At the very top of its ingredients list, you'll find purified water, which gives the formula a very lightweight, refreshing feel and delivers instant hydration to the skin.  The colorless liquid also contains organic, Eco-Cert, naturally derived DHA – its key tanning ingredient – along with vitamins B, C, and E, raspberry seed oil, and aloe vera, so it doubles as a soothing moisturizer to further enhance your glow.  The Water is not only non-toxic, but also vegan and cruelty-free!
The best part?  The formula eliminates a lot of the fuss associated with the typical self-tanner.  For one, you can spray it directly on your skin and then use your hands to blend it in – it's super quick!  It's also fast-drying and non-staining, so you can use it anytime and anywhere, even on-the-go.
How to Apply //
On dry skin, spray generously, and then blend using a mitt or your hands using large circular motions. Make sure to lightly cover any dry areas, including ankles, knees, and elbows, and do your hands and feet last. Then your wash hands after use. Like I have mentioned – for my face and chest, I usually mist on and let dry – no need to rub in and its always even.