By Morgan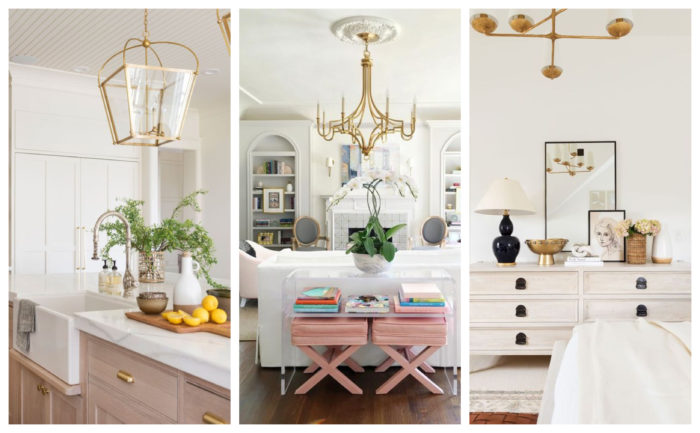 Happy Saturday! Last week Claire and I were at the Atlanta Home & Gift Market; we go to buy for our party & gift shop, Pink Antlers. We love going to market in January because it's when they debut all the new items for 2020 from Spring to Winter! It always feels a little crazy picking out & ordering Christmas items in January, but that's what we do in the retail world.
With Becky & Michael building a new home, we kept an eye out for fun home ideas & Becky asked me to share some of the 2020 trends that we saw. These trends aren't all necessarily new, but they're what will stand out & stick around for 2020.
5 Home Trends for 2020
Pops of Color | One of the very first things that we saw was pops of color. The last few years neutrals have been huge… and they're not going anywhere, but we are going to see more & more tasteful pops of color in accent pieces & art.
(above photos via Gabby Home & Circa Lighting)
Light, Natural Wood Tones | This trend is coming to us from mother nature who is inspiring accessories, cabinets & furniture. It's not the older glazed oak cabinet/furniture look, but more of the light, natural looking wood tones. Wood grain cabinets are especially gorgeous paired with white marble counters and aged brass or bronze hardware.
(above photos via Alice Lane Interiors)
Cane & Rattan | This kind of ties in with the one above, but I think it deserves separate recognition. It's been standing out for awhile, and in 2020 we are going to see it everywhere. It's a pretty classic material, and can read traditional, retro & modern depending on your other home pieces. Love the texture & interest it brings into a space.
(above photos via J. Cathell & Alice Lane Interiors)
Charming Kitchen Accessories | They've been trending for awhile, and the trend is only going to grow in 2020! I'm talking antique & rustic-looking boards, beautiful spoons, and stacks of bowls to accessorize the kitchen.
(above photos via Alice Lane Interiors & Studio McGee)
High Contract | We'll continue to see darker colors paired with bright white & natural colors. I love seeing it in window panes, accent pieces & rooms like laundry, bathroom & office/library with bigger rooms staying less contrasting.
(above photos via Studio McGee & The House of Silver Lining)
Much like in the fashion industry, trends in home design are constantly changing. It doesn't mean you need to or are expected to totally redecorate your house as trends fade in and out, but it's fun to know what to expect this year and to change things up where you want to if you really love a certain trend! My key to creating a beautiful home is, if you love it, it will work in your home. Our homes should be a collection of things we love and tell our story!