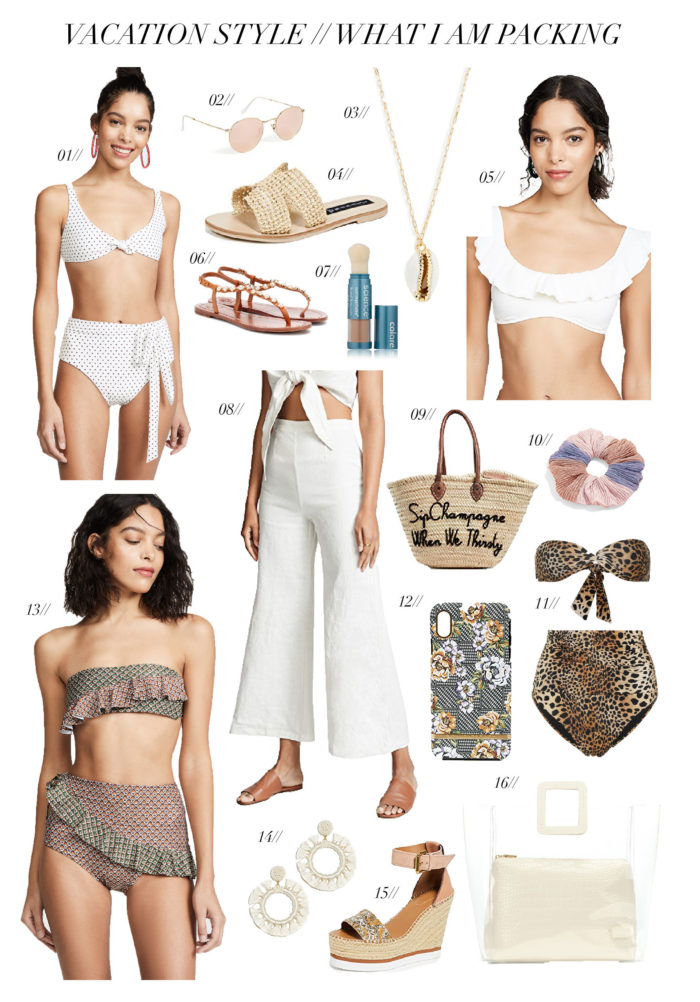 Michael and I are headed to the beach with my family and I thought I would share with you guys what I am packing for our vacation. It's been so refreshing shopping for a different season as we got 8 in of snow here this last weekend.
Some of my favorite items from last year that sold out super fast are fully restocked which makes it is the perfect time to get ready for the warmer weather (that will hopefully be coming soon) or any exciting trips you may have coming up!
01// Polka Dot Swimsuit- top and bottoms 02// Sunglasses 03// Necklace 04// Steven Slides (Brown, White and Black) 05// White Ruffle Swimsuit- top and bottom 06// Embellished Sandal 07// Brush-On Sunscreen 08// Scelsi Pants 09// Beach Bag 10// Scrunchie 11// Cheetah Print Swimsuit- top and bottom 12// Phone Case 13// Palm Alora Bikini- top and bottom 14// Tassel Hoop Earrings 15// Chloe Wedge 16// Staud Bag
04// Steven Slides– I am so excited to wear these slides on my trip. I have the brown and white from last year and they are one of my most wore shoe during the warmer season. They are dupes of the Hermēs slides and sold out so fast last year. I love how they made them with a rattan like material this year. I know I will be wearing them non-stop along side my other pairs.
07// Brush-On Sunscreen- If you watched my skincare live video with my mom (owner of Avé Medical Spa) you would know how much we love this sunscreen. It will definitely be used by everyone in my family during our trip. I apply it mostly on my hands and face. It is a mineral powder which helps with sweat and its super easy to reapply right over any product I  have on. Use code: CELLAJANE20 for 20% off your skincare order!
09// Beach Bag- How fun is this beach bag? It also comes in one that says Rosé All Day. I love the designs and how large the tote is. I always like to toss a lot of items in my bag!
Other Items I'm Packing:

Beach Hat // This beach hat was a huge hit last year and I got super excited when I saw it was restocked this year. The best thing about this hat is how easy it is to travel with! Hats can be such a pain to travel with but this one rolls up and can't get smashed!
Cover-up Pants // These were another hot item from last year. I had them in a nude color and this year they came out with 4 new colors that I love! I just ordered myself a new pair as I ripped the ones I worn nonstop last year.
Black Bikini- top and bottom // I love the ribbed detail on this material and also the high waisted bottoms!
Polka Dot One Piece Swimsuit // Pretty woman swimsuit- yes, please!
This embellished high low dress is one of my favorites! I love the colors.
Lace Maxi Dress // I love the detail on this dress!
Luggage // I own a couple different luggage sets (here and here) and LOVE them. These suitcases hold up so well and the wheels glide so smooth!
Calpak Packing Cubes // This is the first time I used packing cubes and they are life-changing! It organized my packing process and fits everything in place! The mesh front lets you easily see what's inside and the exterior ID label lets you add names to separate among different people, leaving you perfectly organized on your trip.
Calpak Backpack // I have been traveling with this bag for sometime now and it is still my favorite travel bag. It is only $80 and comes in many different neutral colors that will go with your luggage or travel outfit. I also love that it fits my large Mac laptop.
Travel Makeup Bag // This might not be the prettiest makeup bag but it is the most functional and very necessary for trips. I love how sturdy/durable the case is, I don't have to worry about my products getting broke. You can also remove and rearrange the different compartments.
Jewelry Holder // I use this case to keep my jewelry safe and tangle free!
Becky xx
Shop my Swimwear:

Shop my Travel Gear:

Shop my jewelry: