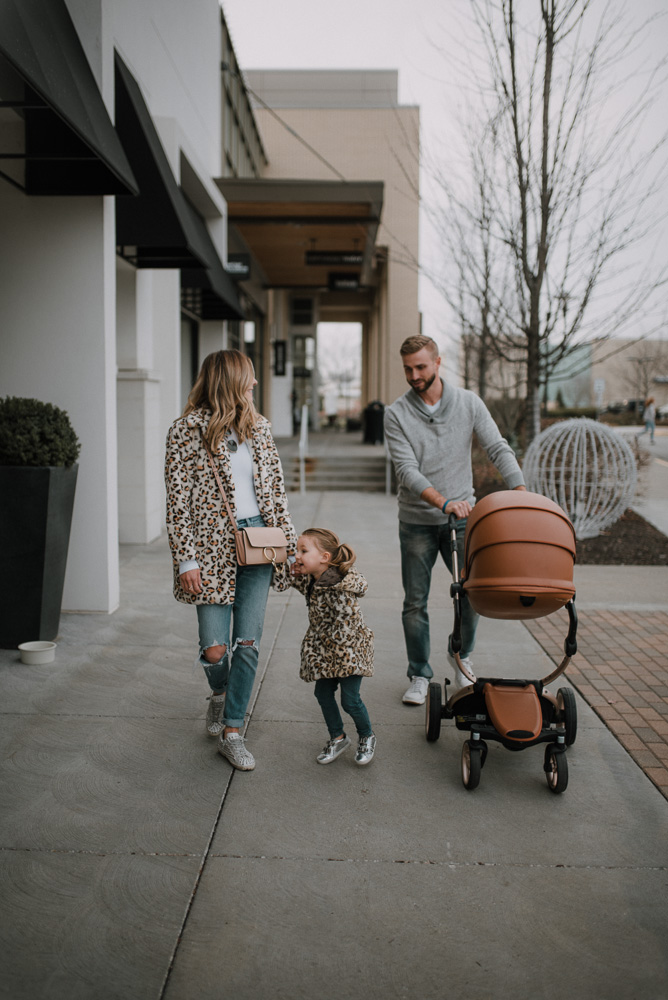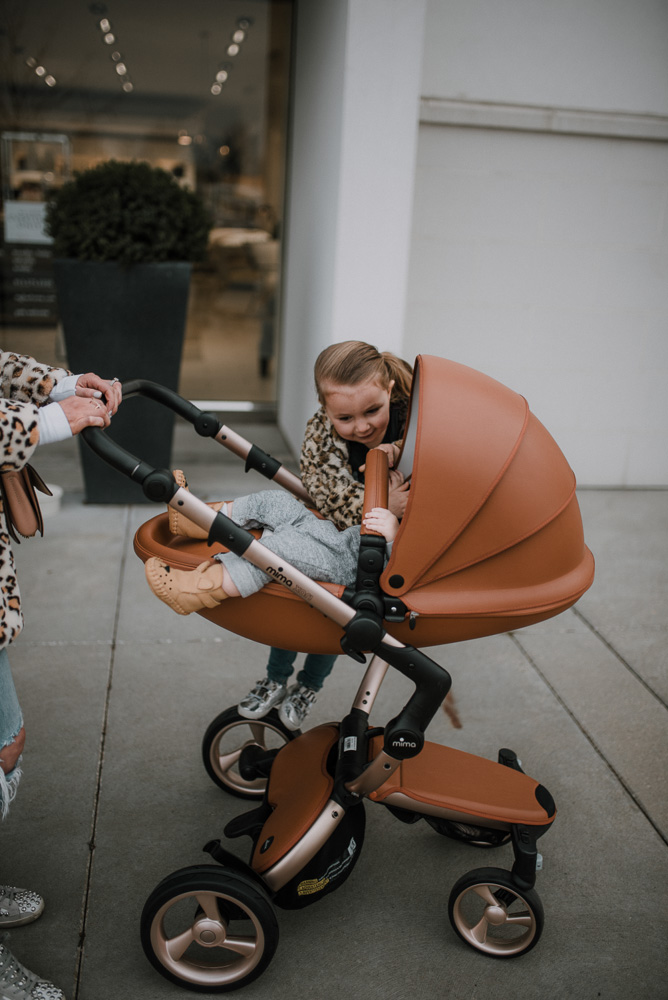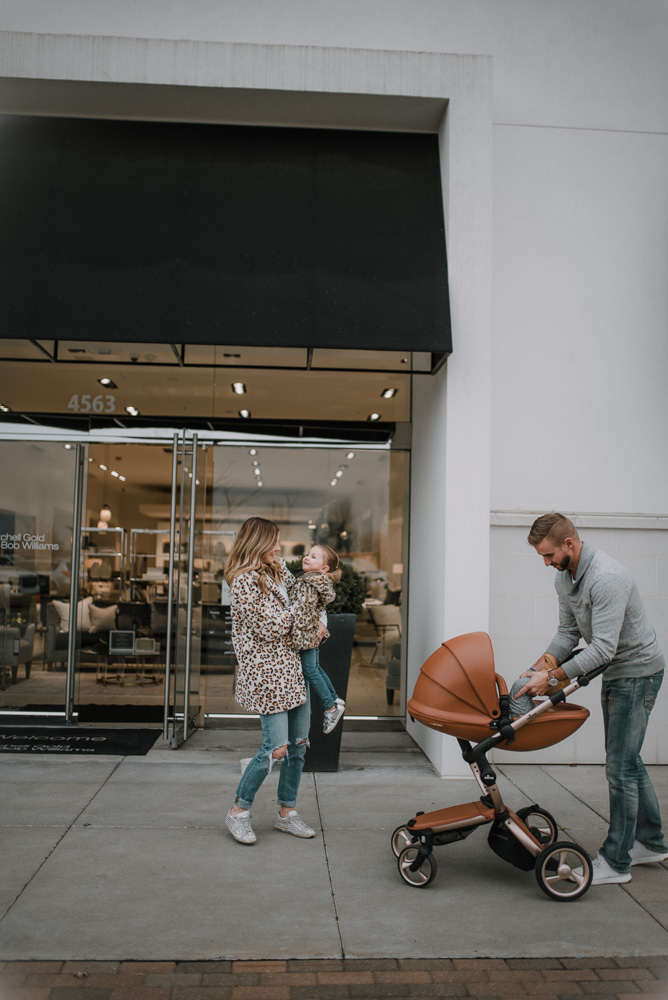 Christmas is our favorite time of year as a family. There's something so magical about this season especially when you have kids taking in all the Christmas joy. There are so many fun events and holiday outings for the kids, our month just seems to fly by! Today, I'm sharing a few favorite traditions and outings of ours.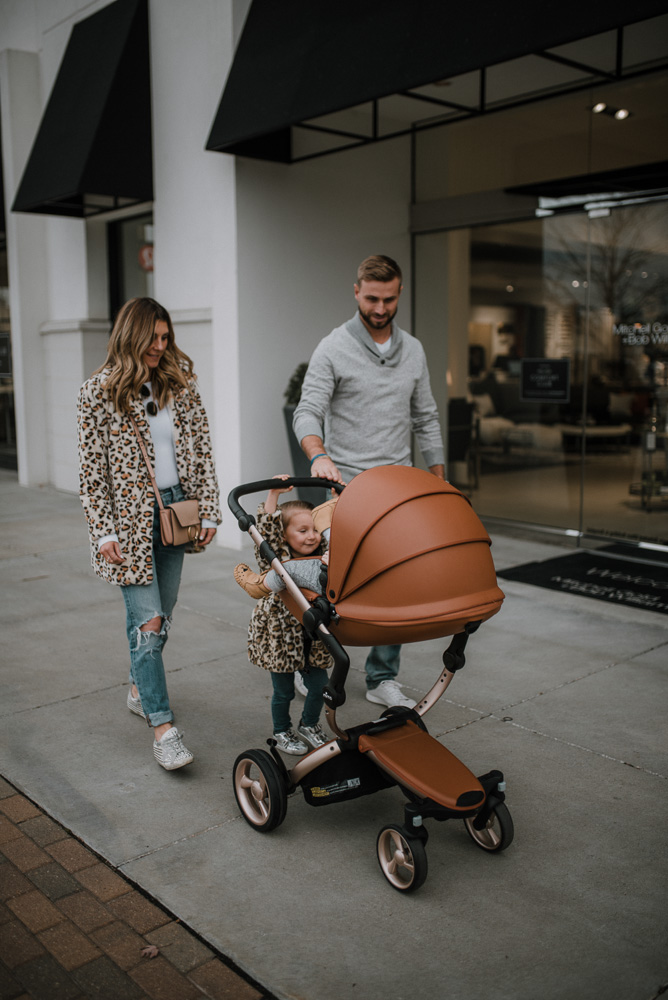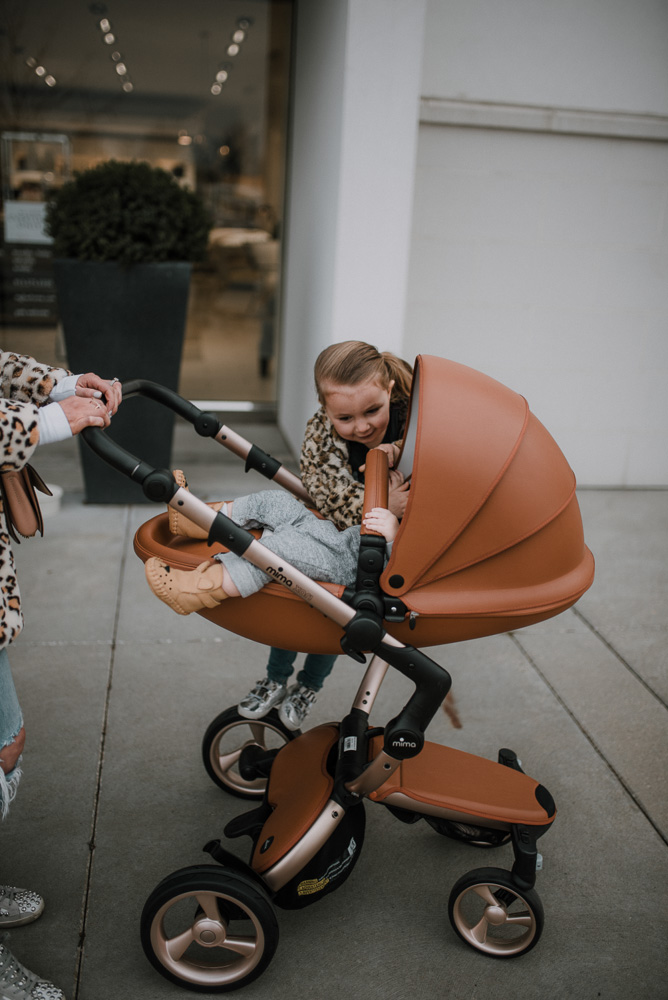 I always like to dress comfy, casual and of course coordinating for our outings!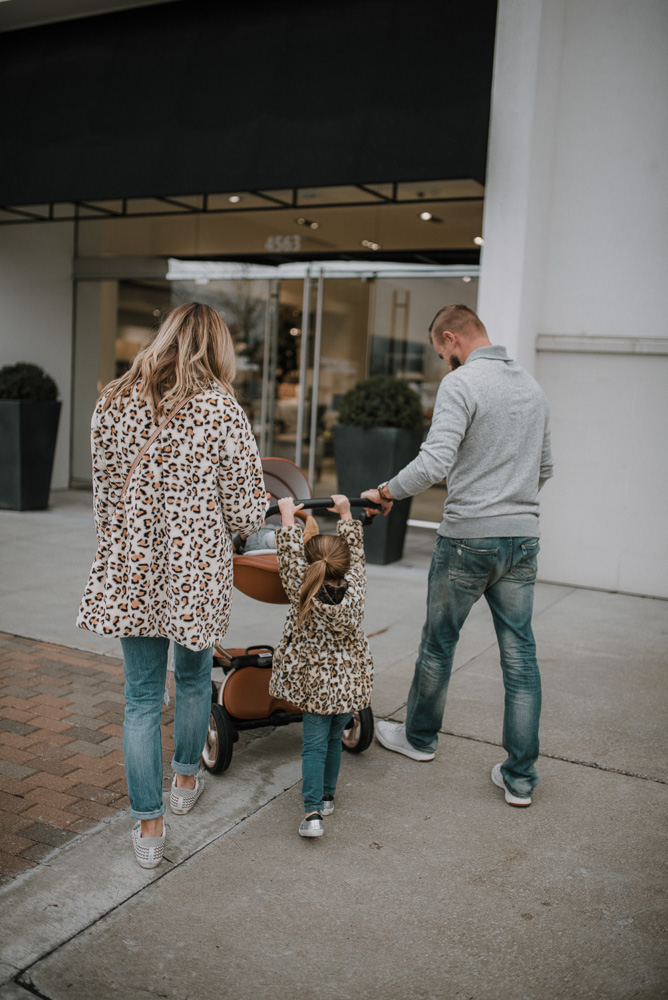 Sutton actually picked out her leopard print coat the other day when we were shopping at Nordstrom for some new holiday dress shoes for her Christmas show.
It's a soft fleece so it's warm and still easy to wash.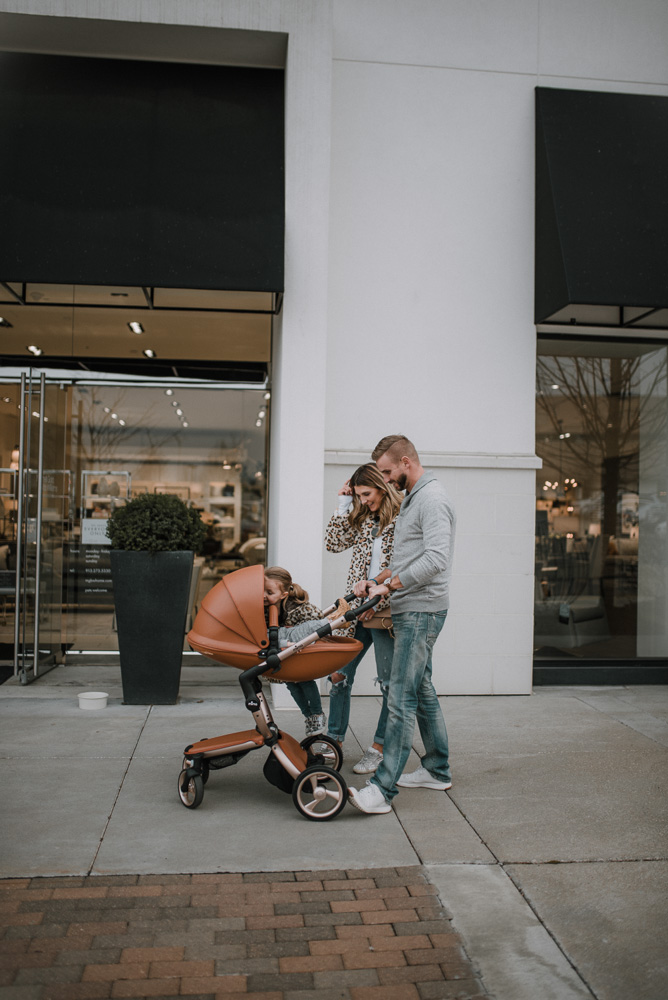 Look at Sutton balancing on the wheel. She is a little monkey!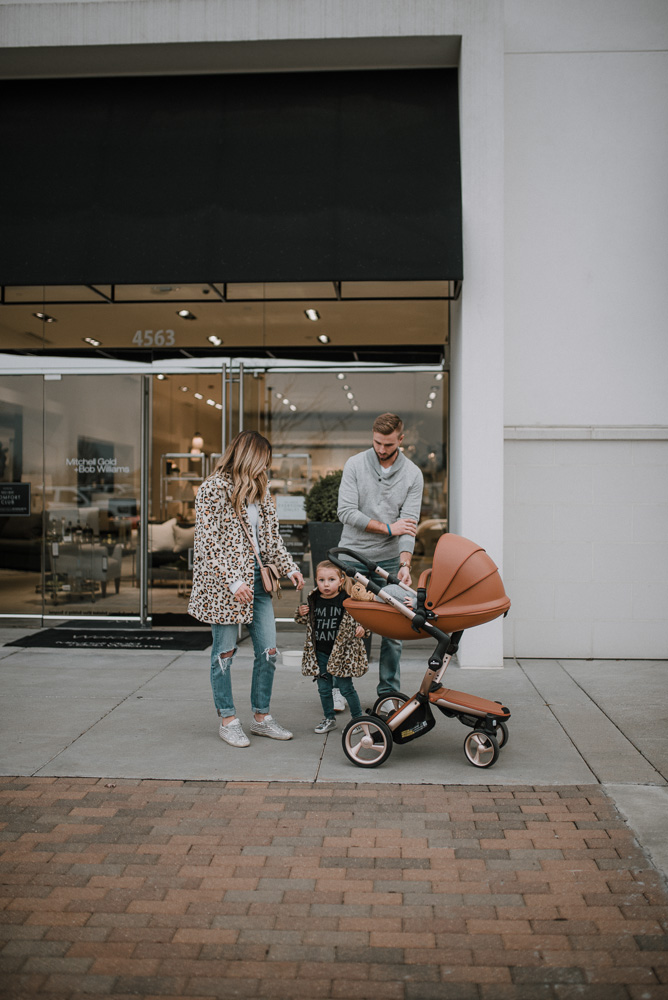 I think a leopard print coat is so fun for mom too! There are so many cute faux fur styles out right now.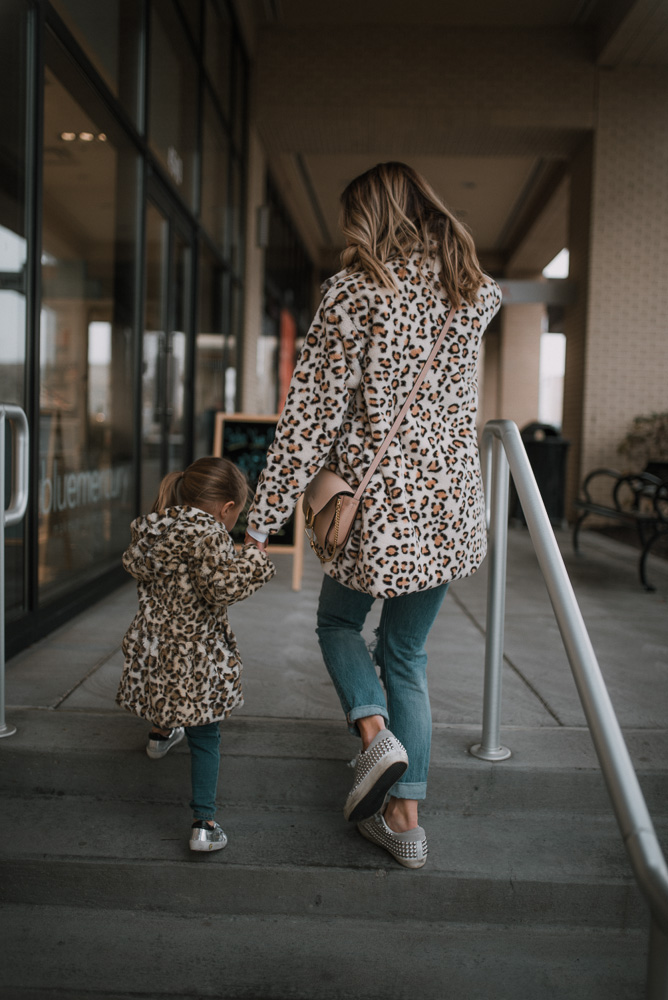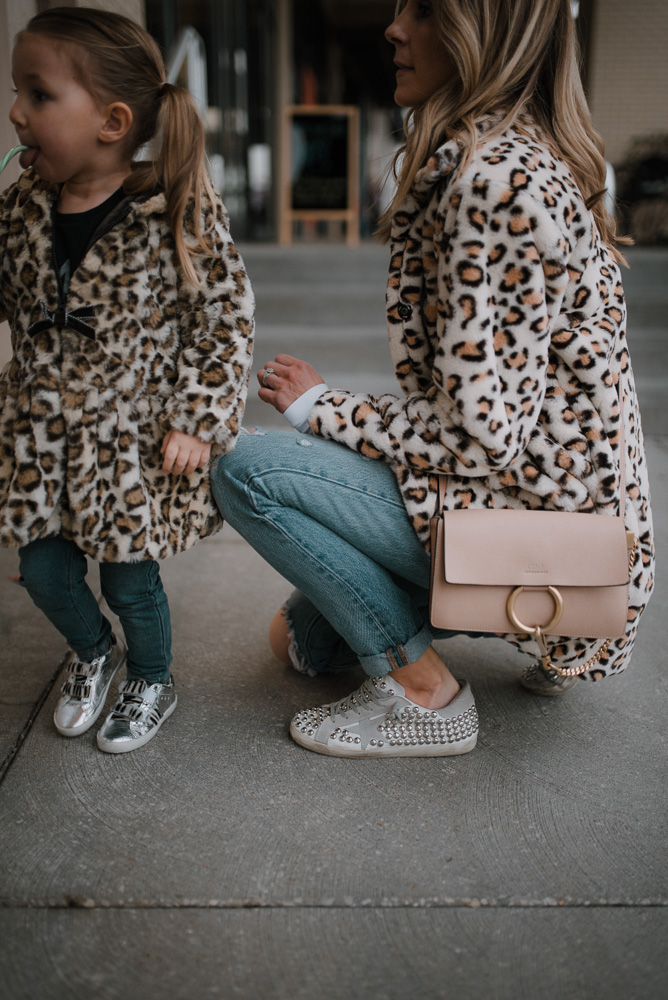 We are definitely big sneaker fans!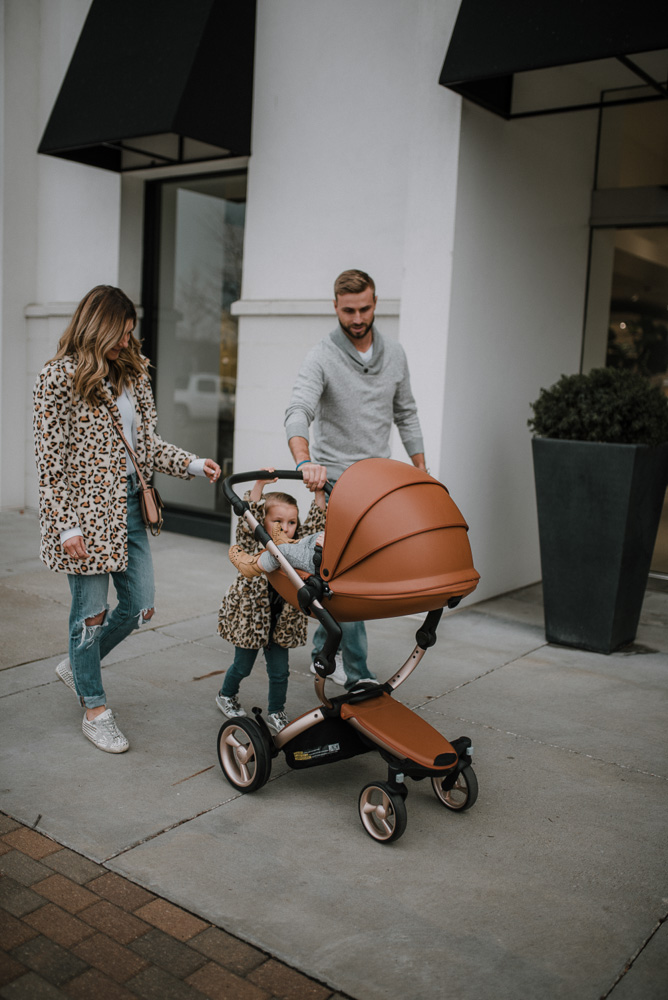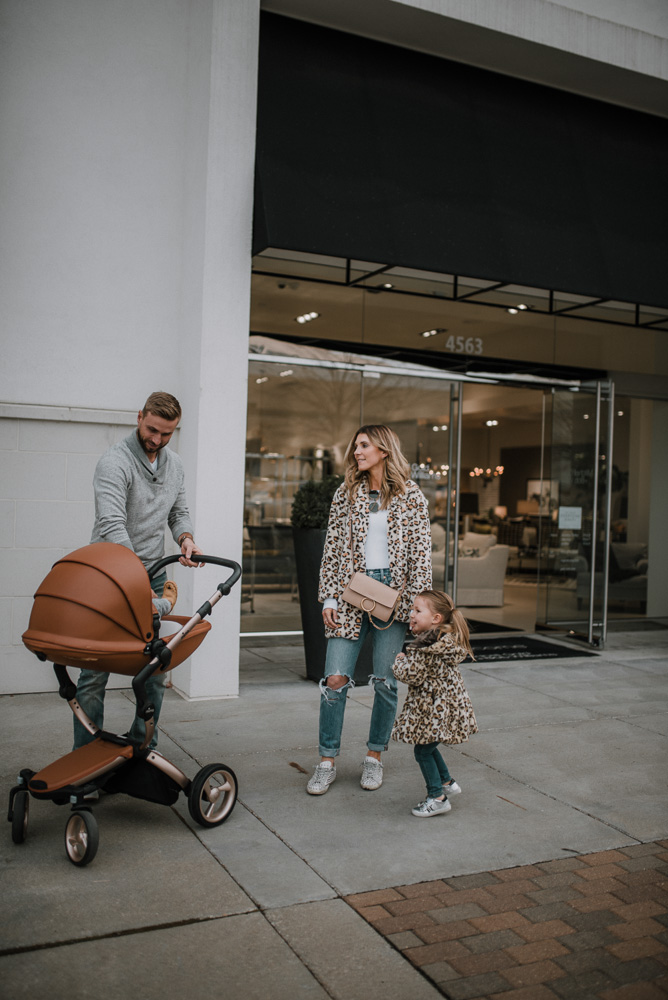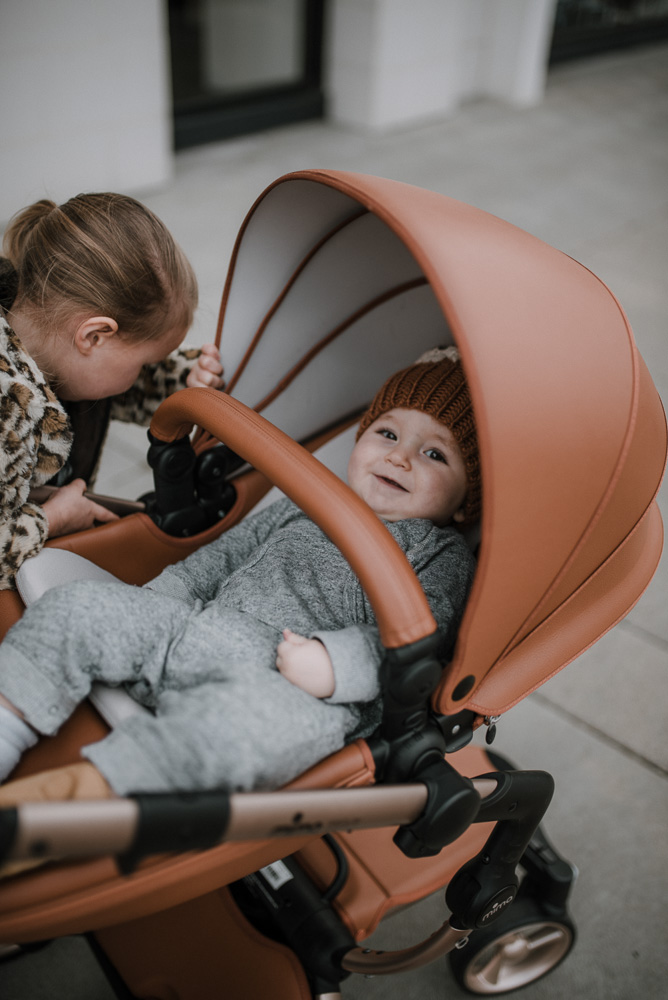 Our (always) smiling little Grey! I get lots of questions on our Mima stroller. We love it. The seat does reline back or goes to seating. A great option for when we are out and grey needs a cat nap.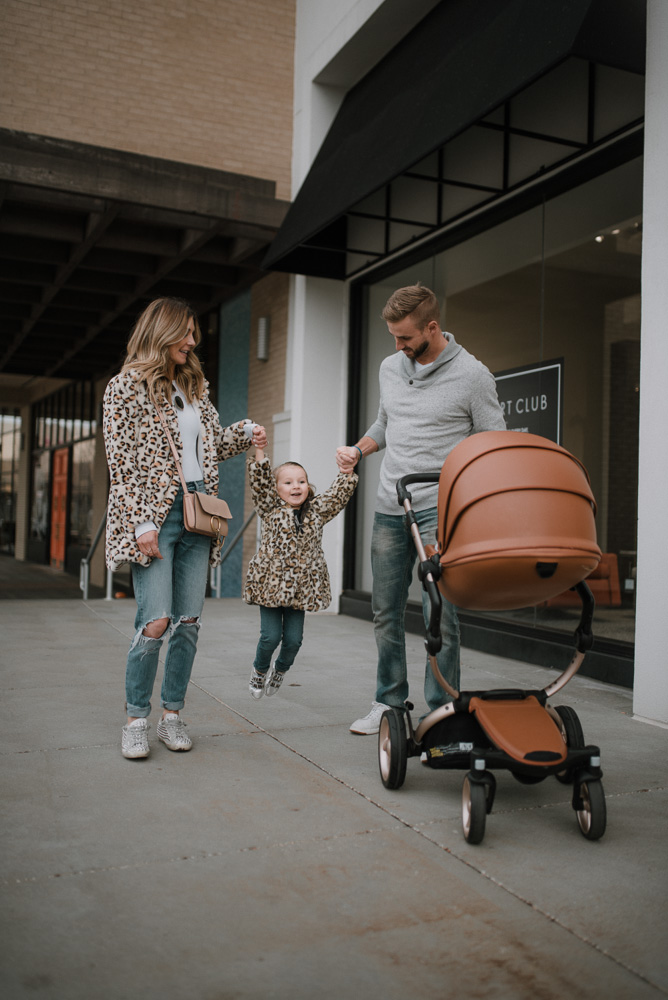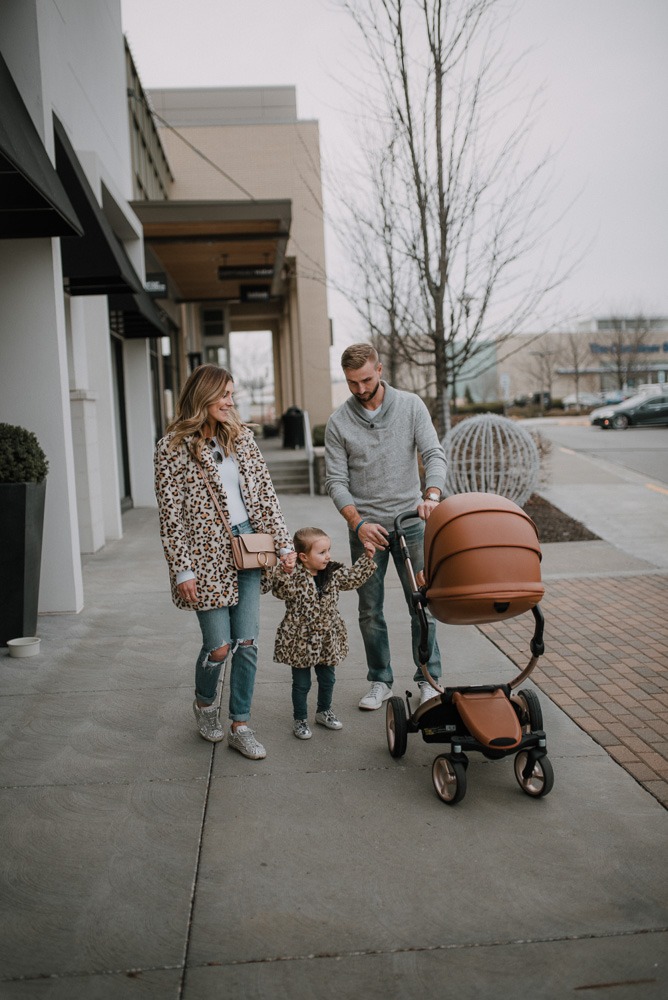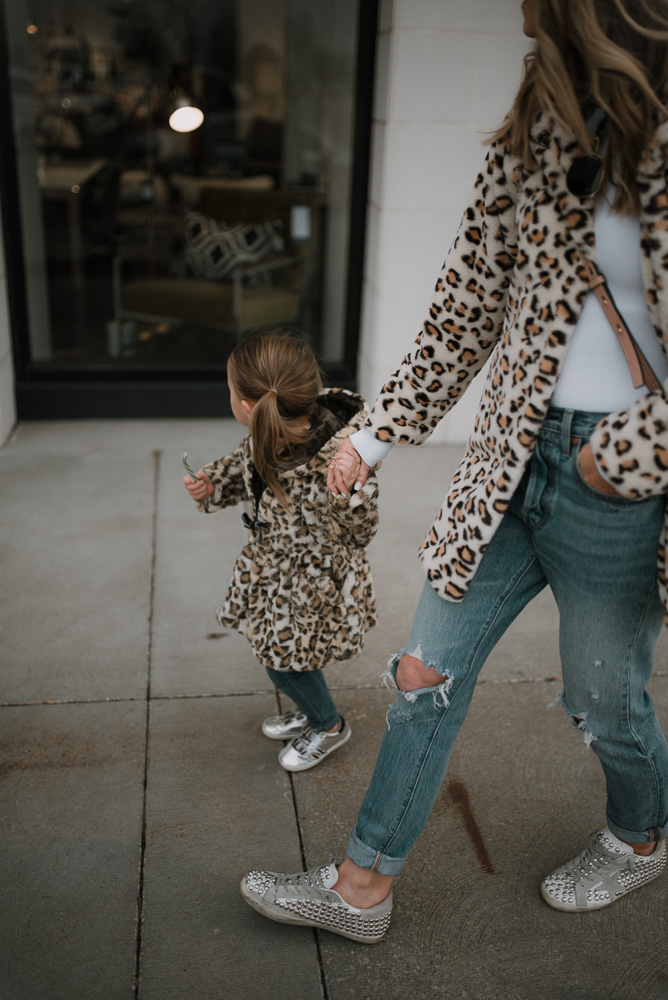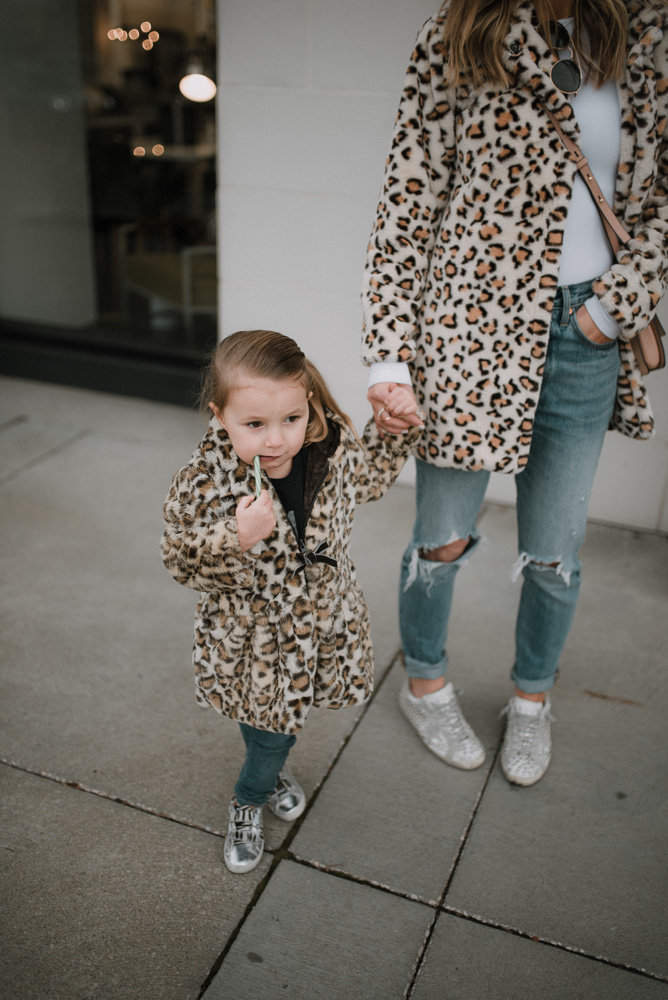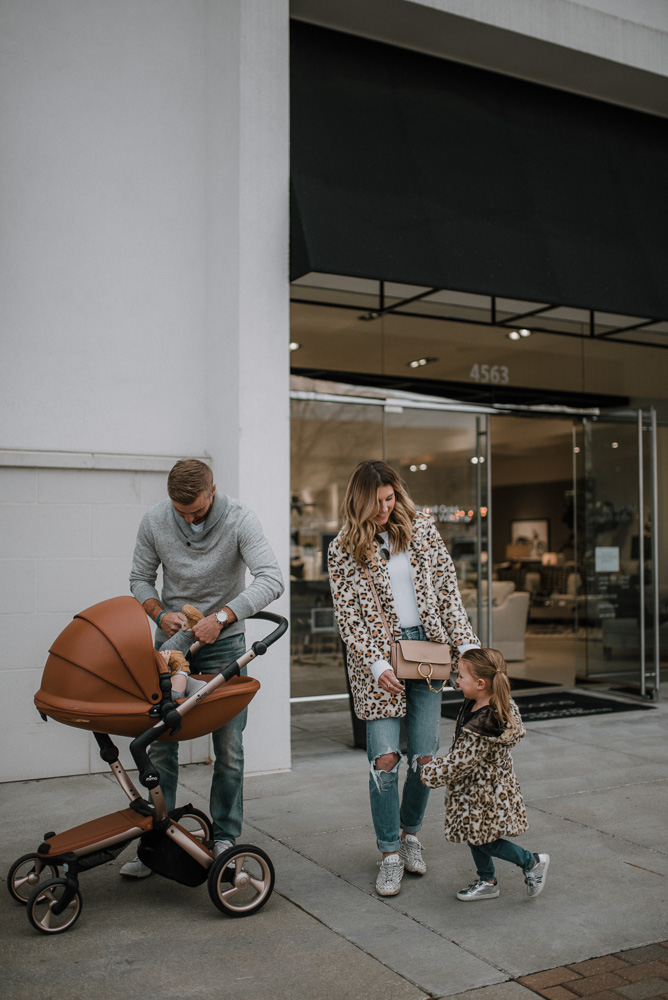 Some of our favorite holiday things to do and outings:
1 // Holiday lights tour. We love to find ones that have the synchronized music. The kids love it! One of our favorites in KC  is the Holiday Lights at Farmstead Lane.  Bring some cocoa, cookies, and blankets as you view the lights and hear the music from the warmth of your car.
2 // Brunch with Santa – so many places host a brunch with Santa. It's so cute and bonus, you don't have to wait in line.
3 // Shopping with the kiddos -while this may sound like a nightmare, it's something I actually love to do. I only go to a few spots that I know Sutton will enjoy help pick out some gifts. We do a lunch or coffee date as well. I try to go at off times when I know the crowds won't be crazy.
4 // Paying it forward. This is something we do after Christmas. After the kids receive gifts I want them to see how we can do something nice for someone in need. It can be something as little as making something for our neighbors, giving to a local charity. This year I plan on taking gifts to Children's Mercy.
5 // Holiday baking Sutton and I have a tradition of bringing banana bread to our big family Christmas dinner each year. She LOVES baking. We also decorate Christmas cookies each year for Christmas.
What are some of your favorite holiday traditions or activities?
Sutton's look: Fleece Leopard Coat // Levi's // Golden Goose Sneakers // Tee
My look: Leopard Coat similar // Levi's // Golden Goose Sneakers // White Long Sleeve
Michael's look: Pullover similar // Jeans // Cole Haan Sneaker //
Grey's look: Fleece Teddy Suit // Mima Stroller // Shoes similar   Hat
MORE FAVORITE LEOPARD STYLES FOR GIRLS

MORE FAVORITE LEOPARD STYLES

In collaboration with Nordstrom.