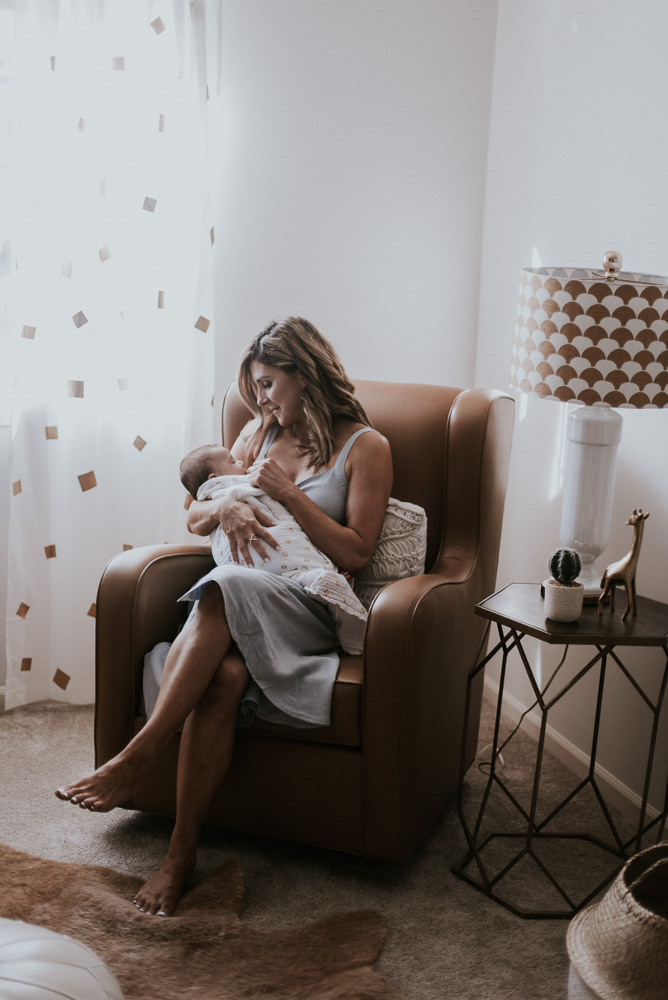 Being a new mother at times can be complicated, overwhelming and full of emotions and questions. Since I blog about style on a regular basis and I'm a nursing mother, I get lots of questions about what to wear when nursing, especially when out in public: which styles work best, which offer the most discreet and easy access, and even what brands of nursing gear I like the most.
The number one tip  is to not limit yourself when nursing. Just because you're nursing, doesn't mean you can't wear dresses or pretty things; it just means you have to be a bit more strategic and thoughtful when picking your outfits in the morning.
Here are some of my most basic tips of what to wear.
1. Wear a Nursing Bra or Tank
A good nursing bra or tank is the key and the foundation of any nursing wardrobe. I have several different styles of nursing bras which work well depending on what I wear.
My most worn nursing bra is this one. It is most comfortable to me, and since its nude and seamless, it works well under v-neck tees, dresses and tanks.
Another favorite nursing bra is this one here. I like seamless nursing bras that don't have padding or underwire. I feel like my boobs are huge when nursing and I don't want to emphasize that.
For a strapless option, I wear just a normal strapless bra, with nursing pads in. Then I can flip down the bra when nursing. While it's not ideal, it works. I have found there is not a whole lot of options for strapless nursing bras.
For more support, I have this one.

2. Wear a V-Neck or Scoop-Neck T-Shirt
This is what I wear most when nursing. It's casual and comfortable to wear and you can't go wrong with a t-shirt. I pick a tee with a larger neck so I can easily pull down to nurse. I also look for t-shirts with stretch, so I am not worried about stretching out the neck. Below are my favorite t-shirts on repeat!

3. Wear Button-down Shirts
When dressing for breastfeeding it is important you have easy access. Button-down shirts are a simple way to quickly open your shirt when needed. Button-downs are easier to dress up or look professional, so they're the perfect choice for working moms, too.

4. Wear a wrap dress.
Whether you're looking for something to wear for a night out or work, a wrap style top or dress is a nursing mama's best friend. Most dresses are awkward to wear when you're nursing, especially ones that zip in the back, so a wrap dress is the perfect solution.

5. Wear a tank top under clothes
If I have to lift, pull aside, or unbutton your top or dress, having a tank top underneath gives me a better feeling of coverage. Choose a tank top with a lower neckline, that's stretchy so that you can push the tank aside or pull it down to accommodate your needs. Your belly and part of your neckline will still be covered when you lift up or unbutton your top layer, so it's an easy trick to feel less exposed.
6. Wear a Tie Blouse
Tie or peasant blouses are a favorite boho style of mine. You can pair then with a skirt, pants, jeans, or shorts and look casually chic anywhere you are. With a wide neck opening and/or tie closure, blouses can easily be opened and adjusted for nursing your baby on the go.

7. Wear an Off-The-Shoulder-Top
One of my favorite styles is off-the-shoulder and luckily the style is nursing friendly too. I opt for a stretch neck so it easy to pull down over one breast and keep the rest of my chest and belly covered.

8. Wear nursing pads
A no brainer right? As a nursing mom, your breasts might leak milk. I also have to wear nursing pads into my bra; they absorb the milk and prevent leaking. I wear them night and day.
What are some of your favorite nursing friendly styles?
xx
SaveSave