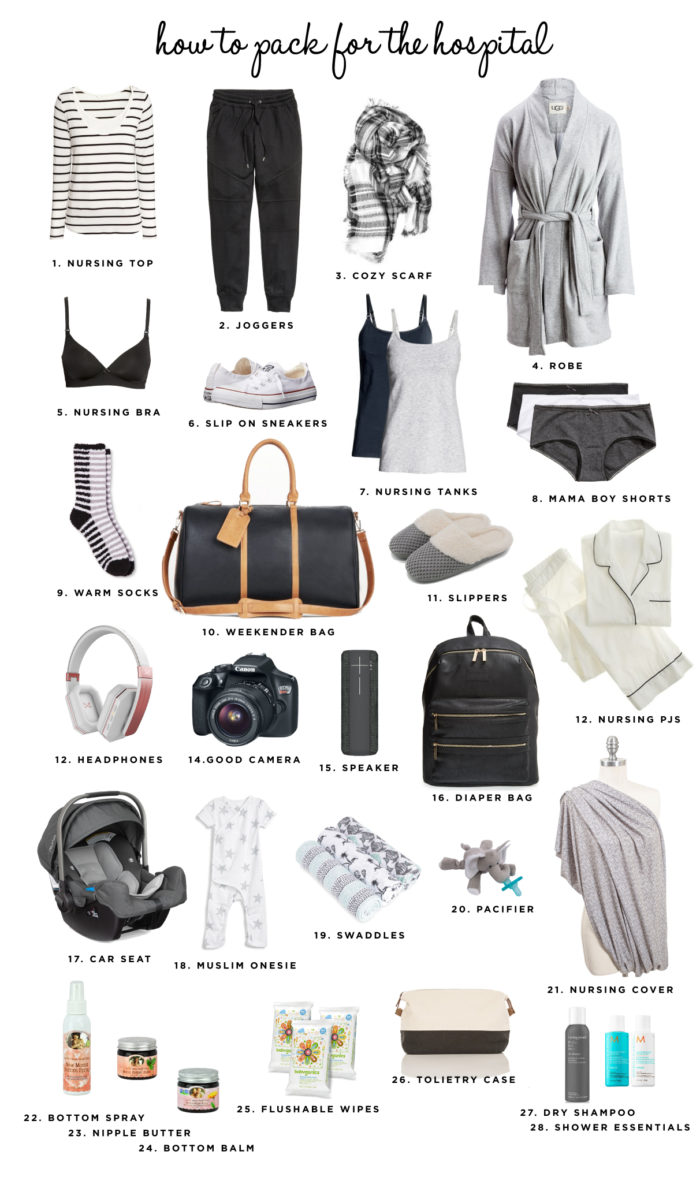 With baby boy's arrival date creeping closer and closer, I am finally getting around to one of the most important things – packing my hospital bag!! Looking back on things I used and did not use when I was in the hospital with Sutton, I feel a little more confident in packing my bag this time around. I had both things I wished I had and things I did not need the last time around. I am almost finished packing and sharing what is all in my bag!

F O R  M A M A
1. Nursing Top – a cute, comfy and presentable option for you to wear when you have visitors. This looks cute with joggers or black lounge pants.
2. Lounge joggers – because they are loose fitting and comfortable, yet still cute.
3. Cozy Scarf-a cute scarf that can double as a nursing cover.
4. Robe – Good for slipping on over the hospital gown.
5. Nursing Bra – Wore these for Sutton and loved them.
6. Slip-on Sneakers– A comfy pair of sneaker for
7. Nursing tank -since baby will be nursing often, but you still want to look presentable to visitors.
8. Mama Boy Shorts – I suggest a good coverage underwear and sizing up for extra comfort.
9. Warm Socks – To keep your toes warm, my feet always freeze and hospitals are cold.
10. Weekender Bag– Big enough to pack all your necessities.
11. Washable Slippers – So comfy and washable!
12. Nursing PJs – Cute PJs that are so soft and work for maternity as well as after baby bump for nursing.
13. Headphones – perfect to play your relaxing playlist and concentrate on breathing.
14. Good Camera – For Sutton's delivery Michael was able to capture special (priceless) moments before delivery and family shot some after.
15. Wireless Speaker – Michael and I created a playlist for labor
16. Diaper Bag – I still haven't decided which bag to use. Here are the few options I am deciding on here and here. I have this one that I used for Sutton, that I love as well!

F O R  B A B Y
17. Car Seat – we have the Oribit system (that we used for Sutton) and love it. We are also considered the Maxi-Cosi system.
18. Baby Outfits-bring a few size options. I remember the one I brought Sutton was huge for her.
19. Swaddles – the hospital provide blankets to swaddle, but not as soft as these muslim ones.
20. Pacifier -just in case!

21. Nursing Cover – when you have visitors and baby needs to nurse.
22. Mom bottom Spray – Cooling spray for fast relief
23. Nipple Butter – A natural way to soothe sore nipples.
24. Mama Bottom Balm – Relief for down under.
25. Flushable wipes– great for your face and nice on the bum.
26. Toiletry Bag – Pack all your bath essentials
27. Good Shampoo – you will want to pack your own shampoo and conditioner. If you don't get a travel set, get the travel bottles.
28. Shower Essentials – I love to have my own body wash and scrubber. The first shower post labor you will want your own good soap and shower essentials.
O T H E R
Other items to pack and to get ready  ( I made a checklist for these to pack)
Glasses, contacts, contact solution
Playlist set up for Labor
Drivers license, insurance card, cash for parking just in case.
Snacks for daddy and anyone else laboring with you.
Treats for nurses as a thank you!
Phone charger-long cord is necessary.
Hair brush, tooth brush, hair ties, deodorant, and lotion (I showered at the hospital once (with Sutton), and didn't use a hairdryer, but you'll need the necessities such as hair and body wash as the hospital doesn't supply in your room).
Bath Towels- The hospital supplies them but it's nice to have your own
Facial Routine – Of course you cannot forget and travel size is best.
Cardigan – A comfy cardigan to wear the next day or to wear home.
Blankets- I had a warm and cozy blanket that I bought at Home Goods to drape on top of me which was so comfortable and we brought an extra one for JJ. Both completely necessary as the hospital does not have the most comfortable options.
Breast Feeding Pillow – nice having this especially for your first baby when you need that support. We also used the pillow for cousins when they wanted to hold the baby and needed the support.
Now, what am I forgetting mamas?
xx