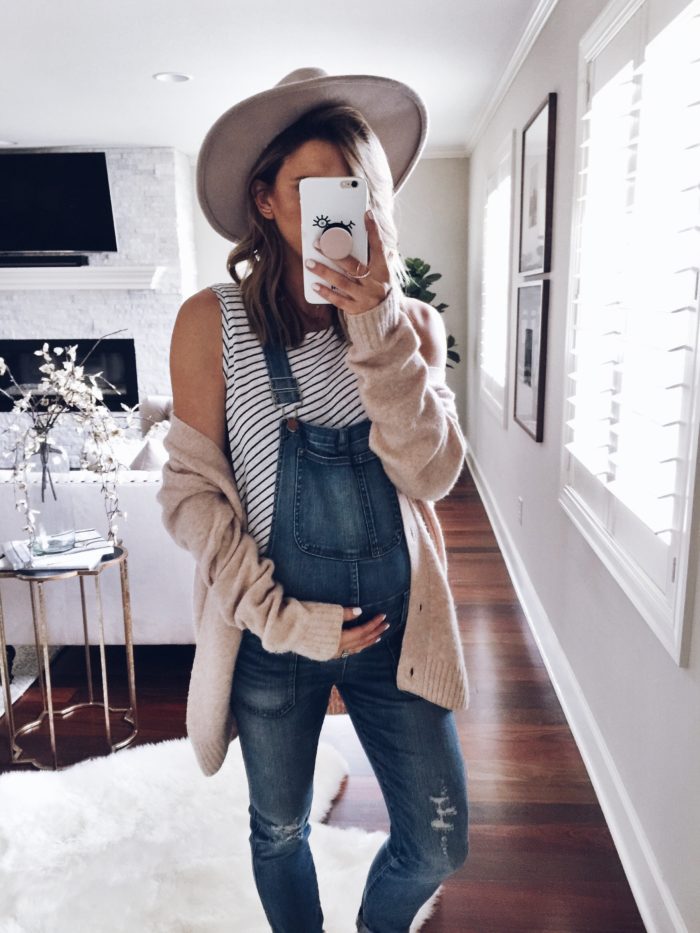 Cardigan (comes in grey also) // Madewell Overalls similar here and maternity version here // Striped Tank by BAE similar here //
This week, I am feeling more than ready to be done being pregnant. Sleep is getting more and more difficult, my back is starting to ache, and I am feeling just plain exhausted all the time! Anyone else take a turn for feeling DONE with their pregnancy?
Today, I had a doctors appointment to see if there has been any progression since our appointment last week. I am now 3 cm dilated and doctor thinks I should be right around my due date. With both our parents living a few hours away, planning a unexpected hospital stay with a toddler at home can be difficult. Our parents will be on stand by and get here as fast as they can, and we do have some family and friends here who can help out until they arrive to watch Sutton. But I'm ready for our boy! I can't believe this could be our last week pregnant!

Due Date: March 4th
How far along: 38 weeks!
Size of baby: 19.6 inches and 6.5lb., current status is the size of a leek
How many days to go: 12
Total weight gain: 25 pounds
Maternity clothes: Basically circulating a bunch of comfortable joggers. BAE the Label, Maive & Bo and Asos have the best maternity styles I found. All my favorites below.
Stretch marks: None. I use lotion after every shower and use this cream several times a week.
Sleep: Not great, but not horrible. Waking up to go to the bathroom about 5 times and just waking to try to get comfortable. .
Best moment of this week: Just enjoying the last few weeks we have as a family of three. Every day Sutton does something new that makes us just stop in awe and laugh. She talks soooo much!
Miss anything: Normal clothes
Movement: Crazy moment.
Food cravings: Pasta, bread, chips.
Anything making you queasy or sick: No
Have you started to show yet: I'm huge
Gender: BOY!!!
Labor signs: None
Belly button in or out: Out
Wedding rings on or off: On and Off. Just when we leave our house.
Happy or moody most of the time: Both. Ready to feel back to normal with these crazy pregnancy hormones.
Looking forward to:  Getting a new diaper bag, more baby items this week, the house clean and scheduling a massage.
xx
M A T E R N I T Y  S T Y L E

B A B Y  M U S T – H A V E S