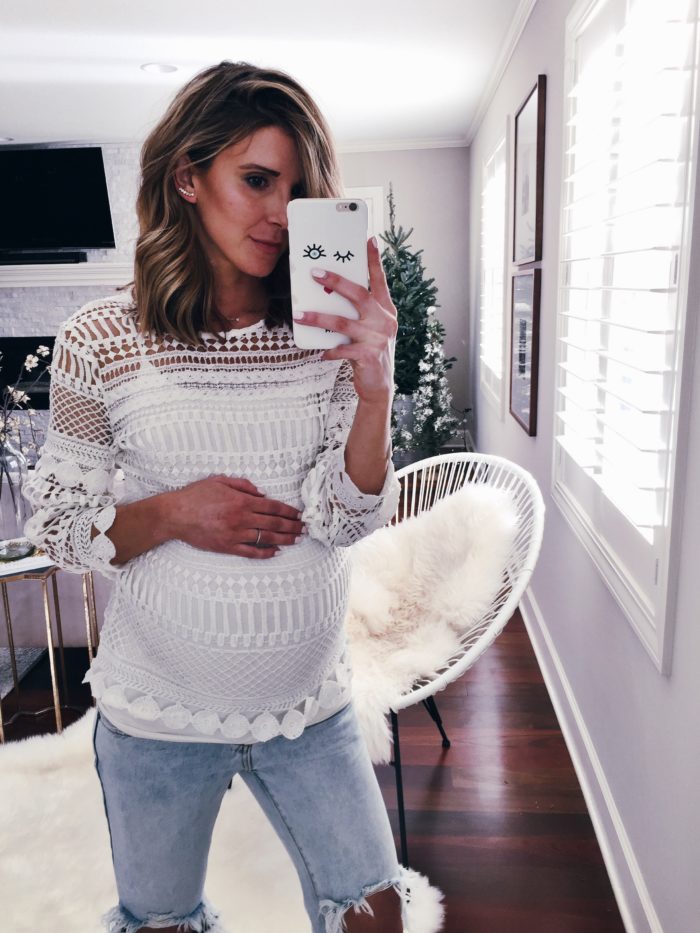 Top here // Jeans here // Belly Band here // Earrings
This past weeks' doctors appointment my belly was measuring small so my doctor wanted to do a sonogram to measure baby boy and make sure everything was okay. Baby boy was just fine and actually measure bigger than what he should be for the set due date, so baby's due date was actually showing sooner. A bit of a wake up call, however she said to stick with my original due date of March 4th.  It was nice to get another sonogram and see the baby at 30 weeks!With Sutton I only got two sonograms-one in the beginning and one for the 16 week appointment. Baby boy was so big and moving so much during the sono. He actually yawned, which was so cute and cool!

Due Date: March 4th
How far along: 31 weeks…. THIRD TRIMESTER!!!!
Size of baby: 16.2 inches and 3.3lb., current status is the size of a broccoli stalk
How many days to go: 64
Total weight gain: 17lbs
Maternity clothes: Yes and no. A mix of both!
Stretch marks: None. Lots of lotion every day, love this belly butter.
Sleep: Sleeping 8 hours a night. Going to miss this when baby comes. eek!
Miss anything: My small bust. Seriously. Clothes fit way better and working out is much easier.
Movement: Rolling, kicking, punching… all the time and loving it. I swear he punches my bladder on purpose.
Food cravings: Sauerkraut on pizza, but I have always loved that. 😉
Anything making you queasy or sick: Nope.
Have you started to show yet: Yes
Gender: BOY!!!
Labor signs: No, just braxton hicks that happen once last week.
Belly button in or out: OUT!
Wedding rings on or off: Off. Just wearing my band.
Happy or moody most of the time: Happy and moody.
Looking forward to:  Planning baby's nursery the next several weeks.
Favorite Comfy Loungewear: I have this set by Make & Model in both black and grey. It is not maternity, but is so soft and fits right over my bump. I wear with a cardigan around the house and as PJs.
xx
S O M  E  F A V O R I T E  M A T E R N I T Y  S T Y L E S

B A B Y  M U S T-H A V E S