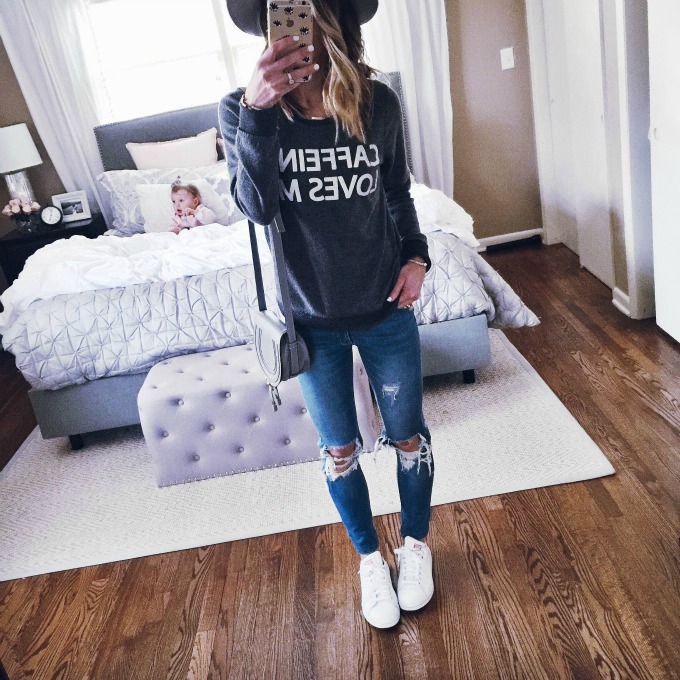 Sharing 5 things on my mind and 5 favorite shopping finds from the week….
1. I meant to share a beauty post this week, but didn't get to it, so I promise to have it next week, followed with my skin care routine and health and diet routine.
2. What other things do you want me to post more about in 2016? I have so many ideas, but your input is most important.
3. My parents are visiting this weekend and I can't wait! Hanging a new light fixtures and some home updates with the help of my dad.
4. My goal of getting to the gym 4x a week is going strong. I like to always get them done Monday-Thursday, but if I miss days then I make it up on the weekend. What are your health goals for 2016?
5. Sutton is going through a 18-month sleep regression and waking up early every day, like 6 am early. Moms any advice….??
Which leads me to my 5 favorite shopping finds this week including this "Caffeine Loves Me" sweatshirt. It's definitely a mutual relationship, coffee all day long with my little early riser. Chaser always has the cutest graphic tees. See a bunch
here
.
Just bought this
ruffle blouse
. It's absolutely darling. A cute option for transitioning into Spring. It will be on the blog soon.
Did you see my trench post yesterday? I found another cute option for half the price
here
.
I am obsessed with the
jean skirt
, like obsessed. I should pry get it right…..?
Enjoy the weekend, friends!!
Becky xx

JavaScript is currently disabled in this browser. Reactivate it to view this content.