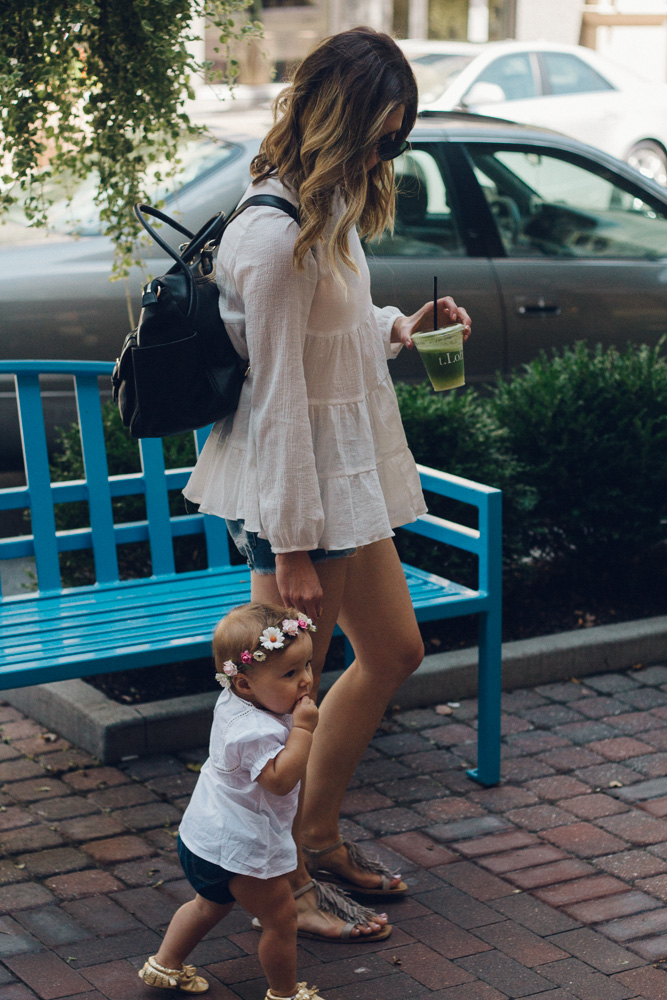 SHOP OUR LOOKS
We started this little family "tradition" of going out for dinner ever Friday night. At the end of a long week, I love having something to look forward to and, with Michael often traveling during the week, I love to go out as a family. I am not at the point yet where I am ready to go to a "family restaurant" and tend to stick to our pre-baby favorites. I often get asked how I find going out to dinner with a one year old enjoyable. So today I wanted to share some tips on how we manage to sit down for a relaxing dinner while enjoying Sutton's company. Now, ask me the same question again once we have more than one baby, and I will probably give you an entirely different answer (or just say we never go out, ha!).
1.
Be prepared.
I always come with a
diaper bag
full of arsenals that keep Sutton entertained while we are out. Your diaper bag must be organized (you don't want to be that mom hectically pulling out wipes, toys, tampons while searching for a sippy!) and fashionable (duh!). I LOVE Lily Jade's
Elizabeth Diaper bag
. You can wear it several different ways – either as a backpack, cross body, or shoulder bag. I love all of the outside pockets for quick access to keys, phone and Sutton necessities. Each Lily Jade bag comes with a detachable, washable
Baby bag organizer
and changing pad. I love the
organizer
. It snaps in and out so you can place your items in and then just pop in the bag. I also can change from bag to bag if needed. It's Michael's favorite as well, he feels he can wear it and it not look so feminine as some others are. I can't say enough about how much I love this baby bag.
2. Items to pack:
I always pack Sutton an entire meal for when we go out. I am not at that point to order off the kids menu – but I know that time is fast approaching! I love
Dr. Brown's stackable bowls
. I normally pack her a veggie, main dish, and diced fruit. I have found these
table toppers
to be essential since Sutton seems to think all tables are teething toys.
I also pack a couple snack cups for back up in case she eats all her meal and we aren't done with dinner. My favorite snack packs for her are
these
, since they make her work to grab one and not eat them all with one grab.
I also use these
wipes
to wipe down her highchair and table area every time we go out – again, Sutton chews on everything.
Clean up- I use these
wipes
for Sutton's hands and face. I find it nice to bring a small baggie to trash the used wipes and trash we accumulate with wipe stuff down. Easy for your server to throw out instead of picking up 20 wipes.
3. After dinner fun. To reward Sutton for sitting through a dinner, we try to pick a place afterwards that she will enjoy. We have a place close to our home that has a huge outdoor green space for kids. Sutton loves socializing with all the other kids running around and playing. Bonus, all that running gets her nice and worn out for bed!
​4. ​
Get a fun treat! We look forward to getting gelato every time. Sutton has started to catch on to this tradition and gets so excited for it! I love seeing her eat it – too cute!!
Don't let having a baby prevent you from having a fun night out!
Thanks to Lily Jade for sponsoring this post. As always, all opinions are my own. Thanks for supporting the brands that support Cella Jane.