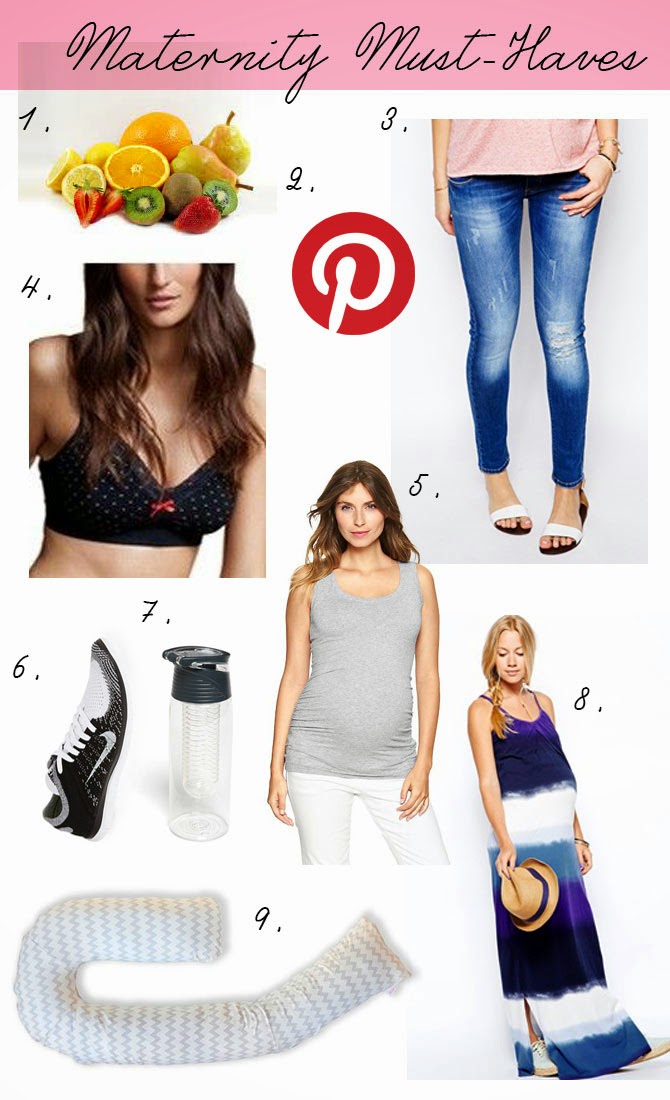 Fruit – I have craved fruit like crazy during my entire pregnancy. If I don't have any in the house, I will make a special trip just for fruit. The great thing is now all my favorites are in season!
Pinterest– I know this sounds ridiculous, but trust me. If you don't have one now, sign for an account. There are a ton of baby ideas for nursery, mommy tips, and so much more! Nights when I am restless, I get on pinterst and pin away.
Maternity Jeans – I held off from buying maternity jeans until about 6 months or so with the help of the Bella Band. I found Asos to carry a great selection of maternity jeans at great prices. I have these pairs here and here. Also, Boob Design, makes a fabulous pair of maternity jeans. I have this pair and love the high waistband on them.
Nursing Bra – As we all know, your boobs double or even triple in size with maternity and nursing. That was the first thing I noticed when I found out I was pregnant, so I wanted a comfy bra that would grow with them. I came across Boob Design Fast Food Nursing Bra and fell in love with the cute design. I ordered my first and wore it non-stop, it was so comfortable! They have an extended that can be used to extend the size even more for your growing high waistline. I wore it so much, I just got a second one in pink. I love them!
Tanks Tees -One thing I thought I would be able to pull off wearing non maternity was tees and tanks…boy was I wrong. You need a lot of fabric to cover the bump, unless you want to rock a crop top pregnant. Gap has the best maternity tees and tanks, that not only feel good but fit well.
Tennis Shoes Being active has always been a priority to me and that never changed once I became pregnant. I have felt great so I still try to workout around four times a week and having a cute, comfortable pair of tennis is a MUST!
Water Bottle Doctors recommend you drink so many glasses of water a day. but you find yourself wanting even more! Your pregnant body will crave the water to stay hydrated, even if it means going pee every hour. I love this one because you can add flavor with fresh fruit or veggies.
Cotton Maternity Maxi – A soft cotton stretchy maxi…need I say more? Especially with the warm summer months, you want to wear clothing that is non-constricting, comfortable and allows for air flow. And most of the time they don't even need to be maternity, since the fit is so forgiving. Forever 21 and Asos are my go to places.
Pregnancy Pillow – Just recently my belly started feeling heavy as I sleep on my side, so having a pregnancy pillow helps support the weight of my belly. I also like having a pillow in between my legs, its helps with lower back aches.