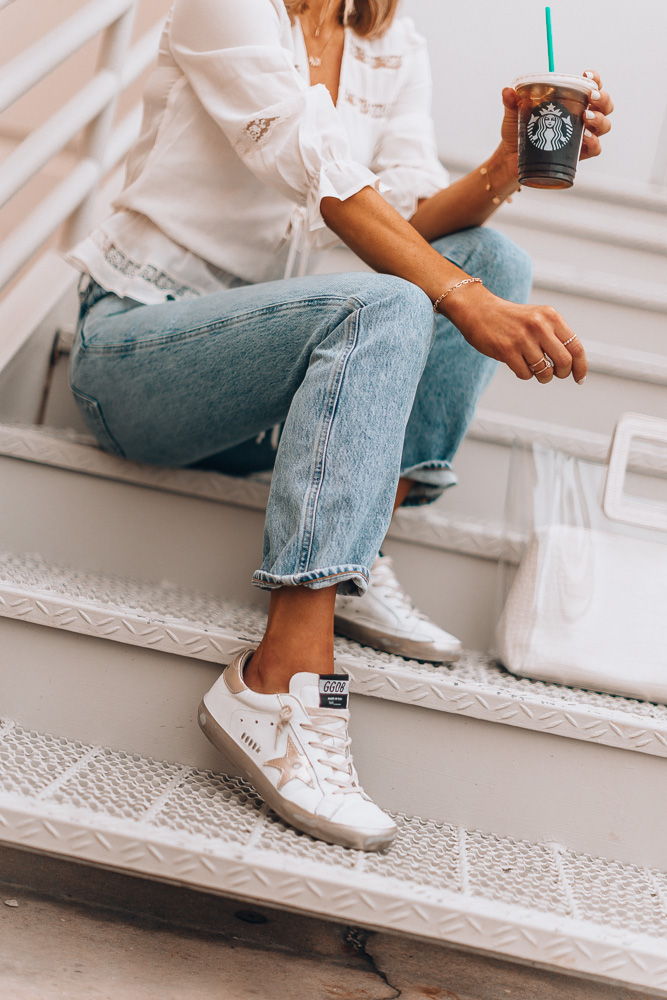 Having played sports most of my youth, I have always been a sneaker girl at heart. Between dresses, denim, and workout gear, you'll typically catch me wearing my favorite Golden Goose Deluxe Brand sneakers. Lately, I have been getting lots of questions about the sizing of these shoes and whether or not they're worth the price. So today, I'm finally sharing a full review and size guide on my favorite sneaker brand!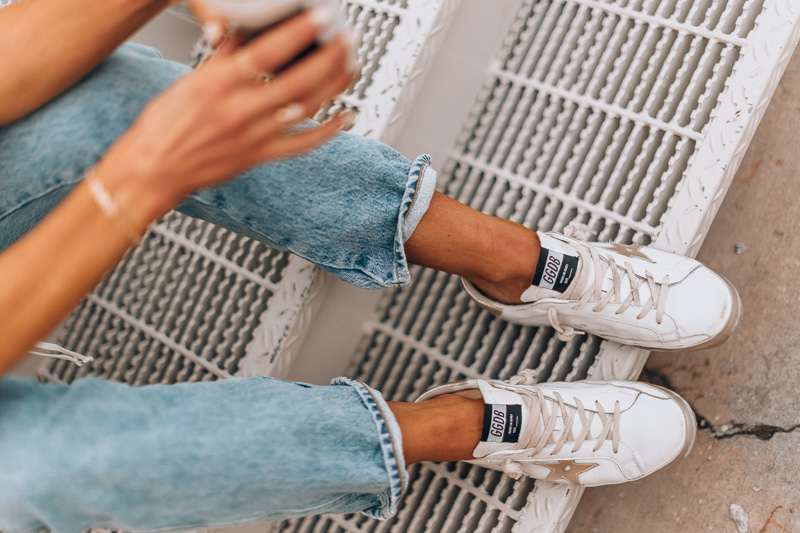 The Golden Goose Deluxe Brand sneakers have been popping up everywhere on Instagram lately. But to be honest, I have always been drawn to the simplistic design even before the Insta craze. They're super versatile and can be worn with anything – often adding a sporty chic touch that I love.
The worn-in, distressed style is one of my favorite features since it makes me stress less about keeping them clean and pristine – just perfect for the streets! They're also available in so many color combinations, embellishments, and textures that you can basically find the perfect pair for your style.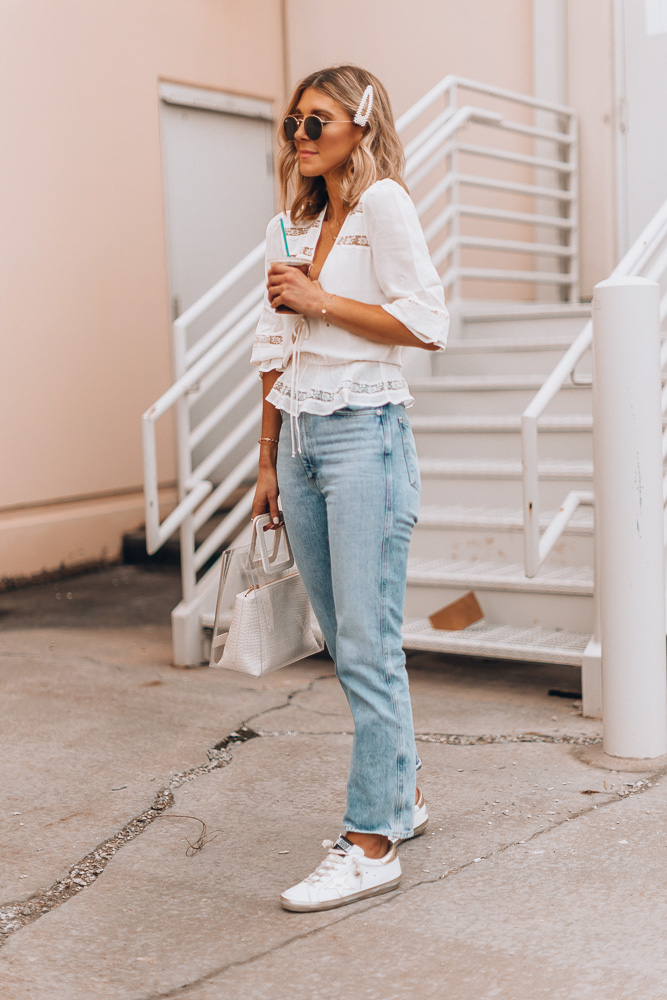 Do they run true to size?
The most common question I get is whether or not they run true to size. I personally find that they are TTS. I'm a size 9 in shoes and wear a 39 in the Golden Goose sneakers. However, I do typically wear mine with thin no-show socks – or no socks at all sometimes. If you prefer to wear thicker socks, then you may need to size up a size – Golden Goose sneakers only come in whole sizes.
As far as comfort goes, it only took a few wears to break them in, but even through the break-in period, they never felt uncomfortable like some of the other premium sneakers I've tried on the market.
Where are the best places to shop for Golden Goose?
Golden Goose is widely carried by virtually any major fashion retailer. My favorite places to shop for them are Nordstrom, Mytheresa, and Shopbop although you can also find them at Net-A-Porter and Revolve.
I find that SSENSE and Farfetch carries the most comprehensive selections with some of the most unique designs I've seen. Either way, these retailers all have excellent shipping and return policies so you'll never be stuck with a pair of sneakers you're not entirely satisfied with (although I'm sure you'll love them!).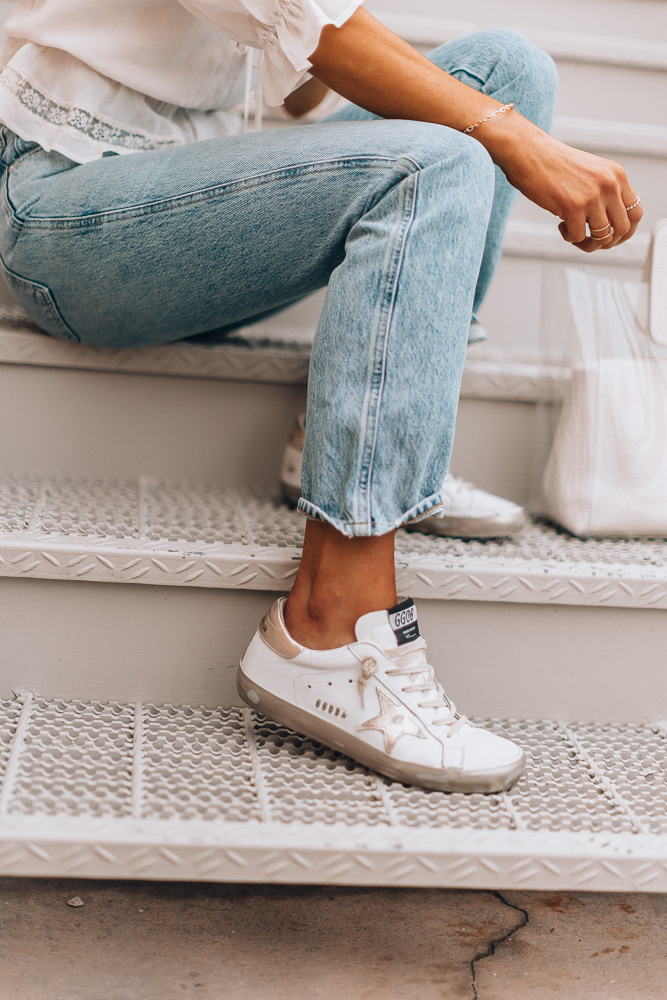 Are Golden Goose Sneakers worth the price?
There's no denying that the Golden Goose sneakers are expensive, starting around $400 and go up into the $500 price range. However, I honestly do feel that they are worth it especially if you frequently wear sneakers. They're essential in my wardrobe! Considering the craftsmanship and durability of the Golden Goose sneakers, I know I'll continue to get plenty of wear from them. Plus, the sneakers are handmade in Italy, which means no two shoes are identical. You can always be sure you're getting something special!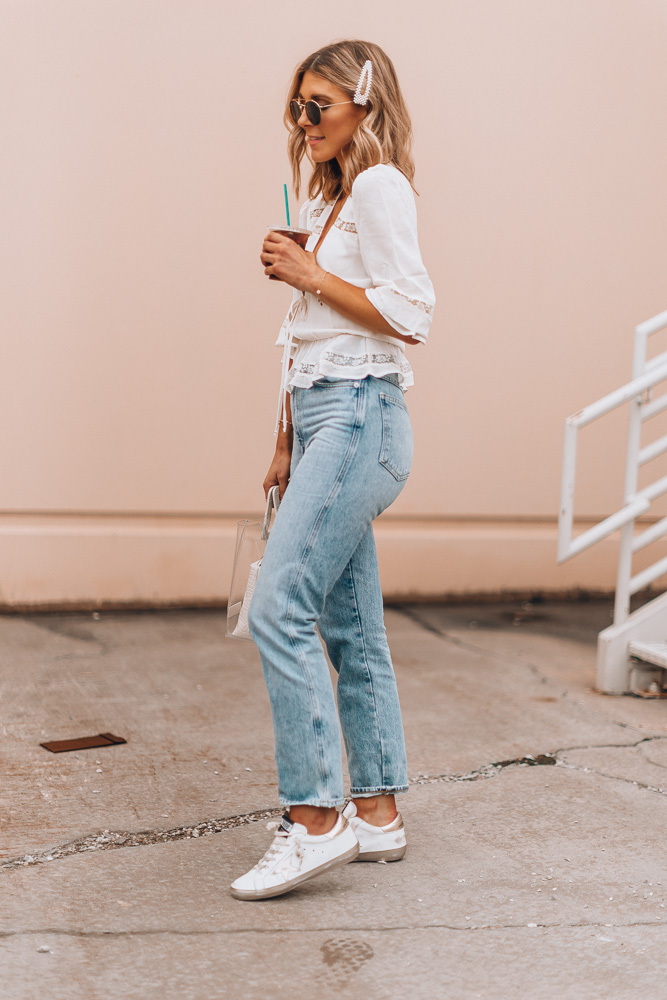 While we're on the topic of Golden Goose sneakers, be sure to check out the duped (more affordable) pair I had found, along with a few other ways I've styled these sneakers.
So, what do you guys think about Golden Goose sneakers? Are they next on your shopping list? Was this Golden Goose sneaker review helpful? If so, leave a comment below!
Becky xx
Outfit details:
Golden Goose Sneakers // Agolde Denim // Reformation Blouse // Pearl Clips // Sunglasses // Bag